| | |
| --- | --- |
| Date/Location: | June 23, 2012 – Morgan Hill & San Jose, CA |
| Distances: | 1.2mSwim - 56km Bike - 13.1m Run |
| Time: | 4:38:46 (32:04-2:18-2:40:59-1:30-1:21:55) |
| Place: | 3rd, M40-44 |
| Teammates: | FCA: Jessica Bonner, Karen Nickel, Les Wong, Marilyn Watson; Other: Kathleen Calkins, Kathy Winkler |
6/23/12
This is a big race for our FCA Endurance team. The race director gave us a great discount so we made this the main event of the season. We'll see lot's of our TeamMates!
Robin drops me off so I can ride a few miles to the lake to warm up. My seat is a little low but I can't adjust it. It's stuck. This is my last long distance race tune-up for Vineman. Even though I'm not feeling rested or fast, I will need to push it. The run is my main concern as I haven't gone over 8 miles in 7 weeks. I set up transition, run a mile easy to warm-up, and stretch.
Robin & Karen Nickel arrive. They're doing a relay together. Jessica Bonner is getting ready. Tana is racing tomorrow. Tana is he legendary Energizer Bunny and Jessica looks to be following in her footsteps, excelling at each distance she tries. This is her first ½ Ironman, she'll do great. I'm also glad to be racing with FCA Endurance Teammate, Les Wong, and the others racing tomorrow.
Race announcer Nick Tuttle is always happy to announce the FCA Pre-race Prayer. Wow, this is a great way to start a race. Even though I sometimes wonder if it will be as meaningful as the time before, I'm always surprised. Immediately after the announcement, a military Chaplain named Bob comes up to tell me he's glad to see FCA here and that he was a big part of it in school. Another thing that's exciting is when we circle up to pray near the start area, with about 10 people, it often grows to 20 people by the time we're done praying.
I can understand this. When I was starting in triathlons, and found myself far from home, moments before a big event, I'd feel small again, humbled, aware of my dependence on God for His assurance and in somehow serving Him. If I saw a group praying, it was a reminder, as well as an example that it's ok to bow your head and talk to God. Even if I couldn't hear them, I would stand close and pray by myself.
As we finish, I feel ready. The smiles and calmness on the faces around me indicate we are all ready and assured we will have something to be proud of as we race. After a few goodbyes and a kiss from Robin, I swim out to the start. The water is perfect. Warm and clean. Uvas is a big improvement over Almaden Lake, which is closed, and the reason we're here. Plus I'm in a new (used, but looks new) Aquaman Tri-Blitz wetsuit from Patty at www.wetsuitrentals.com. It's warmer, faster and has a top-down zipper which, after watching a video, I was able do myself.
Go! It's a smaller wave. After 5 min I'm not getting passed as much as usual. I like my position. I find myself bumping into a guy on my right. We all have a tendency to veer to one side and he must veer left. Side-by-side we bump all the way to the buoy. Around the buoy I pull ahead. I'm feeling buoyant and comfortable. At the backside I start bumping into a guy on my left. It's the same guy. This is strange that now he's veering to the right. It gives me reason to push and finally I'm a little ahead. The last buoy comes sooner than expected which is a relief. Now it's a straight shot to the boat ramp. I'm recalling my Berryessa swim. When guys start to pass for the push home, I pick it up and am able to hold them off. I stumble out, manage the bottom-up zip exit and enjoy the ease at which the suit come off. 32:04. 4th place! Wow, I'm never near the front like that. Up to the bike now..
It's a little chilly. Overcast skies. I gladly put on my FCA Endurance bike jacket. This has been a lifesaver for me. I love it. I even see race announcer, Nick, giving his approval, "That's going to help, you don't want to be chilled". Off on the bike I immediately start trying to find the "groove". My seat has been "sore" for weeks and cyclists know how uncomfortable it is to sit on a pain like that. If I can just find the right position.. that allows fast cadence and power on the hills.. I'm managing, pedaling through the rolling hills of South Almaden. A peloton of weekend riders go by and we pass back 'n forth a couple times. They're careful to keep out of the way. I think back to the many training rides with my old training partners, Clint, and the gang, through these hills.. usually drafting off of Clint.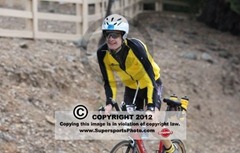 Over Baily and down Santa Teresa. This is the best part. Tail wind. Flat. Fast. Just when you're tired of straight, the course meanders through the pretty countryside again. And back out to Santa Teresa. Same as last year, right when I'm feeling pretty fast, the lead girl goes by. It's Kathleen Caulkins, a friend of Robin's. "Good Job Kathleen!" A guy is with her. A few more guys pass me. I'm doing the best I can but just don't feel the groove or the power. Can never give up. Just keep trying.
We head back North, through the reservoirs and rolling hills, which help to block the head wind. It's neat to see the T1 area, now empty of bikes, as we race by. My plan is to push the last 10mi. Just 30min. I want to get 20mph ave. Go! I finally find a position that's working. I push all the way to the finish, get my 20mph ave, and am relieved to finally get off. 3rd. 2:41.
My bike shoe pops off as I dismount but a volunteer brings it to my rack and tells me "you're going to fly by those guys like you've got wings on". I thought about that a few times later. I start on the run with a pretty small stride length. Just getting the feel of it and wondering how this 13mi run is going to go. I see Robin at the FCA tent. And then the smile of Laura Schuster cheering me on. Great having support to start the toughest part of the race with. Mile 1 7:55. Heading South on the scenic exercise path I watch the runners ahead coming back. There's Kathleen. Mile 2 7:01. I wonder where the turn is. We turn at about 2.5mi which is sooner than expected. Mile 3 6:43. I'm happy to see my pace dropping below 7min/mi. I'm feeling pretty good. The advantage of an uncomfortable bike can be having legs saved for the run.
A 40yr old "Hammer" guy in in my age group passes and makes it stick. Something tells me I can run like him so I make it a goal to catch him by the end. Mile 4 6:42. We come back though the main park and head North to the perk ponds. Mile 5 6:34. I see all the leaders and Kathleen coming back again. The next turn-around comes, again, sooner than expected. Mile 6 6:39. We turn-around again and head back out towards the perk ponds. I pick it up and am gaining on him. At the next turn-around I catch him and run side-by-side. We both ask each other where the rest of the course goes. Will it be short like last year's 9mi course? Mile 7 6:19 We continue side-by-side.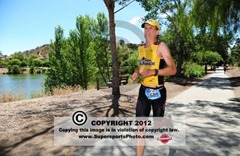 I'm getting water at every aid station and eating gels. We're entering the main park again. If we're going to end soon, I've got to make a move now because I can see he's a better sprinter. I start my surge. He reacts and matches my pace. I'm a few steps ahead. Mile 8 6:14. That was a hard mile. I'm coming up on the bridge over to the finish line. I see Laura and she yells, "On the home stretch!" But I wonder if I really am. This is why you're supposed to study the course beforehand.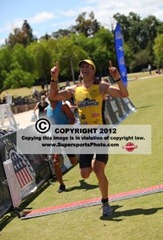 Right before the finish line, they send us out on another loop. The good news is that I've got a good gap on the Hammer guy. The bad news is that I used up a lot of energy. Ok, just gotta get to the final turn and then I can turn it on again for real. Mile 9 6:26. I never look back. Thank you Lord for helping me feel good on this run despite how I felt coming into this race. Mile 10 6:46. I'm nearing the final turn, going a little slower but trying to be steady. I make the turn and see the Hammer guy 50yds back. I think I can hold him off. Mile 11 6:35. I pick it up. The legs are hurting a little but I really feel good otherwise. I know it will be a strong finish. Mile 12 6:19 This is it. When I cross the bridge for the finish I take my first look back and see a gap. Now just sprint in for the finish. Thank you, Lord! 3rd pl. 1:22 run split. 4:38:46 total.
Long Course
Go Jessica, Karen, Les & Marilyn!!
Sprint
Go Alicia, Alyssa, Steve & Timothy!
| | | | | | | | |
| --- | --- | --- | --- | --- | --- | --- | --- |
| Name | Race | Time | Age Group | Place | Swim | Bike | Run |
| FCA TEAMMATES | | | | | | | |
| TROY SOARES | LC | 4:38:46 | M40-44 | 3rd | 32:04 | 2:40:59 | 1:21:55 |
| JESSICA BONNER | LC | 5:17:33 | W20-24 | 2nd | 28:01 | 3:00:22 | 1:43:08 |
| LES WONG | LC | 5:33:10 | M50-54 | 6th | 37:54 | 3:02:25 | 1:48:56 |
| FCA Endurance Relay -ROBIN SOARES (Swim)KAREN NICKEL (Bike/Run) | LC | 5:44:55 | W Relay | 3rd | 33:13 | 3:17:27 | 1:50:51 |
| MARILYN WATSON | LC | 6:17:50 | W50-54 | 6th | 42:07 | 3:30:06 | 1:57:47 |
| STEVE CORRALES | SPRINT | 1:53:57 | M45-49 | 13th | 18:24 | 1:03:10 | 27:07 |
| TIMOTHY HESS | SPRINT | 1:37:29 | M45-49 | 3rd | 15:18 | 53:07 | 23:04 |
| ALICIA BUESCHEN | SPRINT | 2:04:09 | W30-34 | 7th | 21:27 | 1:09:10 | 26:31 |
| ALYSSA HESS | SPRINT | 2:19:33 | W20-24 | 4th | 15:17 | 1:26:49 | 30:23 |
| ROBIN SOARES | OLY | 2:32:05 | W35-39 | 4th | 26:18 | 1:17:40 | 44:03 |
| CORY FLOYD | OLY | 2:37:01 | M25-29 | 10th | 28:20 | 1:17:46 | 46:56 |
| CLYDE FLOYD | OLY | 2:48:50 | M50-54 | 14th | 33:33 | 1:16:48 | 54:28 |
| CHRISTY FLOYD | OLY | 3:22:26 | W25-29 | 18th | 36:48 | 1:32:42 | 1:08:01 |
| DAVID FRASER | OLY | 3:44:19 | M65-69 | 3rd | 40:26 | 1:39:10 | 1:15:18 |
| OTHER TEAMMATES | | | | | | | |
| Kathleen Calkins | LC | 4:24:56 | Elite W | 1st OA | 28:55 | 2:28:23 | 1:23:56 |
| Kathy Winkler | LC | 4:46:37 | W45-49 | 1st | 28:53 | 2:43:38 | 1:30:45 |
| Tana Jackson | OLY | 2:34:35 | W40-44 | 3rd | 30:15 | 1:15:12 | 44:51 |