| | |
| --- | --- |
| Date/Location: | June 2nd, 2012 – Oak Shores Park, Lake Berryessa, CA |
| Distance: | 2 Mile |
| Time: | 54:01.40 |
| Place: | 6th, Men's Wetsuit Division |
I drive to Berryessa alone this year. The family supporting Anna at her swim meet. Robin's sending me updates. I arrive to a beautiful scene. Berryessa Lake is shining, calm and warm. Families & swim teams, including all ages are camped out and excited about swimming. I get an update that Anna is doing the butterfly for her relay team. I'm so proud because the butterfly is such a difficult stroke for me.
My prayer for today is that the trip and event can be for God's purpose. That would make it worthwhile. Otherwise it could seem wasteful, spending 7 hrs just to swim for 1 hr. It's already been fun driving here. Taking the nicely-banked corners of Suisan Valley Rd and Hwy 121 in my Impreza was enjoyable. Now I'm registering and am asked about our 3_strands@sbcglobal email address. I explain that it's from the Bible, that 3 strands of a rope are not easily broken; and that the strands are Husband, Wife, and God. They comment that I'm going to need all the help for the 2mi. I happily acknowledge that although I don't have my wife, I do have God with me.
I have 25 min to go for a run. I see another guy with the same idea so I take off after him. It takes a while to catch up. I find out he's looking for a trail he was told about. We meander around and finally find it..Stipple Creek Trail. It heads North, winding along the lake. It's great, but after a mile I have to head back. He's not doing the swim so continues on. Maybe some day Robin & I can explore it more.
I stretch and, very carefully, put on my friend, Todd Allington's, wetsuit. Mine ripped recently. Into the water, I warm up over to the starting area. The 2mi non-wetsuit swimmers are taking off in 5min waves. I'm used to the wetsuit group being pretty small so not surprised to only see a few of us in the water. I casually swim into the starting corral, just to be called out by the announcer. Oh, there's an official entry point with a line of swimmers. Everyone has timing chips. Uh oh, I didn't get one.
I run across the campground to registration, get my chip, strap it on, and run back, hurting my feet on rocks in the process. Whew, 1min to spare. My heart rate calms down, I pray and then… 5, 4, 3, 2, 1..
Go! This will be my longest swim in years. The beginnings always feel great. I latch onto some feet going by. Too fast. I latch onto a woman's feet to my left. This is good. A little faster than I could maintain on my own. It's a straight shot to the yellow balloons of the first turn. Then we go around 2 islands, then straight back. I accidentally hit the woman's feet about ½ way to the first turn and she veers far left. Is that a tactic to keep me from drafting? It works as I don't want to swim off course that much. I continue straight and at the turn we actually both arrive at the same time.
Behind the island I'm starting to feel good again. Getting my groove. Stroke is strong. Water is clean. This isn't so bad. The woman passes me. She's swimming straight and strong. I jump into her draft. She's pulling us through some of the non-wetsuit swimmers ahead of us. I glad to be meeting my goal of getting better at drafting. I start kicking harder… and then get a calf cramp! I never got that before.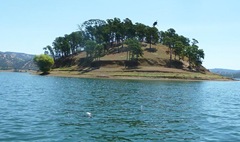 The cramp forces me to swim slower, using less of my left leg. The woman pulls far ahead. I have to let her go. I continue on. My temperature is perfect in this wetsuit. We go behind the 2nd island and make the final turn. Now it's a straight shot home. 45min. I'm on a good pace. If I pick it up I might be able to match my previous time of 52. I start to kick harder again… calf cramp in the right leg! Ok, I have to focus on my arms and do the best I can. I'm watching my time under water, 51, 52, 53.. Getting close to the finish. I see the ground coming up from below. At the ramp I stand to hurry up through the finish.. sharp rocks.. ow.. I stagger across in 54. Whew, I'm glad to be done. That was a good swim that I'm happy with. Just need to prevent calf cramps.
I pack up and head out, reflecting on the day. I'm thankful that God answered my prayer, that today was worthwhile. I got to talk about God, had a fun run, a great swim, and just felt God's blessings. And Robin's emails of Anna's successes today add to the enjoyment. Thanks, Lord, for being with me wherever I go.