| | |
| --- | --- |
| Date/Location: | 7/28/19 – Lake Placid, NY |
| Distances: | 2.4m S – 112m B – 26.2m R |
| Time: | 13:12:00 (1:11:18 – 9:27 – 6:52:18 – 6:05 – 4:52:51) |
| Place: | 71st/224 (50-54 age group) |
| Teammates: | FCA – Robert Palmer |
Much concern going into this race. Learned a lot from June Lake Triathlon 2 weeks ago – to have faith and a better attitude. So even though I have Achilles bursitis on my right heal which has impeded running for months, I'm having a good attitude and trusting God for this race.
My family has been very helpful and supportive in training and the week leading to the race. Robin got us a great suite near the race site and continues cooking us great healthy meals.
Lake Placid is a great venue! Ice rink where the 1980 "Miracle" hockey team played. Oldest (since 1999) Ironman other than Hawaii. Easy single-transition staging near the lake. And beautiful dense green forested hills.
Race plan is (physically) relax and conserve until the run, (spiritually) remember "It's not my race" and trust God that it will get better even when it looks bad (ministry) look for opportunities to share my hope with others, (nutritionally) drink, fuel and salt a lot to prevent energy loss. The key is to focus on the Lord which ensures everything will work out for good, this is His will for me (Prov 3:6 "in all your ways submit to Him and he will make your paths straight", Rom 8:28 "..all things work for good for those who love God.." , 1 Thes 5:18 "give thanks in all circumstances, for this is God's will..")
Last run: 2mi with Anna out-n-back on the steepest climb into town. My heel hurts. I use my speed-walking technique. It's tough but June Lake was steeper and, as a result, very encouraging.
Last ride: 10mi to Goldie Locks and the 3 bears hills. At first, I get lost and end up on a golf course and then on a mtn bike trail. Resist getting frustrated and remember God's good plan.
Swim. 1.2mi swim with Robin & Anna. Very relaxed and it goes great! There is a cable which is wonderful and relaxing to follow.
FCA Iron Prayer: I get the honor to speak, along with 3 others. Because I know an Ironman can be full of dark, disheartening moments of wanting to quit, my encouragement was to faithfully give the race to God so you can be assured it will work out for good. This has played out for me multiple times. When I give up.. I regret it. When I continue to have hope in the Lord, surprising wonderful things happen, like feeling better, running faster, or seeing the reason behind something that didn't seem good at the moment.
Race morning: I spend time reading the Bible. My reading plan, Luke 1, is about the Lord's instruction for the births of John the Baptist and Jesus the Christ and the angel says to Mary, "Anything is possible with God." – which is posted on the Ironman signs at the start.. except for key part about God.
Robin walks with me to the start. I'm not as clear race-minded as past Ironmans. I forget what goes in which bags and some things I'm going to need. But I do remember an emergency trash bag for rain & cold, I feel comfortable with the arm-warmers plan for the ride (water temp about 67 and same for air temp when starting the ride), and I have lots of Vitargo for the bike and run.
**
Goals: 1:12 s – 8:00 t1 - 6:22 b – 7:00 t2 - 4:58 r – 12:47 total
**
The Swim (goal 1:12 and relaxed)
I spot Ariel in pink in the crowd before the start! My goggles are fogged up even though I got a complimentary treatment from a vendor sporting the best anti-fog on the market.
**
I'm in the 1:10 wave and looking forward to a relaxing swim. However, with 2,500 athletes, I soon find that it is crowded throughout the swim! I try to get near the cable but everyone wants to be there and it's crazy. Despite arms flying on both sides, feet kicking in front and hands hitting me from behind, I try to relax to the turn.
1100yds. At the turn I start to think, "this isn't so bad, It'll be easier now.." and bam! someone hits my inflamed achilles bursa. Ow! The pain lasts for about 5 minutes. And then bam! hit in the goggles, but fortunately they didn't fill with water. I have to laugh and stay on guard. I'm remembering to focus on God and trust that this is HIS race, not mine (because anything God does turns out well). Looking at my watch I'm right on my 1:12 goal pace.
I've been relaxed and conserving. But on the way back I want to swim the cable so make a push ahead of a group and get there. Yes! Near the cable and don't have to sight. It's beautiful and relaxing.. the best way to swim.
2200yds. 1st lap done. The turn around the dock is super congested. This is where we run (I walk.. my foot hurts plus staying relaxed) across the beach and start the 2nd lap. Surely I can get near the cable now. Sometimes I get it but I guess 1:12 pace is just a popular goal. So many swimmers and it seems none are satisfied where they are at.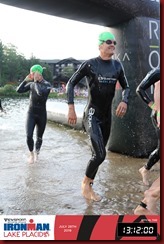 With the rash guard on I'm a little warm. I let in some cool water periodically. I continue to keep my legs high, relaxed arms, and take calculated breathes when the coast is clear (so not to get punched). I follow drafts, which haven't been hard to find in this crowd.
3300yds. 15 min to go and I assess: I've stayed relaxed, my hands don't feel strained like the last Ironman, and heart rate is lower. I'm still getting pushed around by other swimmers. Suddenly my Garmin watch is feeling loose. Under the water I look to see the strap is 1/2 way broken! It had broken in 2 places a couple days ago and I super-glued it. Now an expensive part of my race is 1 glue joint away from sinking to the bottom of the lake. Immediately I stroke gingerly with my left arm while pulling harder with my right. Trying to keep away from the many flailing arms around me… one blow to my wrist is all it would take. I pray. I feel content with it. I'm trying and I feel the Lord will take care of me. Now just a few more yards to… the Garmin is still there…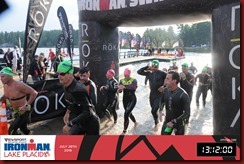 4400yds, Finish. (1:11:18, 49th plc, 500th overall) I'm standing on sand!
T1 (goal 8:00)
I pull my wetsuit sleeve carefully off and wetsuit strippers yank all the neoprene off of me. Thank you, Lord for a nice swim. Many are running but I walk. My foot does hurt but I'm fine with fast-walking. A few others do, too. I lube up, arm-warmers, fuel, sunscreen and take my bike to the mount line.. (9:27 T1)
The Bike (goal 6:22 and fuel and stay limber)
It's a fast, zig-zag route down out of town. Pretty technical and exhilirating. I see my family on the way out.
**
Soon we're climbing and it's longer than I imagined. Robin rode the course yesterday and really liked it. I feel slow but I remember the same feeling at Boulder. There will be faster sections later. Just trust and take it easy.
Mile 7. (63rd plc) I see Winter Olympics sights like the long jump ramp, the biathlon shooting range, and many flags. Pretty cool.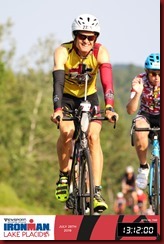 Mile 9. flying down a descent (270ft) followed by breathtaking views of dark lakes shadowed by lush-green forests shooting straight up alongside granite cliffs. Beautiful.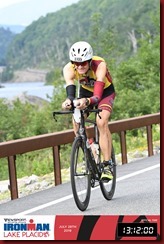 Mile 11. An even better (1100 ft) descent! 4 miles of 39 mph surrounded by beauty. Staying relaxed and not trying to maximize speed, just enjoying the ride. It's an easy gradual descent along a scenic river to mile 25. My rt hamstring feeling a little tight but by rocking my hips to the rt more it feels better.
Mile 26. (67th plc) As we climb Hwy 86 I'm feeling optimistic about my new riding position. Suddenly my rt knee starts to hurt! This happened during a training ride last month and got bad enough where the rt leg was useless. Climbing speed was cut in half. I pray and remember to trust God. Having an injury that could flare up any moment and cause misery is a sure way to keep me relying on God!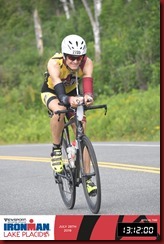 Mile 29. The 8 mile out-n-back on Hazelton Rd is cool! Along a river on smooth rollercoaster-like roads, sandwiched by dense dark forests, with endless bikes speeding in both directions! The only thing not great is my knee getting a little worse.
Mile 40. We go through the town of Wilmington. People out cheering. I'm supposed to be going easy but am now standing.. that's because I need a porta-potty and can't find one. Good news is I'm drinking a lot of fluids! Temperature is great, when it gets too warm, a dark cloud comes over or a cool breeze.
Mile 43. (84th plc) I get my break at an aid station and also stretch both legs. Now for the 12 mile climb back to town. The highway is beautiful, along the West Branch Ausabie River. Wind is picking up in our face, trying to bring thunder clouds with it.
Mile 51. Goldie Locks and the 3 bears (4 little climbs to town). On Momma Bear I comment that I'm glad there's only Pappa Bear left. The guy next to me blows it off, "Momma Bear, Pappa Bear, they aint nothing".
Spectators are crowding the top of Pappa Bear, it's a tunnel of encouragement! Soon after I see Robin and the girls cheering. I ask them to pray for my knee. They hold up signs with verses reminding be to focus on the Lord and be lifted up on wings like eagles. Amen.
**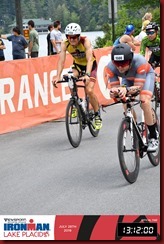 Mile 56. 1/2 way. (3:13, 85th plc). A couple minutes behind schedule. I re-fill with special needs and then zoom down out of town. I see Robin and the girls again just before leaving town.
**
Ok, the knee is a problem but trusting the Lord and knowing that everything could get better the next loop. I'm optimistic and envision pushing a little harder along the descents and flats to make that big climb at the finish doable. But the knee is really slowing me down.
Mile 61. (92nd plc) I stop to stretch on a guardrail. A woman I've ridden most of the course with today says hi and goes by. She's same age as I but makes the bike look so easy. I see her a few more times but she gets farther ahead as my bike ride gets really uncomfortable now.. the scenic hills aren't so appealing anymore, the easy pedalling of the first loop is now a struggle, and the little hills are now punishing.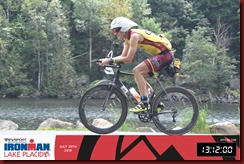 My attitude remains good. I tell the Lord that it is His race and I trust Him. Even if my leg completely goes or I crash right now for some reason… I will still praise You and be glad for the opportunity to persevere. It is hard to say but I mean it. Nothing can ruin the Lord's race.
Mile 85. I start the cool out-n-back and imagine how much fun it would be to fly through it.. but I'm just struggling to keep some kind of pace. And now the bottom of my left foot hurts - a "hot" spot – perhaps caused by the extra pressure compensating for the knee pain. While coasting I try to massage the bottom of my foot. All the while calculating how much off the pace I am.. 10 min, 20min, …
Back through Wilmington and along the river. Suddenly, the thunder clouds open up and dump a few hundred yards ahead of me. I bike right through what feels like a car wash. Then it happens again. After a while the heat comes back, the headwind stops and the roads are steaming with rising mist. Crazy.
Mile 98. On the final 12 mile climb, I have to stop a couple times to stretch. I also notice my brakes rubbing a bit. Picking up grit during the rain made the rub noticable. And I can't adjust this type of brakes on this bike. I try to ride very still because a little rocking makes these carbon wheels flex and rub. But God has a reason and I will press on!
Mile 110. I see my family again! I'm so glad to be almost done with the bike, they ask how the knee is doing and I say it's fine.
**
I finally coast into T2 and dismount. 6:52:18, 113th plc (60 passed me), 31min behind schedule.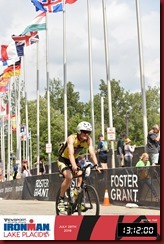 T2 (goal 7:00)
Before they take my bike they ask, "Do you need anything from it?" My mind is foggy and I come up with "No". My legs are painfully stiff and I can't even jog! I walk through the long transition. The hope was to finish limber, but with 1 leg hurt and the other doing more work, I'm really tight. Volunteers are great! They put sunscreen on me as I secure my shoes. (6:05 T2.)
The Run (goal 4:58, drink, walk aid stations and hills, and remember "it can get better")
This is one of the most daunting things for me.. to be starting a 26.2 mi run, at the hottest part of the day, when it's already uncomfortable walking. But the Lord has shown me before that He can get me through it. On top of that, I realize I put my bottle of Vitargo drink in the wrong bag and didn't grab a bottle from my bike when the volunteers asked me. So I have no special drink until 13 miles. I speed walk.. then I jog. it's downhill.. the easiest mile. People are cheering loudly.
**

Following the plan, I don't think about how far to go, just the next aid station. Most importantly, I focus on the Lord and the song, "Crown Him King of Glory", which I modified with, "it's not my race to win.. it's all His"
I don't even look at my watch (which is still hanging on by a thread). My run feels like only a shuffle but that's not the point, the point is to keep trying… and be a light, a help to others if I can. I see the 4th and 5th pl men getting near the finish. An age group woman is running ahead of me. She drops her nutrition. In my condition, stooping could pull a hamstring, but I feel it's good and pick it up for her as she starts running back. I'm ok, God is faithful.
Mile 2.2. 10:17 pace. we turn onto River Rd. No cars or bikes. Along a river. Plenty of shady spots. I'm happy I'm able to appreciate the great course that it is, even in the discomfort. I'm grateful that my rt heel isn't hurting at this pace, but my other achilles heal, my left calf and my hamstrings are bothering me. If I try to run faster, then I feel my rt heel as well. I check my pace for the first time and am pleasantly surprised that it is 10:30. Even with the walking every mile. I don't want to see 17 and 18 minutes splits like I had at Tahoe 4 yrs ago!
Mile 3. 9:53 pace. I hear, "I know that guy!" and see that it is Pastor Jim Koenig from Lake Placid Baptist Church which held the Iron Prayer 2 days ago. It's uplifting to see many of the church out serving so happily like they do every year I've heard.
Mile 5. 10:57 pace. The church has 2 aid stations! This one is decorated more and has signs of "Love, Peace, Prayer". I see some of the missionaries I had met, an FCA gal from New Jersey and Spanky & Melinda from Maryland. I fill them in that the Lord is getting me through the run and for them to pray for my hamstrings.
I make the turn-around and continue running for each aid station, then walking, celebrating to the Lord that He got me there, fueling (salt, water, and a Hammer gel, orange or grape) and then running off in search of the next aid station.
All day I've gotten periodic shout-outs from other racers that see my FCA "competing for Christ" jersey. It's a reminder of another goal, to represent Christ which means to love others. I've see other athletes hurting and have prayed quietly for a few of them, but I haven't gotten a chance to really talk to someone. I make an effort to talk to a guy running my same pace. He sees the FCA and figures out what it is but says he's never heard of it. I wait for an opportunity to talk about how important it is to me.. but then an aid station comes and I lose him. Hmm, that didn't work.
Mile 8. 11:12 pace. We running towards the Olympic ski jumps. These things are magnificent and crazy at the same time. Rising high above a nearby mountain peak, the 90m and 120m towers make me glad I'm doing an Ironman rather than having to ski down one of those!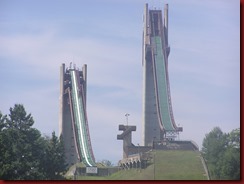 Mile 9. 11:59. (90th plc, moved up 22 plcs) A big hill. Actually looking forward to it because I get to walk! I use my power-walk and make pretty good time (14min/mi). At the top is waiting the best prize… my family! I tell them God is keeping me going and the foot is ok.
**
Mile 10.8. 12:00. The bigger hill. Another power-walking section (14min/mi). There's crowds of spectators yelling loudly and kids giving high-5's.
Mile 11.4. Needs bag. Bottle of Vitargo. I ignore the 2nd bottle which was supposed to be in my run gear bag. Vitargo is very easy to digest and never gives me stomach problems. It's plain but I flavor it with Hammer Fizz electrolyte tablets. And this time I froze it before the race to help keep it fresh. Taking my first gulp I realize freezing was a mistake! It must have crystalized and turned into a disgusting warm slush. I force it down anyway because to fuel with anything else is a risk..
Mile 13.4. 11:21. (84th plc) Ah! So glad to be going downhill out of town. On the flat section, it's hot. There are spray stations set up on the other side of the road. I refrain from crossing the road and interfering with athletes coming the other way.
Soon I hear the wonderful Superman theme from a trumpet down the road. It's Anna! It really lifts me.
**
Robin checks in with me. Ariel runs along effortlessly getting me on video. And now the 2nd, and last, descent for me to River Rd.
Mile 15.2. 11:57. (82nd plc) At the bottom I stretch on the guard rail before starting on the scenic road. "This race is not mine to win…. all that I have is His…Crown Him King of Glory" Everything hurts but I'm focusing on the Lord and know, for that reason, that "All things will work for good" Rom 8:28. To be realistic, I consider the worst.. a calf or hamstring pull forcing me to limp along, or an upset stomach and vomiting, or twist an ankle and collapse.. I pray and commit to God that even if that happens, I will praise Him for I trust it will still work out. In fact, I'm doing pretty well in the run and possibly because the rt knee pain which slowed my bike, but then disappeared for the run, saved the strength I needed for this leg.
Mile 16. 12:25. I say hi to Pastor Jim and others. I also pass FCA TeamMate, Robert Palmer on his first lap. He is encouraging to see. I'm also encouraged to see big numbers on the mile markers. On each out-n-back I'll suddenly hear, "Hey's 50's guy!" and look up to see the 50-54 woman who biked so well, now miles ahead on the run. It's helpful.
Mile 18. 10:54. I say hi to those at the LP Baptist Church aid station and tell them prayers are working. I make the turn and come back to the same aid station.
Running is very difficult now which makes the celebration even greater when I see an aid station. I put my arms out a bit and just worship each time, thanking God for another mile done and the chance to walk soon and fuel up.
In this moment I hear a voice next to me, "I like the verse on your shirt". Without even looking I reply, "I'm thanking the Lord for getting me to another aid station, I couldn't do it without Him." I feel prompted, get her name (Logan) and then ask her if she's dealing with any pain or difficulty that I could pray for her about. Still running, she looks at me and just stares for a while. Right when I'm thinking I was too forward and offended her, she says sincerely, "that would be so wonderful". Her expression is so full of appreciation.
She goes on to say that the difficulty she deals with is mental illness of anxiety and depression. This makes the typical ailments of calf strains and nausea, which I expected her to say, seem childish. Without mental illness I know how dark the moments can be on an Ironman run. My thoughts prior to the race of this run section haunted me with bad memories of Tahoe 4 years ago. I can only imagine how much more disheartening it would be if I was already battling depression every day. I pray that God will calm all her anxieties and give her peace. And that she can be sure that God's in charge now and promises joyful moments ahead. "Hope does not disappoint.." Rom 5:5
Mile 20. 11:00. Her pace is a little faster and helps me. I tell her about FCA and the Iron Prayer and how I'm trusting God with my race so that whatever happens I know will work for good. She enjoys the conversation and the miles go by faster which is a huge blessing for me.
Mile 21. 10:21. A big hill is coming. I'm looking forward to it because it means I get to walk! As we turn onto hwy 73 we see the climb. Logan walks the hills, too, but says, "we walk at the sign". The sign is part way up the hill.
Mile 22. 11:29. At the sign I power-walk the rest and, as I crest the hill, I hear the trumpet playing! There's my great family. I'm so glad to see Robin and tell her God is holding everything together for me.
**
Mile 23. 11:21. Walking the hill doesn't change my pace much. As we anticipate the coming descent which begins the climb into town, Logan says, "I can't get my head around the fact that we're going to be done soon!" Such an exciting thought.
Mile 23.7. The final climb! I walk strong. Surprisingly it looks more and more like I can break 5hrs for the marathon. This makes me go faster but I feel I owe a lot (like an extra 10min) to my running partner and I feel the Lord leading me to ignore the time goal and be a support to her. Logan sees her loved ones cheering and says for me to go ahead. I feel released to go now and try to push.. but the feet both complain when I go too hard.
Mile 25. 10:37. I can't believe it, only a mile left! I make the turn-around and am excited that the final stretch is not a mile like I thought. Thank you, Lord! I'm really going to finish this thing which loomed over me for months. Not just finishing, but accomplishing the goal of truly giving the race to God and trusting Him. It's a great feeling. The crowd is loud.
Mile 26. 9:56. As I round the speed-skating oval track, Logan taps me on the shoulder and runs by. I'm so glad she stayed strong and caught me so she can finish proud.
Finish! (4:52:51 run, 13:12 total, 72nd plc) Ah, the finish, compliments of the Lord. A joy that reminds me more and more how faithful God is despite the momentary struggles. All the hardships during the race just made this extra special.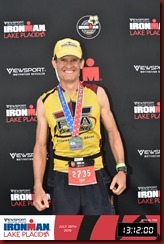 **
Robin and the girls take care of EVERYTHING for me and I lie down on the grass recalling Ps 23 "The Lord is my sheppard, I shall not be in want. He makes me lie down in green pastures.."