Date/Location:

May 14, 2022 – Granite Bay Beach

Distances:

Swim 1.5K – Bike 40K – Run 10k

Time:

2:34:28 (28:27 – 2:57 – 1:14:00 – 1:05 – 47:59)

Place:

2nd / 20 age, 25th / 269 o/a

Teammates:

FCA: Flor Hodges, Robin Soares;

Dana Haldeman, Dave Campbell
Robin and I show up at Granite Beach, our most enjoyable place for racing and only 25 min from home. Wow, Folsom Lake is up, there's no wind, and it's a perfect day!
TBF does a great job of putting on races. I thank the Lord for letting me have a great experience here just 3 weeks earlier at the short Ice Breaker Triathlon. He gave me a feeling of being fast again, even in transitions which I've become notoriously slow in. Today, the whole venue is ratcheted up. There are vendors, a full transition, and course signs were out days ago letting communities know we'll be racing through.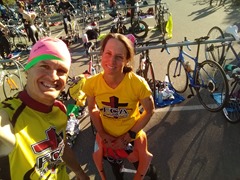 Setup and warm-up goes well. Anna and Ariel arrive on their bikes to cheer for us as we start down to the water. We find teammates Flor Hodges & Erica Chan and gather to pray. It reminds me about why I race and how I want my priority to be glorifying God over seeking advantages and places. Another neat thing today is that my 50+ age group is the first wave. The first wave is very exciting, for spectators, too, but it's usually the youngest athletes. I remember the thrill when I was racing the 25-29 age group. Now I always expect to start much later… except for today as we lead the race underway.
Swim.
Go! I high-step through the water until I can dive a couple times and then finally get to swimming. I try to push hard from the start like last time. I even get some draft. But the buoy is twice as far as last time and soon I'm feeling winded. I'm still not great at staying on toes so I settle for trying to swim with good form on my own. The it's going well. I feel a little chill at times.. which makes me push a little harder (scary memories of being cold!) The swim feels really long but I try to spend this time thinking about God and knowing it will be over soon and the real fun will start. I've made it a point not to bump into other swimmers, so everyone can have a good time. It's great to see the shore finally coming and I'm now standing… which leads to the hard part.. taking off my wetsuit while being dizzy from breathing so hard. I forgot to put Pam non-stick on so the wetsuit is sticking everywhere. While I struggle to peal off the neoprene, I see our good friend Dave Campbell run out of the water. I'm happy to be near him as he's a good swimmer (and a very good triathlete that challenges me every time even being 10 yrs older than me!)
T1.
I run fast barefoot to my bike, wincing when stepping on rocks. I pass a friend, Eric, I know from my age group. I only put on arm warmers which still takes time but a lot faster than all the other stuff I sometimes have to wear. I love warmer weather!
Bike.
Wow! This is so much fun. Flying out of the park. A girl goes by me strong. We race on Auburn-Folsom with traffic which has me a little scared watching the girl and others in front with cars very close to them. A couple guys pass me. I keep trying to push but they all may be faster than me. But as the miles go by, I'm actually catching and passing them. And the girl. Now, on Laird Rd, through the curving, undulating, shady stretches, it's invigorating! The combination of fast speed and still not being able to focus well because of hard breathing makes it a little risky, kind of like a rollercoaster where it's fun even though you think you could die! I look to the Lord, make sure He's my priority. I smile in awe that He would let me have so much fun.
On King Rd it's gets hilly, and maybe not as much fun, but I'm still passing other riders. Now through rural roads to Newcastle. I drink, remove my arm warmers and prepare for the tough climb of Power House Rd.
Yay! Passed the climb and now it's all downhill on my favorite stretch of Auburn Folsom Rd. It's a beautiful day and I'm thankful for God allowing my body to function well and trust in Him that my hip will hold up in the run.
The highway patrol has traffic stopped to allow the left turn onto Twin Rocks Rd. Appreciate that. One last push, and then through the sandy section (I think back to my training ride a week ago where I went the wrong way and road 3 miles on a gravel, wash boarded road which served as great practice for riding this particular stretch).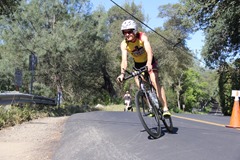 I happily see Anna cheering for me and, knowing Robin is behind me somewhere, tell her to tell Robin I love her. I hit the final stretch in the park…
T2.
Good dismount, socks & shoes take a bit, grab gels and hat and I'm off
Run.
Great to see Francie Campbell, volunteering at the run start. Ariel is cheering for me as I start onto the trail. It takes about a mile before things loosen up a bit. I have to watch my form so my hip doesn't hurt. I try to run "tall" on the right side and push off with my right toe.
Mile 1. 7:51. Coming through the transition area I grab a lot of water, appreciate those helping and cheering, and am thrilled to see Ariel encouraging me and taking pictures – thank you, Lord, for the blessing of support from my family.
I push through the brief trails and hit the pavement section where I try to lengthen my stride to gain on runners ahead.
Mile 2. 7:57. It's warming up.. water at the aid station. Now onto the fire roads. They start off tame and shady but will soon become abrupt up and down hills. I pass a guy who passed me on the bike. Now I see the leaders returning and start counting to see what place I'm in.. it would be great, I think, to be top 10. But I'm happy for whatever place I'm in because the Lord is allowing me health and endurance to push my body which it was made to do.
Mile 3. 7:51. Seeing more runners, mainly younger, but I see a couple that may be my age group. The turn-around. I'm in 12th place. They probably should have water here. I'll be ok, but it's getting hot and imagine others will need it.
Mile 4. 7:38. Ok, got to push it now. 2mi back. I see Eric, then Dave Campbell (glad to see him running fast, despite some setbacks he's had), then Dana, then Flor. Now the tough part. I keep positive and practice good form even on the really steep sections. There's Robin! I'm so glad to see her.
Mile 5. 7:55. I grab more water and now hit the best part, the single-track trails leading to the finish! I push with all I have and smile, feeling the Lord close and thanking Him for all his blessings – especially for my family!
Mile 6: 7:12. Thanks, Lord, for a great mile. Now the final sprint.. thank you, Lord, for a great race.. and my final race before my Ironman next month. It's a confidence boost today after setbacks and injuries. I finally feel ready to endure the Ironman again after 3 years!