| | |
| --- | --- |
| Date/Location: | July 8, 2023 – Herald, CA |
| Distances: | Swim 1.5K – Bike 25 miles – Run 6.2 miles |
| Time: | 2:35:48 (30:50 – 1:21:46 – 43:11) |
| Place: | 1st, 19 and under; 6th Overall Woman |
| Teammates: | Dave Campbell, Dave Leroy |
Today I'm doing the TBF Tri for Real Triathlon! This will be the only Olympic distance I will race this summer and I'm really excited to do it! My Mom and I got here with plenty of time so I've already done a bike warm-up, a run warm-up, and now I just have to do a swim warm-up. As I do, I notice how warm the water is with my wetsuit on. It's going to get toasty out there. I line up for the run-in swim start and I see Mom on the sidelines excited for me to race. We had already prayed beforehand. She is volunteering today but hopefully I'll still get to see her during the race.
The race director counts down and I take off into the swim. As I'm running through the water I start to realize that being in the front of the swim pack wasn't a good idea because I'm not a strong swimmer. I get into the water and start swimming hard in order to not get trampled. I have people swimming over my legs and it takes a few minutes before everything calms down. I try to relax and get into a rhythm for the long swim ahead. My goal today is to give my best effort for God and I'm going to try to talk to Him constantly during the race. As I'm talking to God, I feel him remind me of my Dad's swim strategy of trying to get your legs and arms to work together in rhythm. I try this as I swim toward the first buoy. There's a swimmer in front of me going about my speed so I try to draft off them. I feel God reminds me to be respectful of the swimmers around me and not to trample them as I was trampled in the beginning and so I try not to hit their feet as I draft behind them. As I'm swimming, my hip is actually really sore as I'm kicking my legs. Although I do know that my swimming has never made my hip worse, it just irritates it sometimes. I'm praying that Lord willing, this pain is actually a good pain and that my hip is warming up in the swim and will be ready to go for the run.
After a while, we get to the buoy and turn around it. I start to feel God telling me that I should just focus on my own swimming and not worry about drafting anymore. I'm starting to get quite warm in my wetsuit so I try to put water in my suit. I then start a routine that every time I sight the next buoy 10 times, then I'll then let some water in my wetsuit, to cool me off. I don't want to overheat so early in the race. This swim stretch is the longest, but I focus on swimming smoothly and well for God. Eventually, I finally get to the second buoy and I turn towards shore. It's very bright and it's hard to see where the buoy is. I swim for a while following other people before finally seeing the buoy myself. I continue to stay in rhythm. For some reason, everything seems to get a little busier as I catch up to some of the older swimmers from the wave in front of me. I keep hitting this guy's feet because he goes back and forth a lot. I finally get myself around him so I don't have to constantly run into his feet.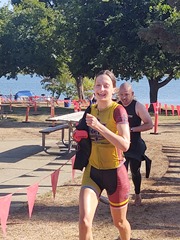 I get about halfway to shore and start to notice how the seaweed comes up to meet the water every once in a while. It doesn't get all the way to the surface, but it's pretty close to my fingertips as I pull through the water. As I get closer to shore I can start to brush the seaweed with my fingers as I swim over it. I noticed some of the other swimmers swimming farther around it to avoid the seaweed, but I don't mind. I go all the way around the buoys and head into the last 20 ft to shore. I swim in as far as I can before my hands start hitting the sand, then I stand up and start trying to take my wetsuit off. It takes a few seconds before I can find my zipper and then I pull it down. The one problem was as I unzipped my zipper, I accidentally pulled my tag with my swim number, 253 off. So now I have to take off the entire wetsuit holding the swim tag in my hand. Not the most ideal situation. I finally get the wetsuit off, hand the volunteers my swim tag, and run out of the water.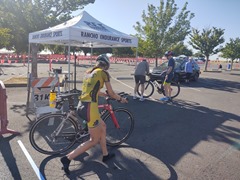 Now it's time for the bike. I go sprinting up the shore to the transition, passing someone who I think is wondering why I'm running so fast to the bike transition. I get to transition, get on my gear, and then realize one of my water bottles is not on my bike. I run over to my bike bag, which isn't too far away, and put the water bottle on my bike. And then start heading towards the bike exit and stop quickly to buckle my helmet. My bike kind of falls over, but I pick it back up and then start to mount my bike. Mom's cheering me on as I head out for the bike. I haven't practiced my bike mounting for a while, but it's all going smoothly thanks to God. As I'm biking along, I coast every once in a while to slide my feet into my bike shoes that were already connected to my bike. Once my feet are buckled in, it's time to go. I grab some water and some electrolytes on my bike and get into the aerobar position.
I enjoy the downhill out of the park before turning onto the long stretch of road I will be on for the next 10 mi. It's a little bumpy but I don't notice it very much as I bike along. I decide to get into a habit of drinking water and electrolytes every 4 miles. I then check in with God and ask Him what he would like me to focus on now. I feel like He's telling me to work on my Dad's biking technique of lifting my legs up more instead of putting pressure on my feet as I pedal. I can already notice my shins starting to feel sore, so I feel this technique should really help take some of the pressure off them. This technique is not always easy for me because I like to put more pressure on my feet when I bike, but I want to do my best effort for God so I focus on lifting my knees up more.
Every once in a while, I'll pass someone on the bike and tell them good job, but right now it's mostly other people passing me. I make it my goal to smile a lot because I'm grateful for being here and to say good job to those who pass me or those I pass. Even though I'm not a super strong swimmer, I am still faster than some of the other swimmers, who are amazing bikers. My swimming and my biking aren't my strongest, but I can still perform well in both of them thanks to God. I'm looking at my watch and I'm going around 18 mph pace. I don't want to burn myself out too much on the bike, but right now the pace feels comfortable. I'm biking over rolling hills which aren't my favorite in biking, but at least I get lots of mini downhills.
I hit 8 mi, drink break! Only 4 miles from the turnaround. I then hit the smooth pavement. It reminds me of a movie quote from Cars, "it's-a like it was paved by angels". It is so smooth and seems to make biking easier. I'm starting to see some of the leaders head back on the bike. They're crazy fast. I'm starting to feel more tired and the hills feel harder even though they're the exact same as all the other ones I've been climbing. The downhills are also not feeling as easy. But I keep my focus on God and I keep pushing on because I know I'll get to have my gel at the halfway mark, 12 mi. I also remember Mom telling me that when it feels hard you'll never know when God might allow it to feel easy again. As I'm biking, my transition pal who set up right next to me, bikes by. We both tell each other good job.
Now up ahead is the railroad tracks. I know how to bike over railroad tracks but last year I made the mistake of not checking behind me when I swerved to go perpendicular over the tracks. Before I go across the tracks now, I look behind me and I'm happy to see no bikes or cars. I cross and then thank God that I got over them safely. I also pray that he keeps all the other riders safe. I'm getting closer to the turnaround and the downhill is feeling nice, however, it seems like there's going to be a big hill on the way back. I finally hit the turnaround and start heading back. A lady passes me right at the turnaround and we both cheer each other on.
As I start biking back, I'm so excited to eat! I pull out my peanut butter-flavored gel and try it out. I wasn't sure if I would like it. It actually tastes good, definitely peanut buttery but also some other flavors that taste good. When I first picked this gel, it looked pretty big compared to other ones I've had in the past. But as I finish the gel now, my stomach tells me that it wants more. I didn't realize that I'm actually quite hungry and that gel is only a packet of energy, not a packet of fulfilling food. I tell my stomach and my muscles to wait a little bit before they feel the energy boost.
As I'm biking back, I start to realize that this hill, which I thought looked so big, isn't bad at all. I thank God for giving me the energy to get over this hill. I also see the railroad tracks again and successfully cross them with no cars or bikes behind me. I thank God again. I know I'm not too far from finishing the bike and now I have new energy to push on. I weirdly start to pass more people, even after being passed so many times myself. I continue to say good job to those I pass. Of course not too long later, I do start getting passed again. One person is an 80-year-old guy. I remember my Dad always telling me how much respect he has for the older people who can bike so fast. Especially the ones on normal road bikes, not the fancy tri bikes, like what I'm riding. I was passed by one of those bikes too in the beginning.
Eventually the smooth pavement ends and now I can really feel how rough the road is. But I can't change the scenario so I smile and push on, focusing on biking my best for God. I have really enjoyed talking to God during my race today and I think of it like I'm in the cockpit of a plane checking in with my pilot. Always asking Him how I'm doing on fuel and what He wants me to do next. Right now I need to again focus on lifting my knees, my shins are still sore but getting better every once in a while. As I'm drinking my water and electrolytes, I can finally start to see the twin nuclear towers in the distance where the park is. Almost there! Right now there's a pretty heavy headwind, which is starting to make the bike feel more tiring. I didn't mind it so much before, but now that I'm almost done and running out of energy, it makes it harder. I originally thought that we had a headwind on the way out, but I was wrong about that. I check in with God again and feel like He's asking me to think of a verse. I think of "the Lord is my strength" (Ps 28), "I shall not be in want" (Ps 23), and "nothing is impossible with God" (Luke 1:37). But the verse "I shall not be in want" sticks out to me, and reminds me that I'm doing this race for God not to get a medal or to get an age group or overall award.
A few miles later, I make the turn into the park. Yay! Almost there! Now I have to climb the hill into the park, which I've heard is the hardest part of the bike course. However, for some reason, this hill feels great to my legs and I just power up it. I thank God for giving me this boost and making this hill feel like a piece of cake. I get to the top and start biking across the levee. Now it's time to start thinking about the run. I shift into a lower gear and start to make my legs spin faster to refresh them for the run. I drink some more electrolytes, unbuckle my shoes, and slide my feet on top of my bike shoes. As I'm biking closer to transition, I coast a little bit and stretch out my calves. I shift into an even easier gear to loosen up my legs and then hop off my bike into transition. I accidentally bike a little farther over the dismount line on accident and apologize. I see Mom and she asks how the bike went, I tell her it went great. I take my bike to my bike rack, put my run gear on, and take off.
As I'm running out, I ask if it's okay to take a quick detour off the run course to the restrooms across the road and the race helper guy says yes. I quickly run across, use the restroom, and get back onto the run course. As I head out, my legs feel slightly numb, but also great. I look at my watch and realize I'm running 7-minute pace and under. Way too fast. About 4 days ago I did a 12K run and did 7-minute pace and it was a hard pace to hold, so I'm assuming after doing the swim and bike, 7:30 pace should be good. As I'm running, I tell people good job as I pass them knowing that it is a blessing that God has made the run my favorite part. When I get to the mile marker I'm still running at around 7-minute pace but my legs are feeling good and comfortable. I now decide that I will stay with this pace for as long as my legs can hold it because I feel so good right now. I don't want to go any easier than my best for God and I feel God telling me that this pace is ok.
At the aid station, I grab some water, drink 1/4 of it, and pour the rest on my head. It wakes me up and I keep running. The run has rolling hills just like the bike. Normally I don't like rolling hill runs, but today it feels great. I let my legs go on the downhills and then conserve a little on the uphills. All I have to do is not twist my ankle. I get to the second aid station, drink about 1/2 of the water, and then pour the rest on my head again. Now I get to run on the bike course for the small out and back. As I'm running down the road I see two ladies running back from the turn around, they're probably about a half mile ahead of me but maybe if I can stay at this pace I'll be able to catch up to them. Speaking of my pace, I'm still on 7-minute pace which is a miracle and I'm feeling great. I get to the turnaround and head back up the road.
A lot of runners are cheering me on which makes me want to cheer them on even more. I get back onto the gravel/dirt road area and then turn onto a side single-track trail that runs along the lake. It's a little more technical than what I've been running on today and there are a lot of sharp turns which are hard to do when you're running so fast. But I check in with God and I feel like He's telling me not to slow down, but to be in control of my running form with the terrain. As I pass people in the single track I also try to be respectful and not cut them off. The single track is pretty wide though so that helps. Then I start having the feeling of needing to go to the bathroom again. But as far as I know, there are no restrooms out here. Maybe I can hold it till the finish, another 3 mi. I then come around the corner and I see a big brown building up ahead. I was shocked to see what looked like a bathroom. It's pretty close to the aid station, but I don't remember it being there last time. I quickly use the restroom, get water at the aid station, and keep running. I thank God again for putting that bathroom structure in the right place where I needed it. I still have more single track for probably another mile and a half before I get back onto the rolling hills road. There are a lot of mini bridges here which are very pretty, but it's hard to enjoy them as I run by so fast. I'm starting to feel fatigued a little, but I focus on my effort for God and not slowing down. Sometimes I feel my ankle slip to the side because of the slated terrain, but God keeps me from injuring it badly. As I think about the finish, I remember my Dad telling me that when he did his first half Ironman, he remembered laying down on the ground and not being able to get the pain to go away. That's how I'd like to finish today, giving it my all.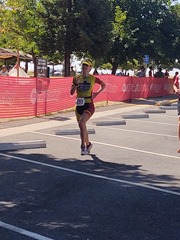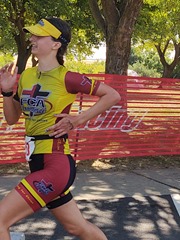 I pass a sign with two miles to go. I jump back onto the wide rolling hills road, no more single track. It feels so much nicer to run on an open road. I've also noticed that my hip is feeling great, which is such a blessing! It only felt tender once so far on the run. Up ahead, I see a female racer that was one of the two that I saw during the out and back. I pick up the pace trying to catch her. The verse "I shall not be in want" comes back to my head and reminds me that I'm racing for God, not for the awards, and that these athletes he puts in front of me are to help motivate me. I eventually catch up to the lady after getting water at the last aid station. As I run by, she says "I've been waiting for you to catch up to me". I laugh and tell her she's doing an amazing job.
I keep running now, picking up the pace knowing I have only a mile to go. I then get to the half-mile left and I look ahead if there are any more ladies in sight. I then see one lady far up ahead and the first thing I think "she's too far away to catch before the finish line". But then I remember that anything's possible with God and He's put her there to help me run faster, not necessarily so I can beat her. I pick up the pace even more, pushing my legs to go faster to get as close to her as I can. With a quarter mile to go, she's still a good ways ahead of me, but I have gained on her. I know I'm so close to the finish and with 20 meters to go, I can see her finish. I finish strong pointing to God and smiling all the way. I'm so thankful that he gave me such an amazing race with people to motivate me and kept me from past injuries like my hip pain and weak ankles. I'm also shocked by how fast I ran, but I know it was from God. I'm all overjoyed and now I get to rest the rest of the day. Thanks also to my Mom who supported me through the race.
Praise The Lord For He Is Good His Love Endures Forever