Date/Location:
July 4, 2023 – Coronado, Ca – Racing Since 2011
Distances:
12km
Time:
51:41

Place:
2nd/15 F15-19, 9th Female Overall
Others:

12K: Robin Soares, Troy Soares

5K: Ariel Soares

4th of July 12k 2023
Today the 2023 Crown City 4th of July race begins and Ariel and I take off from the start line side by side. Ariel is running the 5K and I am running the 12K, but we're both going for the same goal pace. My goal is to help Ariel stay on pace for the first mile and a half before her turnaround and then to try to continue on at that pace for the rest of my race. As we run over the start line, we run under the beautiful American flag as we start the race. I'm watching my pace on my watch trying to find the perfect gear in my legs that will hit 7-minute pace. Ariel's behind me now, but I can hear her breathing and I know she's right with me. We run under the Coronado bridge and start to run around the golf course. So far I'm hitting 7 minute pace accurately and I thank God for that. I don't want to go any faster than 7-minute pace in order to conserve Ariel's energy for her last mile and a half without me. As we're running, this guy goes by with a stroller blasting some fun music. I think he's from the second wave because he goes flying by. I tell him "nice music" and then I said something like "If anyone can keep up with him you'll have a personal DJ". Ariel and I then get onto the main road still running along the golf course. We go by the first aid station and I don't grab anything because I know they'll be another one further out. As I'm getting close to the 5K turnaround, I look down at my watch to see how far I've run and realize I never started it! The pacing was the only thing working because it just goes off the speed I'm running. I quickly start my Garmin so it starts tracking my miles and average speed. I tell Ariel good job as she takes the 5K turnaround and I continue on.
I'm feeling good and fresh right now, which is a blessing, but I'm trying to stay exactly on 7-minute place in order that I don't blow up later. I'm running behind these young adult athletes who I think train with the military in Coronado, and they're having fun and randomly run off the course to jump over an electrical box and then get back on course. I guess they can never do a normal run, they always have to do some parkour with it. The race course then turns towards the Coronado boardwalk and we run along side road. This is the long straightaway before the turnaround. I see an aid station up ahead and when I get there I grab a cup. I take a sip and realize it's Gatorade! I dump it out and keep running. I always like to get plain water and for some reason forgot to ask for water. I just assumed that they were holding water because they were just standing there with a cup in their hand. My mistake. Now I have to wait to get water till after the turnaround. I continue to run on the road focusing on my 7-minute pace. The pace is starting to feel less easy and more tiring to hold. I'm almost halfway and I keep pushing on. The course moves onto a small bike path along the ocean. As I'm running I can see up ahead a little overlook spot that I stopped at last year to stretch my hip. Last year was the first time I did the 12K and I had hip problems the whole time, I was grateful to finish though. This year reminds me how grateful I am of my hip not hurting right now! I feel my hip is slightly tender, but no pain which is great! As I get close to the turnaround, I see the top female finisher leading the entire race coming back! She must be a pro. As she runs by she's smiling the whole time. That's what I try to do to my races, always smile. But I have a lot of respect for those who are running at incredibly fast paces and still giving a smile to those around. I eventually see the guys behind her and the next few women. Eventually, I get to the turnaround and start heading back.
Halfway! As I'm running back I see Dad and tell him I'm tired. We cheer each other on. He tells me I'm 8th woman overall. Not too long later I get passed and go into 9th place. I don't mind because I'm staying consistent at my pace right now. As I'm running I can start to feel a knot form in my quad. This makes it harder every time I pull my legs forward. It's not too bad though and I only have 3 mi left. I know with God I can push through at this pace even with a sore quad. This also reminds me of Ash Bartholomew who finished Western States this last weekend. When he finished he was hunched over and probably running in extreme pain, but he had been running like that over 3 mi before the finish. So I can easily finish with a tight quad bugging me. The pace is starting to feel harder but I start to get my legs moving faster than they have been. Now all I have to do is keep them moving at this pace. I get to the aid station and this time get water. Yay! I only drink a little bit in order not to get a side cramp and the rest ends up spilling on me anyways. At least it cools me off. I can also feel that my hip is still tender, but I know that as long as I stay consistent at this pace, it should be fine. I can start to see the golf course now as the course turns and starts to go around it again. My pace is actually dropping slightly which is surprising and definitely God's strength. My legs are quite tired now, but I know I can't slow down because then I won't be able to get back up to my 7-min pace. As I'm running, a guy runs by and he's barefoot! He's been running the whole 12K with no shoes! It looks painful but he must be trying to complete some challenge. I eventually pass the girl who passed me, and tell her good job. There's another girl up ahead who I pass as well. I appreciate how God's put these ladies in front of me to help motivate me towards the end. My favorite part about this race is that it's really flat, however, it makes speed bumps seem like big hills after running flat for a while. Kind of funny. Eventually, I see the 5K turnaround and now I'm a mile and a half from the finish line!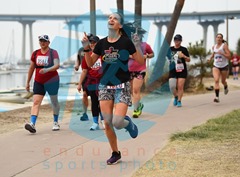 I push on telling myself I'm almost there and giving my best effort for God. I'm starting to run by a lot of 5k runners now and the road becomes a little bit more crowded. I try my best not to get in the way of them as I run by. The course eventually turns back into a bike path under the Coronado Bridge. I'm so close! Every once in a while I try to say good job to the runners next to me as I'm running by them. After passing under the Coronado bridge I know I'm so close even though my legs feel like they're dead. I try to pick it up a little bit knowing that I'm almost done! I've been hearing someone's breathing behind me and I think it's one of the ladies who's about to pass me back. I don't worry about looking back though because I'm already giving my best effort. I get close to the finish and the lady goes flying by me. I have no idea how she has that much energy left but she reminds me of me in a cross-country race. I get to the finish and sprint in giving credit to God for getting through this race. Thank you God for an amazing race!
Praise The Lord For He Is Good, His Love Endures Forever