| | |
| --- | --- |
| Date/Location: | September 3rd, 2022 – Susanville, CA |
| Distances: | 13.1 Miles |
| Time: | 1:53:46 |
| Place: | 2nd M50-54; 11th/59 Overall |
| Teammates: | Marathon – FCA: Robin Soares |
It's still dark in Susanville. I see Robin off on the shuttle to her Marathon start at the other end of the Biz Johnson trail, a 25 mile section of Southern Pacific Railroad converted to a beautiful running path.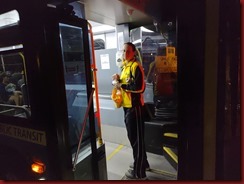 I'm doing the 1/2 marathon which is an out-n-back starting at the end of the trail in Susanville. It's a small crowd, and a small starting line, right on some remaining railroad tracks and next to a parked caboose, a centerpiece for this historic area.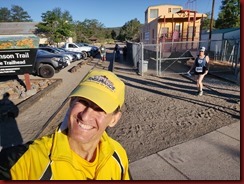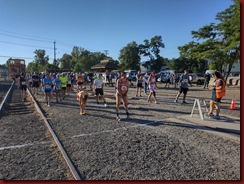 Go! Because it's small, about 100 runners, I had thoughts that I might be able to run at the front, but quickly I start falling back remembering I've been nursing a strained calf muscle I got at the Lake Tahoe Tri after crashing on my bike.
1mi 8:50. I'm still really happy to be running and to experience this trail I've always wanted to run for years. It goes along the Susan River, between the mountains, at a steady 3% grade for the whole distance.
2mi 8:38.
3mi 8:47. break #1. At about 3.4 mi I feel my calf start to flare up. I have to drop the pace from 8:45 down to 9:45. It can handle that.
4mi 9:27. At 4.5 mi we go through the first tunnel. So impressive to think of them blasting out this hole through the mountain. It's also a cool relief from the 75 deg sun that has come up. It's quite dark but lanterns on the ground light the path. At 4.9mi we go through a 2nd tunnel as well. These are the highlights of the race for me!
5mi 10:01. break #2
6mi 9:58. I see the leaders coming back. I count 15 and think how great it would be if I could catch up to top 10.
7mi 9:33. The turn-around is high-spirited with great volunteers, music and food. I take some Cliff Blocks and orange slices together… tastes like a fruit salad! delicious. This is the 19mi mark of the marathon but we don't see any marathoners coming yet. I pray for Robin knowing she's probably a few miles behind me now and I won't be able to cheer her on until the end.
8mi 8:00. It's noticeably easier running back down the 3% grade. I feel I can push the calf more. I pick it up and it's going so well. Thank you, Lord! Slowly catching up to others. I pass a couple ladies and a guy. break #3. Yay, I get to run through the tunnels again.
9mi 8:16. I get drinks from the 2 aid stations along the way and thank the young volunteers. I'm in 12th place and the next runner is way ahead so I try to pick it up..
10mi 7:36. Wow, great mile! The marathon leader catches and passes me (he's running a 2:51 marathon pace which is 6:32 pace)
11mi 7:53. I'm not giving up.. I can still see 10th place ahead and even though the miles are running out, you never know what can happen
12mi 8:00. I no longer feel the downhill grade, I've gotten used to it so it just feels hard again. Just 1 mile to go.. gotta give it my all..
13mi 7:45. That was a great push.. but the guy ahead is out of reach. Now just have to climb a little trail to the finish without straining my calf..
Yay, done! Thank you, Lord for an exciting race even with a weak calf. I'm very sore, but excited to go out and see Robin finish now!