| | |
| --- | --- |
| Date/Location: | September 3rd, 2022 – Susanville, CA |
| Distances: | 26.2 Miles |
| Time: | 4:07:38 |
| Place: | 2nd/7th W40-49; 15th/55 Overall |
| Teammates: | 1/2 Marathon – FCA: Troy Soares |
Thanking God to be able to do this race. It was a last minute find and worked perfectly with our busy schedule. It's a point- downhill race though slight. This is much better than trying to run a marathon on my own at home where it's hilly! It's been a stressful and challenging week. Last night, we arrived in Susanville late to find our hotel room was occupied. The hotel was totally booked so we had no where to stay. Fortunately, we found another room at another hotel quickly. We didn't get much sleep but were grateful for a bed!
We arrive early to check in for the race. Since it's going to be a hot day, they have moved up my race start an hour to 7am. I say goodbye to Troy and get on the bus to get to the start. It's a point to point so I'll be back here in 5 hours. Troy's half marathon is an out and back and he starts an hour after me. I wonder if we'll see each other.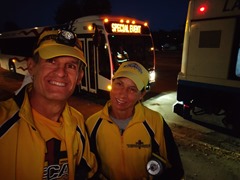 I read the Bible and pray on the way over. I want to honor Jesus today. Even though I'm exhausted He can help sustain me. I hope to go sub-9:30 pace and get under 4:10 for the marathon. but I'll take up to 10 minutes for a 4:22. I try to snooze for the last few minutes of the drive.
We arrive at the start. It's a trailhead for the start of the Bizz Johnson bike trail. The railroad used to go along this trail. CA Congressman Bizz Johnson worked for years to create a trail. It's 25 miles long which means we have to do a out and back in the beginning to make the 26.2. The profile of this run is downhill. It is slight but consistent. Troy did point out on the map this morning that there is a hill at Mile 20.
All the runners make a b-line for the restrooms including myself. I feel like I'm having digestive issues but get some relief.
The race director gathers us and gives us the run down of the course. There are less than 100 of us and some folks are running a 50K which means their out and back is much farther.
Ready, set, go! We take off. Within a half mile I have to use the restroom again! As we head back to the Bizz trail there is a porta potty and I quickly pop in and out. Onto the trail. The trail is flat and has some gravel. At Mile 2 we run through a burned area. So sad.
I enjoy the quiet morning and watch the sun come up. There are a few runners around me. I think we are all taking in the beauty.
By mile 4 I'm averaging 9:28. Yay!
I get some water at the first aid station at Mile 5. The trail is so nice. I'm running through a forest and enjoying the downhill grade. I don't feel the downhill but I can see it reflected in my pace.
The digestive issue pops up again. I have to make a brief stop and I'm on my way again.
At Mile 8 there is another aid station. I get some water and grab some potato chips. Digestive issues again so I hope the chips will help. I'm averaging 9:26 pace.
Another stop at Mile 9 and I hope that is the end. I am trusting God and doing my best.
At Mile 11 I get more water and chips. I'm averaging 9:25 pace. Thank you God!
I can hear a horn in the distance like you would hear at a pro soccer match. There must be another aid station with a lot of people. As I think about it, that doesn't make sense. I'm in the middle of nowhere. After a while I figure out that it's cattle lowing! Ha, ha! That's funny right there!
I'm feeling good but by Mile 13, the issue comes back. I'm averaging 9:24.
I get to the Mile 14 aid station. It's a the first trailhead I've seen. I hit the porta potty there hopefully for the last time. I get some water and chips and continue.
I come up on another burn area at mile 16.5 and it lasts until 19.5. So sad The burned trees along the trail have be leveled. The sun is hot and without the tree cover it's intense. So glad we started early!
At Mile 19 I'm averaging 9:23. Thank you God that I can continue to hold this pace and that haven't had any more issues. I'm tired but feeling good.
I can see that the trail is heading towards a highway. The trail goes down and under the highway. I finally see the hill. It's short but steep and with deep gravel. It's a challenge getting up that. I'm rewarded with an aid station. I get water and more chips. The half marathon turn around is here. I think Troy is long gone now. I wonder how many half marathon runners I'll catch up to. My average is 9:23.
At Mile 22 is another aid station. I get water and chips. I plan on getting cola at the last aid station. I'm averaging 9:24.
I ready to be done! The old railroad bridges and 2 railroad tunnels keep me distracted. The tunnels are so cool inside and dark. There are lanterns lighting the way!
At Mile 24 is the last aid station. They don't have cola. Bummer. That's ok, I've got the Lord. I'm averaging 9:24.
I have passed a few half marathoners and have caught a few marathoners that are struggling. I encourage them as I go by.
So close now! I should be under 4:10. Yay!
With 1/2 mile to go I see Troy waiting for me. It's so nice to see him. He tells me just a little further I'm done.
I turn off the trail and head towards the finish. There it is. I see the clock at 4:07. I push as hard as I can. I finish at 4:07:38. Thank you Jesus!