Date/Location:

August 28, 2022 – Lake Tahoe, CA

Distances:

Swim 1.5K – Bike 25 miles – Run 6.9 miles

Time:

3:05:26 (19:00 – 5:32 – ? – 1:15 – 1:02:00)

Place:

DQ/DNF

Teammates:

HALF- FCA: Robin Soares

OLY DU – Dave Campbel
The whole family is at sugar pine State Park in Lake tahoe. It's been hot down in Auburn but it's 45 degrees here at 5:00 a.m. . We swam in the water yesterday. it wasn't that cold. I find my old wet-suit has 2 big holes in it. another reason I'm glad it's not freezing water. Still I'm pretty cold in my wetsuit standing on the beach. Anna and Ariel are great support. We all pray with Robin as she starts her half Ironman distance, her last big prep before Hawaii. Our friend Courtney Cardenas is announcing and gives the signal for Robin's group to start. I pray that she's comfortable during the swim and has a safe bike and her hamstring doesn't hurt in the run.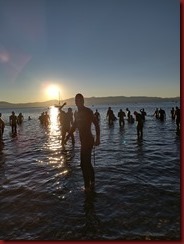 I have to do some sprints on the beach to keep from getting too cold. The girls send me off and I carefully walk over the rocks into the water deep enough to swim. Walking on The rocks here is difficult. I pray as I want to do God's will and the countdown starts and we're off.
I don't want to be out of air this time like at June Lake so I breathe exaggerated early on and take it easy. I'm not cold. The water is so clear and it's peaceful looking at the sand below. I never get a draft. I'm not fast. But it's an enjoyable swim. I try to glide more and be efficient. We get around the final turn buoys and head towards the finish. I push harder and have a couple Summers next to me to work off of. The problem at the beach is all the rocks but they cleared a path for us to walk up. I sit in the water to take my wetsuit off but I still struggle. Looking forward to a different wetsuit. But also glad I'm not freezing. I finally stumble out to the cheers of my daughters who point to where my shoes are and I grab them and head up to transition.
Transition is slow as expected. I put on arm warmers and a jacket.
out on the road it's chilly but I use my sleeves as gloves and I'm okay. I don't have as much brain fog as I did in June Lake which is good. Thank you Lord. I feel like I'm picking up speed each mile. I'm passing more and more riders which means my swim was pretty slow. There's a lot of climbing but it's going well. About 9 MI on the course before Emerald Bay I go up a long climb and and pass Patrick a triathlete I raced with many times.
At the top of the climb we head towards an incredibly spectacular view of Lake Tahoe. Granite rocks on both sides dropping into a sharp hairpin right turn with the lake looming below.
In 2015 the last time I was here I hit a bump and flatted right before the turn. This time no flat and I'm excited to drop in. It's definitely a sharp drop to the right. But the road has great tractions so I lean into it. Suddenly I feel my rear wheel slipping out surprisingly. I start to tip to the right when traction suddenly is caught. I expect to high side and fly over.. which would be bad. But then just as suddenly the wheel slips back into the right course and I'm in control again. "Thank you Lord!" I say. I quickly put it behind me and prepare for the sharp left turn that immediately follows. As I start to lean I hear a weird sound from my rear wheel like a scraping. But I'm committed and go in to the turn. Immediately my rear wheel slides out like on ice. As I go down in slow motion I know that the tire had gone flat as this has happened a few times before. I hit hard on my hip but then slide so gracefully on my butt. That's also a memory I have from crashes where it feels so smooth as you slide until a second later you realize skin is scraping off. And that's when I hope to stop sliding. I get untangled from my bike and pull everything to the side limping. Ugh the sudden pain of road rash. I quickly go to work on the wheel but I'm shocked to see a 7-in gash in my tire and my carbon rim with jagged splinters. Okay not so easy. Meanwhile Patrick and other riders that I saw earlier go by. They are all so friendly and considerate asking if I need anything. I tell them I'm fine because there's nothing they can do. Is my race done? I go through the motion of fixing the rear flat anyway and put a little bit of air in even though the tire won't stay on the rim. Yep I would need a new tire or a new wheel to finish.
I notice the tire isn't what I usually use and remember I had it on Robin's Wheels but during preparations accidentally switched it to mine. I don't know if it was the tire's fault but I think to myself that I'm sure glad it was on my bike and not Robin's. I pray for Robin that she's having a good ride I know that she is concerned about all the cars on this narrow road.
I try to walk down to a safe place to hitch a ride but it's very difficult. Bikes are going both directions and cars as well. there's not room to even walk. I have to wait for a break and push my bike down the road. after about 20 minutes and seeing those same riders now coming back towards the finish I catch a ride with a very nice couple in a truck. On the way back maneuvering around the many triathletes on the road I see Robin. I'm so glad to see her smiling. I tell my rescuers about her but I don't wave because if she sees me in a car she would be overly concerned. It makes my day seeing her Smiling, knowing she's having a good ride.
I get dropped off and run in my socks for the 1/4 mile to transition and sadly turn in my chip to Francie Campbell (how fortunate, a volunteer who is also such a good friend, for this sad moment) Anna and Ariel both see me quickly. They get caught up on what happened and suggest that I wear something to cover the now indecent openings in my shorts.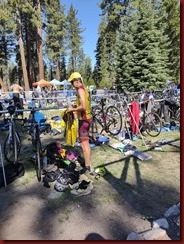 I put on the only thing I have, sweatpants. The girls say I'm displaying a good attitude and I tell him, well that means the race is successful after all, that makes me happy. although I'm DQ'd, I go out on the run and will make sure not to get in anyone's way. Ariel comes a little ways with me and I'm so happy to hear that she ran the run course earlier while we were on the bike. It's a beautiful trail through the state park so I'm glad she got to experience it.
I gradually start picking it up. Since my light-headed experience at June Lake I want to see that it doesn't happen again. I run with a gal for a while who is pretty competitive. I pull ahead, trying to ignore the swelling on my hip and the hot sweatpants as the air is really heating up. Actually I'm so thankful to be able to run that it's a joy to push hard. If I would have high-sided in that first turn I could have easily broken a collarbone. I remember these trails from 2015 when I was doing the 13 Mile course. It's nice to know it's only 6.9 today. I see the out and back that that half Ironman athletes must do. I remember how tough that was and hope Robin enjoys it more than I did the last time.
Through a lot of nice single track and then cross the road for a short mile to the finish. I pull off before the finish to where Ariel is waiting and I'm glad to be reunited with them. It was a great run I never felt dizzy and I'm glad for the experience.
Robin comes in on the bike and she's doing great and we cheer for her on the run and all enjoy some time at the lake afterwards. Thank you Lord for making a great day out of a potentially bad one.