| | |
| --- | --- |
| Date/Location: | November 17, 2012 – Davis, CA |
| Distances: | 5km Run |
| Time: | 20:58 |
| Place: | 1st Woman |
| Teammates: | Dave Campbell, Leonie Alesci |
This is our last stroller race together. It's bittersweet for sure. Today is going to be tougher since there is rain and some wind. Ariel is nice and cozy under the hood of the stroller. We see mother-and-son team of Leonie and Reed Alesci. We see our big competition…a grandpa and grand-daughters team of Dave Campbell, Isabella & Rachel. We all chat and hang out. The race is getting a late start and kiddos around us are starting to melt down.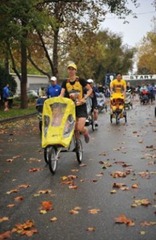 Okay, it's go time. Go! Dave and another guy take off and I stay close behind. So far I feel good but I try to hold back a bit. As we head west, I can feel the wind. Dave's hat flies off but he catches it. He is running amazingly fast for a guy pushing two kids! He's currently in 2nd. Soon we are going North on Oak Ave and it's much better here! This is the longest section of the race and I hope to pick it up here. "You're doing great Ariel!"
Mile 1 is 6:38. I'm happy with that and that we are the first girls. Dave is ahead and I'm trying to keep the gap as short as possible. He's moving closer to the first guy and I want to shout "catch him" but he's too far away to hear me and I don't have the energy. I figure he's thinking the same thing.
Dave makes it to the next turn way before me. By the time Ariel and I make he turn, he's out of sight. It's getting tough to keep up the effort. Lord, please help me hang on.
Mile 2 is 6:43. Ariel and I are holding onto 3rd. Soon we are heading South right into the wind. Ugh, this is tough. I see Dave briefly and he's really close to first! I know he can do it!
"We're almost done Ariel!" We make it to the final stretch…the 2nd longest section of the race. The wind is strong here and I push my legs and the stroller as hard as I can. Thank you Lord for helping me…I know You're with me! I can see Dave in first in the distance. Yeah, you go Dave!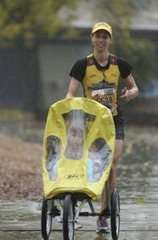 Mile 3 is 7:02. We are still in 3rd and the first girls! Don't quit! I give it what I have. Ariel and I roll across the finish. Yeah! I'm so happy that Ariel and I were able to do this one last time! What a great race!
| | | | |
| --- | --- | --- | --- |
| Name | Race | Place | Time |
| Dave Campbell | 5K Stroller | 1st | 20:00 |
| Robin Soares | 5K Stroller | 1st | 20:58 |
| Leonie Alesci | 5K Stroller | 3rd | 24:33 |
| Troy Soares | 10K | 5th | 41:57 |
| Tom Harper | 10K | 4th | 51:27 |