11/17/12
| | |
| --- | --- |
| Date/Location: | November 17, 2012 – Davis, CA |
| Distances: | 10km Run |
| Time: | 41:57 |
| Place: | 5th |
| Teammates: | Tom Harper |
It's a rainy day but we're prepared. We've done this race for 6 years now. This year is special because it's Robin's last time doing the Baby Jogger 5k Race. Even though the drizzly morning is drawing a small crowd of moms and dads pushing baby joggers, it is still a heated race as Robin and our friend, Dave Campbell, are ready for their re-match from last year. It's definitely the main attraction for me and the girls.
Anna & I cheer them on as they race off into the wind and rain. We cheer on Leonie Alesci and little Reed, too. Then I realize I have a race to do myself! I almost forgot. Rich is nice enough to watch Anna as I rush off to get ready. I take off a lot of layers leaving tights, long sleeve shirt, knit cap, and gloves. I've been a little sick lately so opted for the tights which I usually wouldn't wear in rainy weather. I say a quick prayer, knowing my real hope for a good day always lies in the Lord rather than my body.
We're already pretty wet standing at the start. I'm 3 rows back. I see a triathlete-looking Forward Motion guy right on the start with almost a sprinter's pose. On the count down, "3..2..1", the rest of the line goes on "1" whereas the FM guy waits patiently for the "Go". Ironically funny that the calm runner-guys jumped the gun like triathletes often do at the swim start, whereas the high-strung triathlete-guy waiting for the actual start like runners are good at.
We're off! Rich is cheering and Anna gives me a high five. Not knowing what I can do after being sick, but not wanting to sand-bag, I set my goal pace at a 40min 10k… 6:27. After the 1st 2 corners, I can see what looks like 1/2 the field already ahead of me. That's ok, I know it always looks better at the finish line.
I slowly pass a guy carrying his son on his shoulders. I tell him that's amazing and he says it's probably the last year as his boy is getting too big. He started out at 6min pace.. with a kid on his shoulders.. even with a jogger that would be hard. Now I notice a few women stretched out ahead of me and try to work my way up. I'm pretty wet but the temperature is good. And the wind is behind us. I'm feeling ok.
Mile 1: 6:21. Great. But it will be harder coming back in the wind. I'm already realizing that the tights weren't needed. Despite rain, legs always get warm.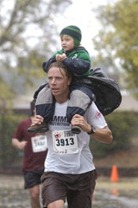 Mile 2: 6:24. Good. But with a tail wind. Now we hit the trails in the green belt. I'm breathing pretty hard and the pace is difficult but I try to make up for it by running smart.. taking every inside corner.. using my arms.. looking ahead. I pass some people and some pass me.
Mile 3: 6:32. I felt like I was pushing at the same speed but this is showing that something's giving way. I'm about 10secs off pace but I'm still optimistic that I can make that back up in the last mile.. as long as I can keep 6:27 pace for the next 2 miles. Mentally it's a good course with all the curving, tree-lined paths. Sometimes you can see runners ahead going different directions… it keeps you wondering where the final straight-away is.
Mile 4: 6:39. Reality hits. 20 secs is a lot to make up in the last mile but the real problem is the pace is getting slower despite my efforts. Ok, don't focus on the pace, just keep trying, breathe deep, and get excited for the last mile. At the 5 Mile marker I'll even slow down just a bit before I psych up and give it my all for the last part. I'm hurting but I don't give up hope. You never know what might happen.
The wind is in our face. 2 guys pass me. There's a downhill coming up through a subway. Despite the pain I surge forward to get into their draft, go all the way through the tunnel and then watch as they pull away on the uphill. It was a good effort. Little things to be proud of.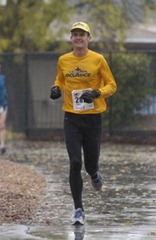 Mile 5: 7:07. Oh boy, I didn't realize the wind and fatigue was doing that much damage to my pace. The 40min goal is out the window but I don't think about how much, I just smile, slow a little, and then turn on the big push for the last mile. Unfortunately, my big push, isn't changing the pace. There's just nothing there. Wow, it's the like the body is on autopilot now getting ready to slow and land. But I keep the pedal floored. There's an overpass. Oh, the uphill hurts. But now it's down.. onto the street.. and there it is.. the long straight-away. Just go to my happy place.. the finish will be here soon and I'll be happy. Thank you Lord for getting me this far.
Mile 6: 7:07. It is what it is. But the good part is I'm going to make it. I can hear Robin, Anna and Ariel in the distance. I can't wait to find out how Robin did. But for now just pump the arms and get there…
Done! 41:49. That was tough and I can only imagine how much tougher pushing a stroller, let a lone a DOUBLE-stroller that Dave is pushing. I found out Robin did great and Dave actually won overall. Leonie also did great. Thanks Lord for a good day! I may not have won but it was a winning effort.
| | | | |
| --- | --- | --- | --- |
| Name | Race | Place | Time |
| Dave Campbell | 5K Stroller | 1st | 20:00 |
| Robin Soares | 5K Stroller | 1st | 20:58 |
| Leonie Alesci | 5K Stroller | 3rd | 24:33 |
| Troy Soares | 10K | 5th | 41:57 |
| Tom Harper | 10K | 4th | 51:27 |