| | |
| --- | --- |
| Date/Location: | 2/27/16, Granite Bay |
| Distance: | 1mi R – 3miB – 1mi R |
| Time: | 30:32 (9:06 - 13:08 – 8:18) |
| Place: | 2nd overall |
| Teammates: | n/a |
I start running on the path following the lead kids. Some kids are in front of me, some are behind me. I keep running and we start going on a trail.
I'm able to pass some kids but not all. I'm behind a girl in my age.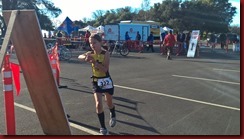 She's fast but I stay behind her all the way to the transition.
T1
I grab my helmet and get on my bike so fast that I am able to start the bike ahead of her. I run my bike to the line and swing my foot over to the pedals and I am off.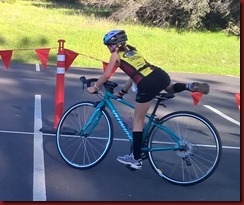 Bike
I bike fast. I get on the bridge and see far in front of me a girl about my age. So that means so far I am 2nd! She looks like she is going fast on her bike just like me. I get across the bridge and turn. I see people giving water to some people doing a 5k I think. I keep going, turning and twisting. I come to a turn-around and see a boy behind me. I pedal hard. I can now see the other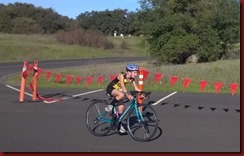 bikes biking towards me. The boy passes me but I try stay behind him. I get back on the bridge but I do not see the girl in front of me. But I know that I did not pass her yet. I get all the way back to tradition, put my bike up, take off my helmet and I am off.
Run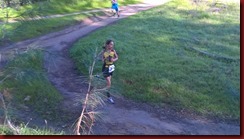 I follow the path. There are two boys in front of me. The arrows say go this way but a big branch has fallen and the boys ran the other way. But I call them back because if you look closely to the left there is a path. I am in front of the boys now. I keep running and staying in front of the boys.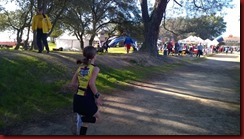 We cross the road and keep running. We are on an open path now. I run by grownups and they say good job. I run up a little hill and turn. A sign says FINISH this way. I turn and run in the finish 2nd.