Date/Location:

2/21/16, Davis, Ca

Distance:

3.1mi R

Time:

Ariel – 36:43 (Previous Best 33:07)
Anna – 28:00 (Previous Best 27:57)

Place:

Ariel - 5th out of 7 (1-9 Year Girls)
Anna – 2nd out of 15 (10-12 Yr Girls)

Teammates:

5K: Jan "Grammie" Heidt, Ariel
10K: Madison Chavez
1/2 Mara: Carrie & Steve Chavez; Melissa Penwell, Robin & Troy Soares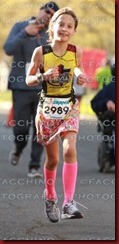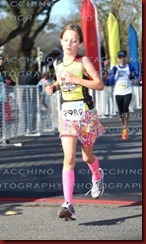 Go! Off we went. I didn't start too fast because I didn't want to waste my energy. I kept going following the runners. After a while I saw the 1 Mile sign. I kept running ..turning and twisting and following the group. I heard something behind me and I looked back and saw a person on an electric wheelchair listening to music and going along. I stayed in front of him.
I kept running and I didn't see the 2 mile sign. I think they forgot to put it up. I saw the aid station and got some water. I drank a little bit. I kept running and turning. I ran past the starting line and I knew I was almost done. I rounded the bend and saw the finish line. I ran hard into it. I felt good! I got 2nd place in my age group.