| | |
| --- | --- |
| Date/Location: | 2/13/16, Granite Bay |
| Distance: | 1mi R – 3miB – 1mi R |
| Time: | 32:33 (9:08 - 12:55 - 10:30) |
| Place: | 1st overall |
| Teammates: | n/a |
Run,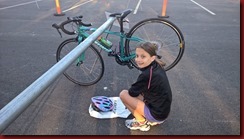 I get ready. I'm at the starting line ready to do my duathlon.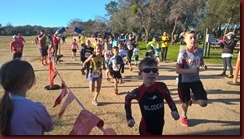 Go! Off we go! I start running but not too fast. It is like a trail until a big opening comes, but there is still a path. I keep going on the path jumping over mud puddles.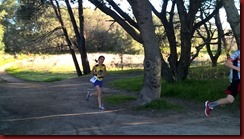 We run across the road to a path on the other side. We run on the trail then we go down another path with bushes on the side of us. We keep running on the trail. We're getting closer and I can now see the transition. I run up a steep hill and go in the transition and get ready for my bike.
Bike,
I get my helmet on and get my bike and start biking. I go up the hill and turn. I keep on biking. We cross the dam. We start on a road going up then down. Then we turn around but keep going farther and faster. I get back to the dam and keep biking. We are close to the transition I know.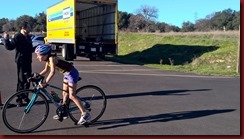 Soon I see the transition. I bike and stop at the line and run my bike in. I try to put my bike on the rack but the rack falls down. But somebody helps me and they put it back together.
Run,
Back on the run I go. Same trail and same opening. I keep going but I am tired but Jesus is with me. There is a boy behind me but he does not pass me. I cross the road and into the trail I go. On the dam I see the bikers coming back. I keep on running on the path. The boy is still behind me but he still does not pass me.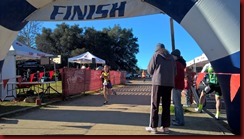 I can see the transition now. I go up the steep hill turn left then turn right then turn right then turn right into the finish. I get 4
th
overall and 1
st
in the girls.