| | |
| --- | --- |
| Date/Location: | 2/13/16, Granite Bay |
| Distance: | 2mi R – 6.5miB – 2mi R – 6.5miB – 2mi R |
| Time: | 1:20:28 (13:58 – 19:31 – 13:52 – 19:53 – 13:14) |
| Place: | 2nd |
| Teammates: | n/a |
It was great watching Anna race first. Now her, Ariel and Robin are waiting at the first corner to watch me. That's a lot of great motivation. My legs feel a little heavy from yesterday's run workout but I know it'll be good when the race starts.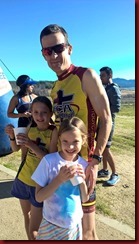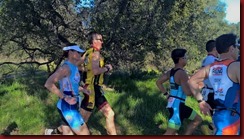 Run
Go! About 50 of us take off running towards the start of the single-track trail. I'm about 12th onto the trail and then have to slow down. I think that I should've sprinted more, but realize there's over an hour of racing ahead, plenty of time to move up. Soon the trail opens up with room to pass. Anna gave me some advice about some muddy sections to jump over.. she was right.
My achilles is hurting a little. I have to be careful. On the paved section I try to open it up a little. Coming back to the park I pass a girl who is pretty fast and move into 8th. The last section is flat across a levy road which I enjoy because it's easy to run without strain of cornering. I can see the lead runner already heading to the finish. I come into transition in 7th.
Bike
I loose about 10 secs with an imperfect helmet buckling and slow shoe-slip-ons on the bike. But soon I'm zooming along excited to try moving up. I know this course well and utlize every sharp corner to my advantage. I pass a guy to move to 6th. On the way back I see 2 WeTri teammates about 40 secs ahead. I push the last straight-away and then round the hot-corner, seeing Dave Campbell and his son-in-law Steve. They are dedicated volunteers at this venue and they do a great job. I have a great dismount and transition to running.
Run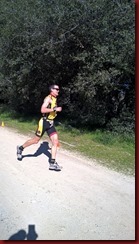 Turn-over is great heading out for a 2nd time. I see the 2 WeTri guys ahead. I pass the tall one after 1/2 mile, moving into 5th, and try to gain on the shorter one. I utilize all the straight-aways again like the 1st loop. I feel great about the effort, but, checking the splits, he is actually gaining on me and finishes 45 secs ahead.
Bike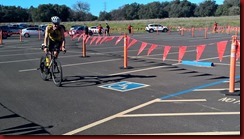 This transition goes better and I don't lose any time. Heading after him, I know he can get 10 secs on me in the run so I have to pass him on the bike and get an extra 10 secs if I want to make it stick to the finish. It takes me until Dayton Pt before I'm able to go by him. I keep pushing. At the parking lot turn-around it's great to see FCA teammate, Cliff Appleby. The young WeTri athlete is only 5 secs behind me. I take all the turns at full-speed and on the final straight-away I have a real good push. After another good dismount, I transition to running shoes 1 last time.
Run
Robin says I've moved to 4th and I say with a smile, "I gotta hang onto it now". I run hard knowing that he will be catching me. I talk to God and agree that I won't look back, even at the end, just do the best I can.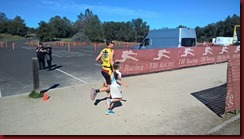 Everything goes well. I don't hear anything behind me. I push the last levy-section well and now a sprint for home! Still wondering if the young guy will come blowing by. I'm going as fast as my Achilles can carry me and it's performing well. I thank the Lord and then see Ariel waiting to run in with me. I grab her hand as people cheer and it's a wonderful way to finish the race. Thank you, God, for letting me go fast today, may you be glorified.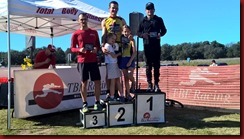 Ariel & Anna surround me in the finish. I shake hands with the WeTri athlete as he finishes 20 secs behind me. I finished 4th overall. 3rd in my age. But one of the guys ahead got DQ'd for a chin-strap infraction which moved me to 2nd.
It was a fun exciting race. Now time to play on the beach with the kids.