| | |
| --- | --- |
| Date/Location: | 2/7/16 – Sacramento |
| Distance: | 10k |
| Time: | 43:58 (7:05 pace) |
| Place: | 3rd / 133 age group |
| Teammates: | Laurn, Melissa |
Heading to Sacramento without the family this morning to race the Super Sunday 10K. It's always nice to have my support crew with me but I don't want them to miss out on church. My neighbor Laurn pulled out of his driveway at the same time as me so he must be racing it too!
Troy helps me find a back way into Sac State. It's less than a mile from the start which is just outside Hornet Stadium. I register and get the lay of the land. The finish is on the field which is very appropriate for a race on Super Bowl Sunday!
Back to the car to drop things off, call Troy for last minute tips and prayer. I have a goal of 42:15. That is 6:48 pace which is faster than the 5K I ran in November. It's not going to be easy. I'm hoping the sweet potatoes kick in, my hamstrings don't hurt... but most importantly that I glorify Jesus today!
At the start I see Laurn and Melissa Penwell. Melissa is very fit and I wouldn't be surprised if she wins.
Okay, the count-down is on! Ready, go! Off the line I feel good! It's actually hard to hold back.
Mile 1 is 6:43. No hamstring pain, thank you Jesus!
Mile 2 is 6:52. Average looks good! We are done touring the campus and are heading over the "Golden Gate Bridge". It's the first hill and feels a bit tough. I'm feeling good but my heart rate is too high. I ignore that fact and start dreaming of a sub 42 finish. There is a big Fleet Feet pack ahead that I think I can catch.
Mile 3 is 6:52. Hamstrings good, head is clear (sweet potatoes help), but my body feels tired. The heart rate is still very high.
Mile 4 is 6:54. On the levy heading back to the bridge. Where is it? Ugh! Not feeling like I have the energy to keep this up. I'm going to have to fight for it every step. A girl goes by and I can't go with her. Lord, help me hang in there!
Mile 5 is 7:11. Oh dear! Hamstrings good, brain good...body bad! Crossing back over the bridge...feels like a huge hill now! Just focus on driving home as hard as I can!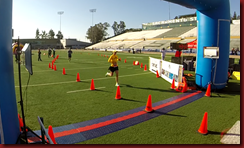 Mile 6 is 7:06. Into the stadium. I need to run halfway around the track?! Torture! I try to sprint and smile. It feels like slow motion but I get there! So relieved to be done!
Thank you Lord for sustaining me! Melissa did great - first woman overall! Lauren was 3rd in his age group!