Date/Location:

2/21/16, Davis, Ca

Distance:

13.1mi R

Time:

1:39:53

Place:

4th, F 40-44 (out of 30)

Teammates:

5K: Jan "Grammie" Heidt, Anna & Ariel Soares
10K: Madison Chavez
1/2 Mara: Carrie & Steve Chavez; Melissa Penwell, Troy Soares
Today we see if our Disneyland training plan has hurt us or helped. We didn't run for 3 days, just walked all day instead. Hopefully that won't make things more difficult. We will see! Troy has decided to run the race with me since he got sick when we got back. I am excited but also feel like I'll be holding him back especially if he started feeling great. I am hoping to be able to go around 1:37 which is about 7:24 pace. My training before Disneyland seemed to indicate this was possible.
My folks are in town so that my Mom can do this race. My Mom loves racing the 5K and always finishes well. She's in the 75-79 age group this time and will surely take home some hardware! Anna and Ariel will also be racing the 5K.
Troy and I get warmed up and ready to start. Our race along with the 10K starts first. My parents, the girls and us get together to pray. Early this morning we took time out to spend quiet time with the Lord and now prayer as a family...now ready to race!
At the starting line we see Steve and Carrie Chavez with their daughter Madison. Madison is doing the 10K and her parents are doing the 1/2 with us. We also see our track buddy Melissa Penwell. Melissa is also fighting sickness but I'm sure she'll still rock it today!
Ready, set, go! Everyone takes off and I try to hold myself back...even though Troy is a bit ahead of me.
Mile 1 is 7:14. Hum, I'm feeling good at this point so wondering what I'm I really capable of.
Mile 2 is 7:23. Still feeling good and on the pace I set out to do. My Garmin seems to be off by 3-4 seconds per mile. I just cannot trust it. Glad Troy's seems to be working better!
Mile 3 is 7:21. Troy and I continue to run strong. I notice my heart rate is already at 160-165. From previous races, I know that when I get to 170 and above, I start to redline it and burn out my energy. I am also getting concerned that he is holding back. Troy tells me to relax and breathe smooth to get the heart rate back down.
Mile 4 is 7:22. A masters runner asks us our pace. He's looking to break 1:40 today and qualify for the New York Marathon. We joke that we hope our Disneyland plan works.
My quads are surprisingly sore. It must be the lack of fast running this week. My heart rate is hovering around 165. I'm starting to get a little panicked about holding this pace and tell Troy that he is more than welcome to go ahead...and he declines. He tells me to relax, smile and have hope.
Mile 5 is 7:35. Ugh! This is not fun! The heartrate is still high. I'm starting to be more negative in my head and wanting Troy to run his own race.
I start to feel pretty good again and push hard to try to get back on pace.
Mile 6 is 7:27. Better but the heartrate continues to be an issue. We now start the hard 2 miles of running on gravel. As someone who runs trails, it seems like this should be a nice break. It is for a bit but then it just gets old. I continue to have moments of despair and then moments of "I can do this".
Mile 7 is 7:25. Troy is encouraging me and pouring his energy into helping me. I love him for that! I just struggle with my attitude when I feel like it's not all going to plan. I urge him to go ahead again but he's sticking with me.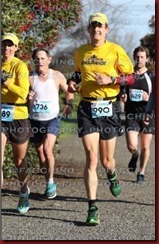 Mile 8 is 7:36. Finally off that gravel!! Our masters friend is with us still. We've caught up with some runners which is encouraging. At this point breaking 1:40 is the goal.
Mile 9 is 7:32. The new issue seems to be my legs. The quads and hamstrings are tight and seem to be working against each other. I cannot push as hard so the heartrate issue gets better...but would rather have that than messed up legs. I ask Troy again to go ahead and he gets stern with me. He's not budging. He reminds me again to have hope. He asks what would make me smile right now and I say "being done." "Okay, then picture yourself lying on the grass at the end." He recites Psalm 23.
Over the overpass! Yeah! A couple passes us and the guy tells Troy he loves our FCA gear. It reminds me that I'm representing Christ and to watch my attitude. I try to stay with them.
Mile 10 is 7:34. Ugh! My legs! I want to shout "I can't" but I know that's not true. Troy continues to encourage and give me things to think about. "We can break 1:40." I get a bit of energy and push.
Mile 11 is 7:23. Troy tells me that this is the mile that counts. He promises he'll stop talking after this...okay, deaI...but I again start to feel dejected and slow down for a moment...no, keep going! Let's get there!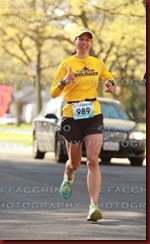 Mile 12 is 7:44. The couple goes by and I try to hang on. Troy and I are moving as fast as we can. Troy is quiet as promised. Why does the last mile always seem so long?! I see 4 girls including the gal with her husband that are pretty close. Maybe I can catch them. My toes on both feet are burning. What is the deal?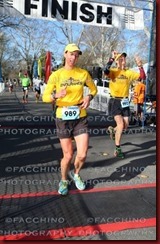 Mile 13 is 7:36. Al-most there! We round the corner and I try to push harder. Those girls are getting away from me but I'm still trying. We see our girls and my parents. I'm just a tiny bit ahead of Troy and Anna says "Dad, you're going to let Mommy beat you?". I see the clock...so close!! We cross the line just barely under 1:40. Phew! Thank you Jesus! What a mess I was mentally today...need to trust You more! I give Troy a hug and thank him. What an amazing man to stick with me!