| | |
| --- | --- |
| Date/Location: | 2/21/16, Davis, Ca |
| Distance: | 13.1mi R |
| Time: | 1:39:54 |
| Place: | 14th |
| Teammates: | Robin Soares, Melissa Penwell, Steve & Carrie Chavez |
I lost track of the days. After spending the week at Disneyland, and then getting sick, I suddenly realize I have a 1/2 marathon the next day! With my body aching from a cold I want to just bail on the race. But experience tells me to always try and maybe I'll feel better when the race starts.
It's a special day because 5 of us are racing. Anna & Ariel doing the 5k. Robin & I the 1/2 marathon. And Robin's mom is doing the 5k. Her mom and dad are visiting from San Diego.
I wake up feeling a little better. I plan to run a slow mile warm-up to to melt aways the aches and stretch well. But with limited time I'm only able to run about .6 and now we line up. I focus on stretching a lot. After not running for 6 days and being sick, the best plan is to run a slower pace, Robin's pace, and help her meet her goal of 1:37. If I feel terrific suddenly, I could take off and try for something faster, but I feel like expecting to go fast in the circumstances would be greedy. I think this is God's plan for today.
It's great seeing Carrie & Steve Chavez and racing with them. Steve is always very fast, but lately Carrie has become remarkably fast, too! What a team. And our fast friend, Melissa Penwell is racing going for a sub-1:30 despite being sick herself.
Go! It feels good starting, pretty much every race feels good starting now that I think about it. Team Chavez and Melissa pull ahead. I get a little ahead of Robin and rein it back.
Mile 1, 7:13. Our Garmins are different. That concerns Robin. The pace feels good for me but I have to remember this goal is a stretch for Robin and keeping each mile consistent and relaxed for her is important.
Mile 2, 7:24. we turn off the long straight road and head towards the bike paths. A little concerned that the pace is already feeling a little difficult for Robin. I feel good, just a little sore, but this is feeling like it will be just the right pace for my come-back run. I'm talking to Robin a lot, trying to help relax her and give her tips for getting ahead, like maximizing little descents.
Mile 3, 7:26. It's perfect weather. I make sure we both take water at each station. An older gentleman has joined us, also wanting to break 1:40. He's trying to qualify for the NY Marathon (I didn't know you could do that with a 1/2 marathon).
Mile 4, 7:29. We're now on another long street. Robin's heart rate is starting to get too high for this early on. 165, 167, . . I say things to help her relax, relaxing her arms, chest, etc, and try not to look at your watch, just feel pulled along. It helps to keep the HR from increasing, but not getting it lower.
Mile 5, 7:30. Pace is slower in effort to get her HR below 170. We curve through some beautiful paths now. We have a few others hanging in a tight group with us going for sub 1:40.
Mile 6, 7:25. I'm excited to point out the 1/2-way point. We're on gravel paths now. I like this part, but the unevenness can be hard on the legs. I remind Robin how good she is on trails and to float over the gravel. We're currently on pace for a 1:39. It's going to be close. I'm still running comfortably, thank you, Lord, but my goal is to help Robin. I know she can break 1:40 but it's going to hurt and I hope I can help her through it.
Mile 7, 7:30. We turn to head South. I'm hoping we can get a tailwind or something. Robin continues to hang tough. At times when she hurts and has to slow a little she tells me to go ahead. I don't what her exerting energy being concerned with me, but she's an awesome wife, wired to look after me, and that's a hard thing to get her to ignore.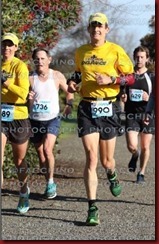 Mile 8, 7:38. That was a hard mile on the gravel. Robin says she's so glad to get back on the concrete.
Mile 9, 7:32. The hill up-and-over the pedestrian walkway is ahead. Robin takes a gel. She's a great climber and I hope the change in grade will help her legs which are starting to lock up, front and back. She pulls ahead of me on the climb. We've met more runners around us and we all kind of celebrate on the top. I tell Robin that the next 1/2 mile is hers to relax on before we get serious in the last 5k..
Mile 10, 7:34. Good mile with the bridge climb. 5k to go! I remind Robin of the triple 5k workout we did once and recreate it as we run…"we're running by Karen's house right now… climbing Maidu…"
Mile 11, 7:32. My legs are getting pretty sore now. But not like the pain Robin is in. I tell Robin that this is the key mile to work hard on. A girl in yellow ahead makes for a good target to stay with. I keep bugging Robin with encouragements and tips and tell her that I will stop talking after this mile. That the last mile will be all her, with peace and quiet. I know this is very appealing.. it can be very annoying having someone coaching you every step when you're in pain. But it still helps.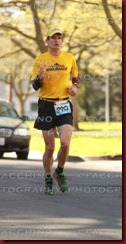 Mile 12, 7:42. Even though it was a slower mile, proud of Robin. She pushed but a couple times had to ease up because of the quads/hamstrings. I keep to my word and don't say a thing this last mile. Hurting the most now, she actually goes faster and I see that deep personal drive in her I've always been impressed with. She wants to break 1:40 and knows it's going to be close.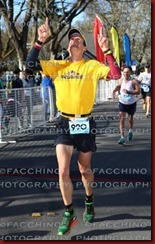 Mile 13, 7:29. Great mile! We can see the finish. Her mom and dad are there. Just about to the finish line, Robin is 3 steps ahead of me and Anna yells out, "Dad, don't let Mom beat you!". I pick it up but Robin still finishes first. Just under 1:40!
Thank you, Lord, for this opportunity. It was all that I could do and all that Robin could do, and we got to do it together. Perhaps being sick was just all part of God's plan to let us do this. Anna and Robin's mom both got 2nd in their age. We all celebrated at breakfast. It was a great day.