| | |
| --- | --- |
| Date/Location: | April 30, 2011 – Lake San Antonio, Bradley, CA |
| Distances: | .25 m Swim, 9.7 m Bike, 2 m Run |
| Time: | 1:04:33 (7:00-2:39-38:59-2:50-13:05) |
| Place: | 1st |
This is definitely a new experience here at Wildflower. I never ever thought that I would do this race until a few years ago. With my promise to God to focus on sprint tris this year, it was a clear decision. With Troy already on course racing the Long Course, the tricky part was finding child care. Our friend and wife of Troy's FCA teammate David Blackmon, Victoria, volunteered to take on Anna and Ariel along with her own 3 great kids. What a blessing that her daughter Katie and Anna have been fast friends!
After working the FCA booth with Anna and Ariel, we go down to transition to set up my spot. Today is pretty simple since it's so short. Next, I drop the girls off with Victoria and head down for the swim start.
Even though the swim is about .25miles, I'm going to wear my wetsuit. The water is definitely COLD so I don't want to freeze! I get a warm up in just a few minutes before my start. I'm feeling strong. I line up in front in hopes of getting out front with the leaders.
Ready, set, go! I'm right in the thick of things! There are so many of us out in front pack that I'm certain I'm going to get clocked. I push harder to get out of the masses along with a few other girls. I breathe a sigh of relief that I wasn't hit. Soon we hit a wall of swimmers from the previous wave. I start to zig-zag to keep from plowing into them. I don't want to ruin a newbie's triathlon experience by running them over. At the only buoy, there a bunch of swimmers just treading water. It's not a good place for them to be and I'm not sure if they realize that. I swim wide and get around them. I can see the finish and more swimmers…everywhere! Time to zig and zag some more! I glance around and only see one other girl nearby in my wave. There could be more ahead but it's too hard to look with all the bodies to dodge.
I make it to the finish clearly with a few extra yards under my belt! I get out rip off the wetsuit and make a run for my bike. Out of T1 I go with my new mountain bike, shoes and SPD pedals. I've opted to clip myself in my bike since this course is mostly paved roads with a few fire roads. It is a bit risky considering I've only practiced this set-up just yesterday for the first time. As I go out, I ask for the Lord's protection and help. Within the first mile, I am thankful to be clipped in. I feel like I have so much more power! Once we hit the dirt trail (used by the Olympic & LC runners) and the first dirt hill, a guy goes down across the entire trail. There's nowhere to go but off my bike. I'm able to clip out quickly and stop but I cringe as I hear a bunch of folks behind me try to avoid me. Phew, no one crashed into me or each other! Thanks God!
We hit the pavement and ride towards the next big climb. I look up and see bikes all over the road and even across the double yellow line! Wow, this is a penalty in the other races here but this is considered a beginners race so anything goes I guess. I attempt to pass on the left. After many futile shouts of "on your left" and seeing no signs of officials out here, I opt to zig and zag through the crowds. I make it to the top of the course where I go right to get on the first loop (and later will go left to get on the second loop). A volunteer runs at me with a pen and marks my arm. Wow, that's weird! I realize he's just trying to keep track of the loops for each person. It reminds me of a funny Office episode.
Down the gravel fire road I go! It's really spread out here so I'm basically alone thankfully. I can focus on the trail instead of others. I get to the bottom and a slippery downhill section I've been dreading. I take a breath, ask for the Lord's help and let go of the brakes. Whew, I made it! Thanks Jesus!
It's up the big paved road again. This time I take the time to look at the FCA Endurance signs we put out on the course. It again reminds me that He's in control! I get to the top of the course and take a left. I hit another gravely downhill section and slow way down this time. It's not pretty but I make it through. Now I just need to ride the rest of the Olympic run course and I'm home free! I'm again encouraged by the other FCA signs placed over here! It gives me that extra bit I need to push to the end!
Soon I'm at Lynch Hill. Weeeeee, down I go! It feels so much more stable descending on a mtn. bike on a paved road! I'm able to let my fears go and just fly!
Once at T2, I take a little too much time getting ready. I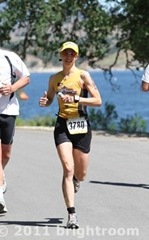 get a slow start! Oops! Well, once out on the course I try to make it count. I have no idea what place I am! I try to pretend I'm out at the track doing mile repeats. With the undulating course, it's hard to get going fast or run smoothly. I look at all the folks out here wearing racing flats compared to my clunky trainers.
Mile 1 is 7:05. Not as bad as I feel! I make it to the turn around and enjoy the downhill! Ahh! Now it feels like my track legs are kicking in! Thanks God! It's cool coming back seeing the Pros go out on the long course run…man they are flying!! It makes me think about Troy. I pray that his ride is going smoothly without any technical difficulties!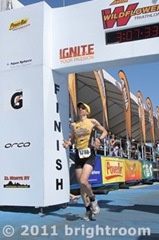 Mile 2 is 6:42. The finish line is close! It's nice to have a short day! As I pass the expo on the way in, I pray that Anna & Ariel are having fun and being good. I make the final turn and hit the chute. It's a long finish but I'm pumped up by all the cheering! I dig down and give it what I can. I look up to God and thank Him. I cross the line…yes, I'm done!!