| | |
| --- | --- |
| Date/Location: | April 23, 2011 - Milton, CA |
| Distance: | 42M (2 x 21M loop) |
| Place: | 4th |
Boy, I'm super nervous about my first road race! After seeing the route firsthand by car and riding part of the big descent yesterday, I'm having doubts that this is a good idea! I've never ridden a road so completely covered with patch jobs. I just hope that my bike and I will be in one piece at the end. Troy assures me that my bike will roll right over these bumps and will withstand the vibrations. I'm now grateful for the mountain bike experience I've been getting! All I know is that it's all in the Lord's Hands today!
As we get there I run into Victory Velo's women's team captain, Phyllis Olrich. She's an amazing lady who also loves the Lord! I think everyone in the cycling community knows her! Back in '97 Troy actually saw her on a bike climb up Tunitus Creek Rd in the Bay Area. Her and her fiancé rode to in their wedding/bike attire and got married at the top. It was a God-send to talk with her because Troy and I were debating if I should race the Women's 4 or 30+ Masters. Phyllis lets me know that the 30+ group is going to be a mixed category, possibly with some ex-pros. My best and easiest (ha, ha…it's all relative!) race is the Women's 4…SOLD!
Troy and I warm-up together. It's so nice out here! I mean we cannot find another bumpy road to practice on! All the other roads are perfectly fine! We ride past this rocky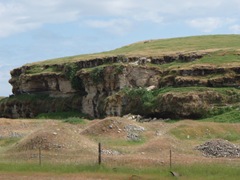 hillside that Anna loved yesterday. She told us, "when I turn 100, l want to have my birthday party up there"…lol! Well, now Troy and I think that's a good idea for each of us, too! We head back and decide to ride around on the gravel/dirt parking areas for practice. Troy tries to get me to practice a cattle guard nearby. Oh, that's too scary right now! But, I hope in the heat of competition, the cattle guards won't intimidate me! He shows me it's no big deal. As he comes back he pops his back tire! Oh man, not good! Well, better now than later!
Troy and I stop at the car and loose some layers. We pray and then head to the start. Troy's 35+ 5's group has 15 along with his friends Vincent Hoffart and Jeff Braunstein. I see them off. "Go Troy!" I have 25 more minutes till my start so I warm-up some more. Back with my group, there's about 15, and they all look seasoned. I chat with a nice girl, Erica, from Santa Rosa. I tell her that I've never seen roads like this. She says "the roads in Auburn must be great"… I agree that we've got it good in Auburn! The race director says "off you go" and that's it! Please, Lord, help and protect me!
I'm relieved that the group doesn't just take off! We turn onto the bumpy road. None of us are talking because we are all concentrating on and adapting to road conditions. It really is bumpy but I'm finding that I can handle it. Then we make it to the big climb. Soon we are greeted by a newly paved section and you can hear the sighs of joy. Someone jokes "the county supervisor must live out here"…it's nice hear a chuckle! The girls get chattier for a time but as we keep ascending more, it gets quiet again. Girls start to drop. Soon I find myself with 3 other girls at the top. One of them is that nice girl Erica. She suggests we all work together and take turns doing short pulls. Not Knowing what "short" means, I pull the group for a few minutes before pulling off. The other girls show me how "short" is done...a continuous rotation of our bikes. Wow, I'm officially in my first organized breakaway! I didn't expect this! Wow, God, You sure are making this work out well!
The road out here is actually pleasant compared to the first 5 miles! It's fun being out front working together! But I'm scared of the cattle guards coming up! As we are about to cross the first one, I find myself in front on my turn to pull. Okay God, it's in Your hands… I don't look down and go for it. Phew, I made it! Thank you Lord!! In the heat of competition, these cattle guards are actually easy! God knows what it takes to make me go for it! I also survive the next two the same way. Lord, You are so Good!
Time seems to fly as we head towards the final descent of the loop. We are all alone...no chase group in sight. Cool! I feel surprisingly fresh and strong! Wow, this is nice! We start getting each other's names down and get to know each other. Besides Erica, I'm riding with Janet from Pleasanton and Lauren from Woodbridge.
I start preparing myself for the very bumpy descent ahead as we climb the the final hill. I'm definitely a cautious descender and this is going to be a major disadvantage. I hope that once again, the competition will push me to go for it! Yesterday, I rode part of this so painfully slow that Troy had to tell me to speed it up!
Once at the top, they let it rip! Okay, here it goes. I hold on for dear life and pray!! I try to keep the braking to a minimum and put my weight back. Again, I'm pleasantly surprised that I'm flying down the hill. I'm not with the girls but I can see them ahead. I'm confident that when it flattens out, I'll catch back up. Thanks Jesus for again protecting me!
Once at the bottom, it takes me several minutes, but by the time we start the 2
nd
loop, I'm back in it. At this time, I cannot help but think of Survivor. Like the show, we've started out as a "tribe" and have worked together to stay ahead of our competition. Also like the show, it's only a matter of time before we start turning on each other. I have no idea what's in store so I just keep doing my "duty" of pulling my share. Lauren seems concerned that Erica and Janet are missing some pulls. She tells me that she thinks they might be sandbagging it. I don't know what do to with that information. Does it mean we should take off? I'm too inexperienced to know so I keep the status quo. No one seems to be in a hurry to take off so we all just stick together. For the time being, it looks like no one is coming up on us.
I continue to thank the Lord for letting me be in the front. I am amazed!! And to think I dreaded this day! This has been so great!
Once over the cattle guards we know the final descent is near. I'm debating whether to push the ascent to get a little distance on them. But, as we start to climb, I can see that my body wouldn't be able to handle pushing more. I did more damage than I thought having to play catch up last loop! It's hitting me now. In fact, I can barely hang on to the girls!
The final descent comes and they are gone! Even with me pushing the envelope more, I cannot keep any contact. "4
th
place is good", I tell myself. Halfway down, another pack of 4 girls catches me and flies by like I'm standing still. Crud! Great, now I won't be 4
th
! Whoa! Lord, I'm sorry for my attitude! This is a gift to be here and I'm doing well for my first race. I'll take what I get! I don't give up, and at the bottom of the hill, I get aero and push hard. I catch a girl, but find out it's young guy. I continue to push and try to close a very large gap. I can see the finish, and Troy! I dig down and get across. What a day! Thanks be to You Lord!
I find Troy and we hug. As I tell him about my day, I run into Janet and Lauren. I tell them good job and ask if they held off those girls. They did but those gals were the Masters 30+ group. What?! I realize that I'm actually 4
th
after all! Whoa! Lord you rock! Thanks for this great experience and for letting me ride with such nice gals!