| | |
| --- | --- |
| Date/Location: | April 10, 2011 - Sacramento, CA |
| Distance: | 10K |
| Time: | 40:15 |
| Place: | 4th |
| Teammates: | Rich Alesci |
This is a fun event. The kids look forward to the zoo and I do too, as it's a chance to just hang out with my family. I'm also reminded of how thankful I am just to be running when I think of the history of this Zoo Zoom run for me…
2007 After 8 yrs. of foot pain, I just race the best I can.
2008 After a surgery, I race but ½ way through feel the foot take a turn for the worse.
2009 Sit out on injured-reserve, but later in the year, the Lord answers my 10-year prayer. The chronic problem suddenly goes away and the foot starts getting stronger.
2010 I race hard, having improved enough to give Robin a run for her money, edging her out by a nose at the finish line.
2011 here I am again, making a come-back. My foot is no longer a problem, but the winter threw other injuries/ailments at me - like a strained glute and a broken toe among others. This is my first 10k since Thanksgiving, but I set my hopes high for a 40 minute run. My 1 mile warm-up feels slow and sluggish. Rich & I take our positions in the crowd of 800. I stretch, pray with Robin, and hear the count-down begin for the start.
The gun blasts and we're off and it's always surprising how suddenly it feels
so
easy to run. I love that adrenalin rush. I give Anna a high five, say hi to Ariel, see Leonie & Robin cheering and begin my 6 mile journey with a smile, wondering what's going to happen next..
Rich is pulling away quickly. He's a good runner, even with minimal training. Even as a new dad, this is looking to be his best running season. There are a number of women just ahead. I will try to stay near them.
Mile 1: 6:36. This is the fastest I've run at the track lately and actually what I expected for the first mile, with probably a slowing to 7min pace for the remaining miles. But now there's a tail wind coming down the back side. I'm focusing on the Lord and my form. At the marathon last month I really learned how to listen to my body and not strain any previous injuries. So now I'm running "light" on my feet, balanced, more efficient. I take advantage of the tail wind and start to pass people… and a band playing on the course. And now I'm coming up to the only aid station and my family. I'm so glad to see them.. another high five to Anna… and Ariel, and then some needed water.. I didn't drink enough before the start. I'm glad to see Terry here. And always enjoy Leonie's enthusiasm!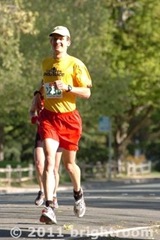 Mile 2: 6:37. Wow! Another fast mile. And the heart rate feels good. We wind through the neighborhood. I see my family again and then head back to the start for lap 2.
Mile 3: 6:36. This is surprising to be so consistent. It's working so I'm not going to change anything. Steady on the uphill and then utilize the tailwind on the back side. I'm catching up to one of the faster women.
Mile 4: 6:38. Ok, instead of letting up, now use the tailwind. Heart rate is great. I'm running balanced and "light". Suddenly I feel a big push from behind and pick it up. Feels like I can go as fast as I want! What a great feeling. I blow by some guys and know my pace is getting faster each mile. I'm going to negative-split the race! I see my wonderful family and tell Robin, "it's going to be the 'perfect' race". I hear Robin say, "You can catch Leonie's friend, Vance". So now I have a goal. I take more water and increase the effort.
Mile 5: 6:23. Wow, loving it. Thanks, God. Instead of "going out too fast", this will look like a perfectly planned race. I think about my original running partner, Dick, and how he'd appreciate that. Ok, there's Vance. I really have to push to catch up to him and do so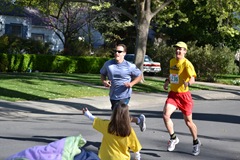 with a ½ mi to go. I say hi to him and encourage him and he starts encouraging me. He picks it up and tells me to "come on".
Mile 6: 6:06. I'm breathing hard now, side-by-side with Vance, but I drop back just a little to move over and give Anna and Ariel a high-five. Then I pick it back up and tell Vance, "had to get a power-boost". He's really pushing me, telling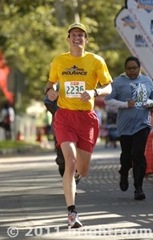 me, "let's do it", and I'm giving it all I've got, while still trying to run in control. I know he's got a good sprint in him and I'm spent, but I do what I can with 50 yds to go. Surprisingly he doesn't surge but let's me pull ahead. I finish in 40:13, meeting the lofty goal I set. I say a quick prayer, thanking Jesus who so often surprises me with blessings. I see Vance, who wasn't racing officially and pulled off before the finish, and thank him for pushing me to my goal. It was the perfect race.
Go Rich!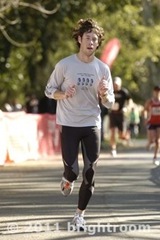 | | | |
| --- | --- | --- |
| Name | Age Place | Run Time |
| Rich Alesci | 4th | 39:46 |
| Troy | 4th | 40:15 |