| | |
| --- | --- |
| Date/Location: | November 19, 2011 – Davis, CA |
| Distances: | 5K |
| Time: | 20:12 |
| Place: | 1st |
| Teammates: | Dave Campbell, Leonie Wynhoven |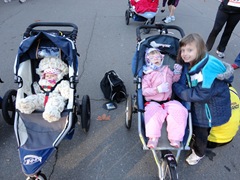 Could this be the last year Ariel will tolerate being in the stroller? Will Dave Campbell and granddaughter Rachel get us this year? Can Ariel and I set a record on the new course (old record 20:23)? We'll have to see! It's going to be exciting!
Troy, Anna, Ariel and I pray for the race. Whatever happens is in His hands and we know that is most important. I toe the line with Dave & Rachel, college-roomie, Leonie Alesci, and son, Reid, and former Davis High athlete, that I coached, Justin Morejohn, and son, Jeshua. The new course looks to be better scenery and longer stretches which is good when pushing a stroller.
Ready, set, go! It's on! Justin takes off with the leader and Dave and I stick together. Within the first 1/4 mile, I notice that my watch is going nuts and saying I'm running 13 minute pace...yeah right! Well, I'm just going to have to go by feel and hang close to Dave. Dave asks me what pace we are doing and I tell him I'm not sure because of my crazy watch. I hope I'll have some information by the first mile.
Ariel is doing great and is content all bundled up in her snow gear. I hope this doesn't change. Dave's son-in-law, Josh, is also racing but his little Isabella is crying. Her dad has to slow down to figure out the problem.
Mile 1: 6:30. Dave gives me our split. Good start! It looks like my watch is working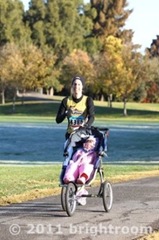 good after that first split. I'm feeling good so I make a move and go past Dave. I'm moving at sub-6:30 pace and I don't know if I can keep it up. I ran sub-6:30 pace alone a few weeks ago but pushing 50lbs of extra weight (with stroller) is a whole other animal! Dave catches up, passes us and takes off. I can't go with him...my legs are starting to loose power! Ariel is doing great and I try to encourage her with the little breath I have.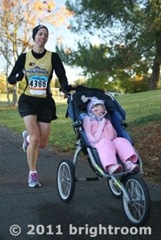 Mile 2 is 6:27. That's great but now the wheels are slowly starting to come off! Lord, please help me hang in there. I trust Your plan and I'm going to continue giving what I have. Dave and Rachel have a good lead on us and don't seem to be getting tired. I just gotta hang in there. I find that it's hard to catch my breath and I start gulping in as much air as I can.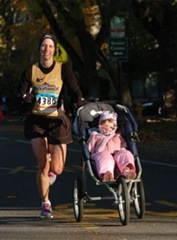 I can see the finish now! I cannot go any faster and I'm just trying to survive. As I get closer, I see that I can still make it under 20:23! I dig down! Mile 3 is 6:41! Ugh!! I cross the line at 20:12. Yeah! THANK YOU, JESUS!!
I can hardly breathe and sit down to catch my breath. I congratulate Dave on his 1st place finish in his age group and 5th overall. I see Justin too and congratulate him on his 1st place in his age group and 2nd overall. Leonie soon comes and her and Reid have a great finish...2nd Mommy overall!! Yeah! What a great day! Now time to watch Troy, the girls and Reid race!
Go Dave and Leonie!
Darn Dave! He, he!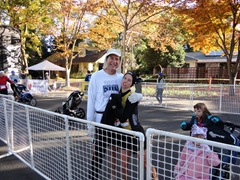 | | | | |
| --- | --- | --- | --- |
| Name | Age Group | Place | Time |
| | | | |
| Dave Campbell | M50-59 | 1 | 19:56 |
| Robin | W30-39 | 1 | 20:12 |
| Leonie Wynhoven | W30-39 | 2 | 24:01 |