| | |
| --- | --- |
| Date/Location: | November 19, 2011 – Davis, CA |
| Distances: | 10K |
| Time: | 39:32 |
| Place: | 5th |
| Teammates: | Christine & Kayden Kelly |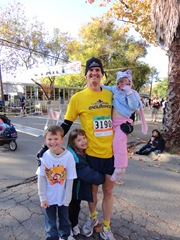 I'm more excited to be here for Robin's benefit rather than mine. She's been training smart in preparation for her attempt to set the women's course record in the baby jogger 5k. I, on the other hand, haven't been feeling great the last few weeks and my workouts have been haphazard. My original goal was breaking 40min, but now I'm claiming a new realistic goal of breaking 41min. 40min as the surprise goal, 41min as my planned goal.
Anna & I watch Robin & Ariel run a perfect race and, although losing out to our good friend, Dave Campbell, they did set the record! I'm really proud of Robin because I didn't think she could go faster than last year with Ariel another 10lbs heavier.
Now I warm up for my race. The sun is coming out. It's becoming perfect running weather. Only slight breeze. I shed many layers. I do some strides and start to feel fast again. Always amazed how that happens. Feel slow for weeks and then, right before a race, feel fast.
Go! I high-five Ariel on our way to the first turn. I'm focusing on perfect lines through each turn. Preparing for good position. Watching the road camber. And trying to see how long I can match my Garmin "virtual partner", set to 6:27 pace, my ideal goal.
I keep my eye on the lead woman, which I've always found to have a smart steady pace. The 2nd woman and I are going back and forth. There's a lot of men up ahead. But by mile 1 a few are already starting to come back.
Mile 1 6:27. Wow, I'm surprised that I'm feeling good. My breathing is more controlled. The legs and body don't hurt anywhere. My temperature is perfect. Only problem is that I'm thirsty. I think I can maintain this pace. I'm going to go for the sub-40 goal! I take Gatorade at the 1st aid station.
Mile 2. 6:22. I've found another guy to match pace with. We're starting to go back and forth. As we enter the "green belt" path (a beautiful walk/bike path around Northern residential Davis) the many turns require some surges ahead to get the inside lines. We dip down and up through some sub-ways. It's nice to get a change of speed periodically. My breathing is staying controlled which is a good sign. This course is new this year so there's a lot to watch for to make sure no mistakes are made.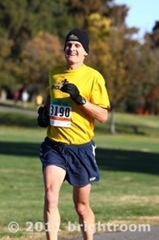 Mile 3. 6:28. 1/2 way done. Now I can try to work a little harder. And I need more fluid. Next station I get both water and Gatorade. The course is great. I'm starting to get a step on the guy next to me. And we're also catching a number of guys ahead. I see a couple Del Oro High School runners and try to stay behind them.
Mile 4. 6:23. This is going great! It's getting hard but I know I can speed up each mile now. This mile 5 is the hard one. Got breathe deep and stay focused on control & form while maintaining pace. Then the last mile I can stop thinking much about control and just give everything I have left. Way up ahead, there's a loop around a park area and I can see 2 fast guys probably a couple minutes ahead. Are they the leaders? Were they Africans? No, this is just a local race, but it always feels bigger when you're in the moment and things are going well. I thank the Lord for giving me a good race today.
Mile 5. 6:22. Ok, it's the last mile and I can just throw any fuel left on the fire without thinking about form and conservation. Just go, go, go. Everybody is picking it up. It's a long, long straight stretch with the finish line way in the distance. There's Robin, Anna, and Ariel past the mile marker. Robin's going to be so excited to see me coming in under 40 min!
Mile 6. 6:12. Ah, that was a great mile. Thank you, Lord. I give Anna & Ariel and high five and give it all I've got to the finish.
Mile 6.2. Finished. Under 40min. That went so much better than I expected. I continue jogging to warm down and I'm happy nothing is hurting. But tomorrow it will. That's ok. It was a great day today

Go Kayden & Christine!
| | | | |
| --- | --- | --- | --- |
| Name | Age Group | Place | Time |
| Troy Soares | M40-44 | 5 | 39:32 |
| Kayden Kelly | M35-39 | 7 | 44:49 |
| Christine Kelly | W30-39 | 1 | 1:01:00 |