Date/Location:

April 22, 2012 – Auburn, CA

Distances:

Marathon (a bit short actually)

Time:

3:48:45

Place:

1st (and only woman) in the 35-39 age group
3rd woman o/a (only 29 Marathoners & 12 Relays)

Teammates:

Jessica Bonner, Jim Kepfer, Lecile Eklund
Though I'm doing the marathon distance for the 2nd time in 6 days, it feels different. Instead of being surrounded by thousands upon thousands of runners, I'm surrounded by fewer than 50 people. It's more intimate. I feel at home. I'm side by side with some of my favorite Auburnites: Jessica Bonner, Jim Kepfer and Lecile Eklund. The plan is to run 9:28 pace on this 3 loop course. It sounds do-able but, coming off of Boston, having warm conditions again and an increase of hills.. I'm not sure. It's in the Lord's hands and I really just want to glorify Him with a happy heart and good attitude.
We line up in ARD park and I see a local professional runner, Brad Poore, doing the race. "We know who is going to win now!" Ready, set, go! Jim and I start out together. We are chatting about Boston and I'm enjoying sharing our story but I realize I'm already running too fast. I tell Jim to go ahead and I force myself to slow down. That must be a good sign…I hope. I see Anna & Ariel as I pass the backside of the park. They are waiting to give me high fives and also enjoying the fives they are getting from other runners. When our hands finally make contact they squeal in delight...I love that!
Mile 1 is 8:50. Slow down! Not a problem with Maidu Rd. coming up. I'm impressed to see our Police Chief, John Ruffcorn, on Auburn-Folsom directing traffic. It's not an exciting job but he's doing it with a smile!
Mile 2 to 4 is 9:14 average. I feel comfortable physically and mentally it's nice to be running in my neighborhood…there are no surprises! A cycling friend, Tom, rides up and visits with me. He's not sure that I made a good decision. I just smile and tell him that I am hopeful that I'll finish and not injure myself. I can see Lecile ahead and there is no sign of Jessica and Jim. I hope they are feeling strong! There are some slight changes of the course that I don't mind like skipping the steep climb on Herrington Dr. and adding a section going right past my buddy Courtney's house. But she's not home today. I head back down Maidu and we are directed through the fire station at the bottom. A nice touch and a good distraction. Another good distraction is going by my church behind the Maidu Market.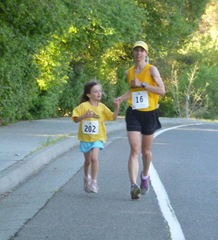 Mile 5 is 9:03. Up Auburn-Folsom I go! I see the girls and Troy as I pass the park. Anna grabs my hand and runs a bit with me while Ariel waits for a high five. It just inspires me! Troy tells me that Jessica is leading the women's race...yes! I hope that I'll get a glance of her which will be hard on this course. I turn into the fairgrounds and am surprised by the steep hill awaiting me. I forgot this was here! Ugh! At least it's short and there is an aid station at the top! No sign of Lecile or the other girls I saw ahead.
Mile 6 is 9:16. I hope to make it to downtown by 8am to see the local bike shop riders of Victory Velo heading out for their Sunday morning ride. As I run behind the store, I see one of the guys and wave. On the front side of the store there is Victory Velo's neighbor, the Auburn Running Company, running an aid station. Local runner, Carey, hands me some water as I run by. I splash the water on me as I'm starting to feel it warming up. As I run by the Wells Fargo thermometer, it's reading 67 degrees.
Mile 7 to 8 is a 9:02 average. I'm still feeling good and still trying to hold back. Lord, thanks so much for keeping me going! I make it back to the park only to head back out again. I don't see Troy and the girls and wonder if they are on Auburn-Folsom waiting for me. They not there either. Looking back to the park, I see Troy's yellow shirt. I wave and he waves back. I know that Anna and Ariel are just a few minutes from doing their kid's race. I hope they have fun!
Mile 9 is 9:04. As I run by the church, Pastor Eric and some of his kiddos pull up next to me to cheer. It's a nice boost to see them. He tells me that he'll be talking about our Boston Marathon story today...how ironic considering I'm running a marathon! I'm glad Troy will make it to the second service of our church this morning. I'm also hoping I'll finish before it starts!
Mile 10 is 9:01. There is the police chief again! Wow, he's still here! I can see Lecile again and the other ladies. I pass two of the them on my way to and up Maidu. When I reach the aid station at the top, Lecile stops to get her bottle filled up. "Good job Lecile!"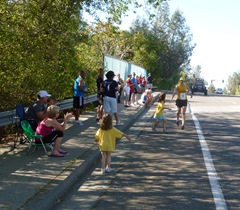 Mile 11 to 13 is a 9:01 average. Wow, Lord, this is feeling good! I still feel like I have to hold back. I decide that I'm going to try to bring my overall average down to 9 minutes. I pass through the fire station again. As I approach the park again, I see my friends and neighbors, the Richards. Their kiddos Anthony and Anna did the kids race with the girls. They are all proudly wearing their medals. I give them all high fives and then my Anna grabs my hand and runs with me again. Wow, that was boost! Troy tells me that Jim and Jessica are running together and she is still the lead woman. And, there is a young girl trying to chase her down. I know she can hold her off!
Mile 14 is 8:49. My average pace is close to 9 flat! As I run through the fairgrounds, I see the lead bike for the first woman and, just before I turn a corner, can see Jessica's blue shirt. "Go Jessica!" How exciting to be doing her first marathon and winning it, too! I take my first gel and follow it with water. I make sure to pour water on my head at each aid station. As I go through downtown again, the temperature is now 75 degrees...warming up! The clock tower is playing some beautiful music! I wonder if it does that every Sunday or if it's just for us.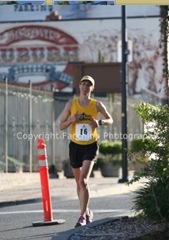 Mile 15 to 16 is a 9:09 so my overall average actual goes up. That last loop, I'll give it what I have and who knows what that will look like! I run into the park and see the Richards. Their encouragement means a lot as does that of all those hanging out at the finish line. I get a "sponge bath" this time which feels great!
Mile 17 is 8:46. Alright, last lap now! Here comes Brad Poore! Wow, he's still way ahead and finishing strong. As I run by the park, I can hear the cheers for him as he crosses the line. Awesome!
It's been great running along Auburn-Folsom. Many friends have driven by cheering for me. Like the Liden Family, the Korns, and my neighbor, Jennifer. And now here's Troy and the girls driving by. I love to hear their cheers and encouragement!
Mile 18 is 9:05. I'm no longer holding back but trying to speed up. I realize that going faster is not going to be an option, but maybe I can hold the pace. I see Kat at the top of Maidu. "Thanks so much Kat for being out here!" I turn into the neighborhood again and there is my wonderful family cheering. It gets me excited! I take my second gel...that helps some!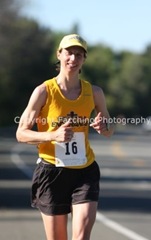 Mile 19 to 20 is a 9:18 average. Ugh! Though it's hard to stay focused, I remind myself to smile. Today is a gift from Jesus and to be able to do what I've done is from Him. I see my family again...love them! Kat is with Lecile encouraging her to press on. It's been a tough day for her...her stomach is feeling bad...been there and that's not easy!
Mile 21 and 22 is a 9:15 average. I'll take it! I'm going to squeak out every bit of energy that I have! I'm not looking forward to the fairgrounds hill but it's my last time!! As I make it to the top, I walk through the aid station to make sure I get a good drink of Gatorade
and pour some water on my head.
The last few miles of every marathon is a mental challenge for sure! I have to remind myself that the end is near! I can tell that the distance is going to be a bit short and today I don't mind.
Mile 23 and 24 are 9:35 pace. The temperature is now 85! Just keep going! Thanks Jesus so much! I smile and wave one last time to the volunteers at Auburn-Folsom. One more climb into the park to the finish. This is tough! I can see the finish! As I run across, I look up and thank the Lord for this day! I'm done!!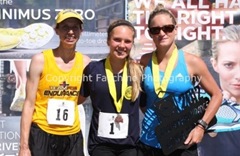 Way to Go Jessica, Jim & Lecile!
| | | | |
| --- | --- | --- | --- |
| Name | Age Group | Place | Time |
| Jessica Bonner | W20-24 | 1 | 3:26:10 |
| Jim Kepfer | M45-49 | 2 | 3:32:32 |
| Robin Soares | W35-39 | 1 | 3:48:45 |
| Lecile Eklund | W40-44 | 2 | 4:31:41 |