ANNA'S RACE -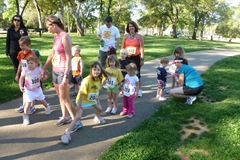 I'm at the starting line. I'm by my sister, Ariel. My friend Anthony shows up. I think if Anthony runs with his little sister I will beat him, but if he doesn't run with her, he might beat me. We all posed for pictures. The race starts and I am in front of Anthony. But then Anthony passes me. But I keep running and I see him the whole way around the lap. Anthony crosses the finish line first and I am second. It doesn't matter to me that he was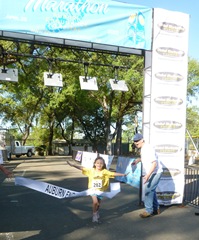 first because I was the first girl and he was the first boy. After I finished, I gave Anthony a high-five. I also give some other kids in the race a high-five. Now I'm going back on the race course with Anthony to find Anna (Anthony's sister) and Ariel. But I see my friend, Ellie, crying. I ran with her back to the finish line. Before we cross the line, I make sure we go through together.
ARIEL'S RACE - Time: 8:10, Pace 15:30
I'm at the starting line. I'm standing next to Anna. They take pictures. At the start, I grab Daddy's hand. I run fast. I'm running with Daddy. I didn't stop. Anna (Anthony's sister) is behind me. We're both having a good time. We run around the pool where Anna swims. Now it's getting hard. I see Ellie running in front of me crying. Now we have to climb up 2 hills to get to the finish. I'm running as fast as I can. I see the finish line. I feel happy.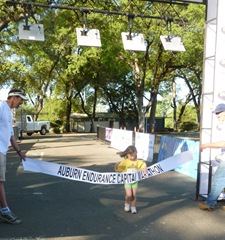 I run through and break the banner. Then I got a medal. It was a big, big medal. I was thirsty and got some water and ate some oranges. I think of Anna (Anthony's sister), she was behind me. Then we went home. I enjoyed the day.