| | |
| --- | --- |
| Date/Location: | April 1, 2012 – Granite Beach, Granite Bay, CA |
| Distances: | 1/2mSwim - 13m Bike - 3.5m Run |
| Time: | 2:14:42 (14:20-1:29:40-30:41) |
| Place: | 1st, W35-39 |
What a nice change today is from yesterday! It's cold but the sun is shining. Poor Troy suffered through some crazy wind and rain here at Granite Beach in the Dos Dirty Du. He's out here supporting me today. What a blessing to have the whole family behind me!
I had Troy help me in preparing for this. I do not consider myself a very good mtn. biker and my practice rides with Troy were difficult at times. Yes, there was even a time or two I wanted to toss my bike...like when Troy took me down some very steep trails, or I wimped out on some obstacles or got stuck right in the middle of a puddle. But, my skills have improved immensely from last year and I have him to thank for that! I realize how silly a bad attitude is. It is better to have fun with learning new things rather than staying focused on how inexperienced I am. All in all, I'm feeling better this time around even with, yet again, very muddy trails. Another helpful change is disc brakes and clip in pedals. But, of course, the Lord is my ultimate strength and help today!
The water is a nice 48 degrees! Thanks to yesterday's wind, all the cold water at the bottom of the lake was churned up! I should be good with my neoprene cap, neoprene booties and rash guard under my wetsuit. The big issue is the cold water on the face...ouch! Today is a mass start and I'm hoping that I don't get pummeled. While Anna volunteers in the transition area, Troy, Ariel and I pray at the water's edge. It's a good reminder to slow down and put any anxiety in His hands.
I stand in the water a few minutes putting my hands in the water and splashing my face. This is going to be interesting! Troy has me line up to the far left away from the crowd and a straight shot to the first buoys.
Ready, set, go! The first 5 minutes I feel like I cannot breathe. I take a breath on every stroke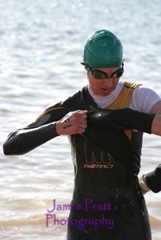 and pray that I don't panic. Part of me wants to turn around and head for shore. Please Lord, help me get through this. By the 2nd buoy, I'm feeling more comfortable and am able to pass more people. Surprisingly, there is a nice open path ahead of me and I just seem to slip through the crowds. I am able to keep my head down for long periods of time without even having to sight. Wow, thanks Jesus! This is fun!
I make it to the last buoy and I really hit a good rhythm. I feel great all the way in and when I jump out don't even feel like an ice cube...thanks to the booties...which are also great for running up a sandy, obstacle-filled beach!
I get to my bike and begin, hopefully, the slowest transition of my season. Since it's 48 degrees outside as well, I put on a jacket, long fingered gloves, leg warmers and beanie. In addition, I have to fiddle with the GoPro Camera on my bike. Finally I'm ready to go! I have 2 loops today and they are shorter this year since the backside of the course flooded...no love lost for me!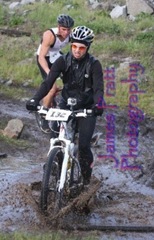 The first set of obstacles I hit are nice big mud pits and puddles. There is the photographer there, thankfully giving helpful advise on where to go and when to gun it. I also remember Troy telling me to sit up and lock my arms. I make it through...praise Jesus! Phew, just one more time on that one!
I pass Dave Campbell volunteering as I head up the first climb..."Hey Dave". I make it up and over and now the rocks are coming.. I'm able to navigate most of them well. On one tough, rocky ascent, I power up in hopes of finally making it (since I couldn't do it in training). I'm almost there and someone flies by on my right. I panic and go left into a pile of rocks. Timber! I fall over to my left but I am fine...yeah! "Are you alright someone says?" "Oh, yeah, thanks!" I get up and run until I can get back on.
The next big obstacle is a big rock that I have to drop off. I actually did it in practice Friday so I know I got this! I make it! Then as I try to make the following corner, someone passes me on the right and I head for another rock pile. Thankfully, I'm able to stop myself and get going again. Thanks God!
I am actually having fun even with having to run through a few really rocky descents! The next big hill is not that bad and I actually make it over a pile of rocks that I wimped out on before. I make my way back to the start and see my happy family waiting for me. Okay, one more loop. I just need to make the same obstacles and I'm good.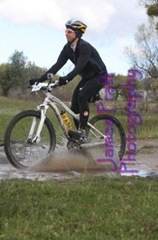 Mud pits and puddles...check. Climb up steep rocky ascent...check, but I do got passed again here but don't fall this time. Rock drop off and sharp turn...check, even with getting passed again here. Big rock pile...big check this time, I ride over it smoothly. Running through same obstacles...check. Simple zig-zag trails...check, but lost my concentration and ran into some rocks and watched a girl pass me. I try my best to catch the girl but with little success. No worries though, I still have the run! I'm heading back to transition and hear my family cheering me on. I also hear other spectators shouting out their recommendations on how to tackle the puddles at the end. I panic and almost fall in. Back up, I bike in to transition. Thank You Jesus! I made it!!!
Transition is easy this time. I rip off all my muddy layers and head out with a mostly clean outfit. I give Anna a high five. Troy tells me I'm in 14th and encourages me to pass at least one girl. I struggle with my race belt since I forgot to adjust it since Troy borrowed it. I miss the opportunity to call out to Ariel...silly being so focused on something so little. I re-group and thank God for this race.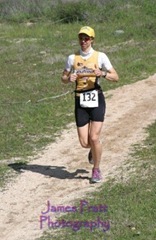 The girl that passed me comes up alongside. I tell her good job. I'm not wearing my Garmin to save some time (I took up so much time in T1). I have no idea what pace I'm running. I'm pushing hard but I focus on keeping my breathing controlled and my body relaxed. Soon, I'm pulling away from the girl and reeling in some men. I don't see any women and wonder if Troy told me to pass one because all of the women are way ahead. Finally I see another woman and am able to pass her. Then within 5 minutes I see 2 more women and pass them too. Up the big hill to the water tower is brutal but I try to remain focused.
I finally make it up and over. I struggle down the steep backside and try to channel Courtney Loveday's technique. It goes okay but could be better! I have no idea how many miles I've gone but I know the finish is getting close. I see another girl and pass her going onto the single track trail. I guess I'm in 12th place now. Just when I'm about to see the final stretch, I see 2 more girls! I pass them as fast as I can because I know that I need a good cushion...Anna will be waiting to run in with me.
I see Anna waiting and I tell her to go and that I'll catch her. I catch her and she runs hard to the finish with me. Wow, she's getting fast! We cross the line and I give her a huge hug! Thank you Jesus for helping me get this done and with Anna beside me and Troy and Ariel cheering from the sidelines!