| | |
| --- | --- |
| Date/Location: | 3/3/19 – Calistoga to Napa, CA |
| Distance: | Marathon (26.2 Miles) |
| Time: | 3:23:58 |
| Place: | 14th of 120 (50-54 Men), 113 of 954 men overall. |
| Teammates: | friends: Sam Louie |
Another family tradition.. spend the night in Calistoga and then one of us runs the Napa Marathon in the morning. This time it's my turn. However sickness and injury curtailed my training so neither Robin nor I are feeling confident about this. But I am confident that the Lord will be with me and will help me because He has EVERY time. Without the proper training more will hurt, more will go wrong, and there will be more temptation to slow down. But that is when I become so reliant on God, when I know I can't do it on my own.
The 4 of us have a great time in the giant hot tub outside the hotel. The room itself is fun with the the kids immediately building a fort and sleeping area. Reading my story about my last Napa Marathon 2 years ago I recall the hip injury I had and the stiffness right from the start of the race. The Lord made that race go amazingly well. Although under-trained, the nice thing is I don't have an injury this time!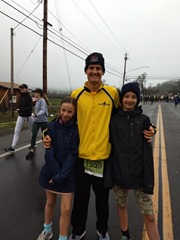 After a good night's sleep, we wake up to no rain! The start is 7:30, a 1/2 hour later because of a 1/2 marathon they've added this year. After a 1/2 mi jog from the hotel I'm at the start w/Robin & I the girls and we meet up with Sam Louie. Sam does have an injury. We all pray together and desire to focus on the Lord and maintain an attitude of appreciation no matter what.
Go! I start between the 3:20 and 3:25 group. My goal is 3:25-3:29. 3:29 is what I could expect from the training I did, barring any sudden injury. I see Robin and the girls a little down the road. They are a huge support! There's a lot of good runners. It's humbling thinking of all the hard work people have put in over the months in order to run strong today. My phone in my rt. pocket is bouncing against my hip. Annoying but hopefully I'll get used to it. It's the best way for the family to track me.
Mile 1. 7:35. Feels good. It's supposed to. Don't let this feeling result in going out too fast. The 3:20 group is a ways ahead. Tempting but not right. Temperature good. FCA shirt, arm warmers, FCA beenie, gloves, shorts. May rain towards end but not a problem.
Mile 2. 7:40. My goal pace should be 7:45 at best to 7:55 max in order to break 3:30. I accounted for the 2 extra minutes this course seems to always add. However, this time I'm going to hug each turn in the road to see if it really is 26.2.
Mile 3. 7:36. Because I'm behind the 3:20 crowd, there's no one around me which makes it easy angling from one side of the road to the other. There are a lot of turns. Countryside is always beautiful. Although the vineyards are extra soggy this year. I hear the pacer ahead telling his runners about the advantage of running the tangents. However, in a group, they aren't able to really maximize the shortcuts.
Mile 4. 7:41. I'm under my "best" pace, which feels good, but could also be a warning. I'm right behind the 3:20 goup and think to myself, "I'm in with a bad crowd, but it's so tempting". Not that they are bad, they're just bad for me

The mile markers are closer to my Garmin distance which means I'm not adding distance in the turns. It really does make a difference. Although it's tough on the ankles because of the camber. I remember this spot a few years ago when I had to lie down and stretch every 4 mi. Even that was a great race thanks to the Lord!
A young lady goes flying by like she's in a relay. Wow, perhaps she started late. I wonder if I could catch her down the road. No, it looks like she's keeping that fast pace. Super strong.
Mile 5. 7:53. I see a funny sign, "Make Running Grape Again!". It makes me smile thinking of all the creativity that goes into helping runners get to the finish. The 3:20 group is pulling ahead a little. I need to conserve.
Mile 6. 7:53. I prepare for a quick bathroom break. It feels good to stop, but must keep pushing. Only 30secs lost. I can still see the group ahead.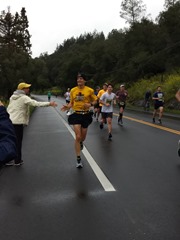 Mile 7. 8:01. I hit 8min pace because of the short stop. That's ok. My rt hip is a little sore. Is the bouncing phone causing me to compensate? I try to ignore it.
Mile 8. 7:40. I see a funny sign with a picture of Dory from Finding Nemo, "I'm never running again. Oh, look, a race!" and another one, "A tough run always ends, but tough runners keep going". I'm drinking at every aid station. Water and food are very important. Group is about 20 secs ahead.
Mile 9. 7:43. I'm so glad to see Robin & the girls [@ Pope St]. I tell them I'm doing good and they're excited to see how close to 3:20 group I am.
Mile 10. 8:00. My rt hip is really starting to hurt now. I'm steadily slowing. I hear the 3:25 group coming up behind me. I think that I can join them when they swallow me up. But instead they overtake me and keep going. Oh, no, this is bad. Not using all cylinders. 8min pace is hard. Could get worse and change the race dramatically. But this is exactly the type of moment I knew would come. Where I must pray, trust God, and not give up hope. I pray earnestly.
Mile 11. 7:59. I see Robin & the girls [@ Zinfandel] and tell them they can now pray for my rt. hip, and also my foot arch. I know they are praying. And they can see the situation because instead of being with the 3:20 group, I'm now behind the 3:25 group. I pick out a spot ahead and stop to stretch my hip and pray. Starting up again, I'm surprised how much better it feels. I push it a bit and it holds. Thank you, Lord! Now, to try to catch the group..
Mile 12. 8:24. I'm matching the 3:25 pace but not benefitting from the group because they're 20 secs ahead. I've got to push harder, breathe harder, faster turn-over. This takes a lot of faith!
Mile 13. 7:29. I see the starting area of the 1/2 Marathon. I'd like to feel like I was fresh, just starting a 1/2 Marathon now but the truth is.. this is going to be tough. 1:42:39 for the 1/2. I'm gaining on the group now after a good mile, but a hill comes and they pull ahead. This tells me I'm near my max and they have extra energy to maintain pace on the hill. I try to max the downhills to gain on them.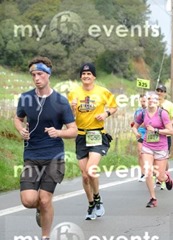 Mile 14. 7:45. I eat a Hammer Gel. A little early, but I need it. Creative pitstop goes well. I push really hard and finally catch up to the group! Thank you, Lord! Being with a crowd is very helpful. The methodic beat of the dozen feet around me makes it easier to pace. If I start to fall back, I quickly get near for fear of being left behind. It's tough but gotta stay with them.
Mile 15. 7:29. A steady hill. This time I stay with them. The pacer tells us good job on the hill. When I go for water the pacers also go for water but they drop back a little to give us room. They seem worry-free & unstoppable to me, but seeing them getting water makes me realize they're human, too, and must be careful to do everything right to get the job done. They catch back up and lead us again on the steady, unchanging pace. I see my family again [Oakville Rd], tell Robin thanks for the prayers, the hip is feeling better and give her a kiss. Anna & Ariel are running and taking videos of me at the same time

Mile 16. 7:56. The mile markers are getting farther away from my Garmin miles. We are limited to only 1 side of the road now. Does the official course use both sides of the road? I eat a Hammer Gel and tell myself just 3 mi to my favorite mile. I try to envision the face of Jesus surrounded by His glory. The more I do, the better I feel. When I feel confident and try to push the pace, it starts to hurt, and so go back to focusing on Jesus.
Mile 17. 7:51. A good downhill now. Just 2 miles. Like my neighborhood run with Anna. I see a guy walking. He's says it's ok but I tell him I'm praying for him. I do and I wonder how his race is going to turn out.
Mile 18. 7:30. I eat a Hammer Gel. My favorite mile 20 is coming up but I want to be ready for it. I stop again for a quick stretch. I know it'll be hard to catch back up, especially on a climb, but I can do it.
Mile 19. 7:45. Yes! This marks the start of my favorite section, the climb to the "wall". Most dread this part but a couple years ago God gave me a tailwind and it felt so good it left a lasting good memory. It's also downhill after this! I catch the group, even on a hill! Thank you, Lord! That's a huge boost for me.
Mile 20. 7:37. Over the top I celebrate to myself and pull a little ahead making the most of the downhill. I know these next 3 miles are hard! With the group again I focus on the Lord while also making sure to stay in step with the 20 pounding feet around me. Now it's all flat to the 23mi turn..
Mile 21. 7:37. Hard miles for me. Sustained by God. Looking forward to the police lights indicating the turn at mile 23. That's where I bear down and race it in. 2 years ago that approach worked great.
Mile 22. 7:47. Going good, just hang in there. Can't wait to see my family.. there they are! I tell them it really hurts now but I have to keep focused on Jesus. I won't see them again until the end. Ok, the turn, and now I need to start pushing. It hurts the same but I'll get down faster.
Mile 23. 7:46. With eyes practically closed, I turn it on. Go, go, go. I find myself a little ahead of the group. But must stay the course. Consistent. It will be over soon. I see a guy walking who looks like he was fast. I pray for him. Only 2 miles to go!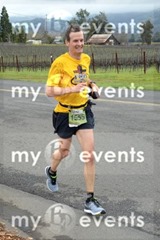 Mile 24. 7:52. There's a guy I'm pacing off of but he's pulling ahead. I feel like I'm going so fast but It's the same pace I started with. I can't wait for the turn to the final mile. I'll being able to think of that like the final interval at our track workouts.
Mile 25. 7:54. Ok, this is it. Eyes practically closed. Slightly raining. People cheering from their houses. And then I hear Robin's voice, "You're almost there, Troy. Keep pushing. You can do it. I love you." Wow! She's using the walkie-talkie app on my phone to encourage me from far away. And then I hear her say it again. I thank God for the wondersul support my wife gives me and it fills me with determination to give it all I've got. Right as I start picking it up I hear Anna coming through my phone as well, "Allright, Dad, you got this, run for God, you're a 'Try-Hard'" Ah, that is so sweet! I'm flying down the road now. Into the neighborhood. Both legs are hurting.
Mile 26. 7:43. Around corner. There's Robin and Ariel! I yell at Robin, "That encouragement on my phone was so helpful!". Then I see that young lady I last saw at mile 5. She's running slower now as I go by into the final 100 yds of the race. Down the finish chute I'm so greateful for the Lord's help through the day. The hard work is over. I smile and point up and throughly enjoy crossing that line.
Wow! Under the goal by a minute. Such a surprise. 1:41:18 for the 2nd 1/2. Negative split by a minute. When the hip slowed me at mile 10 I was sure the rest would be slower. Thanks, God.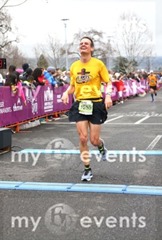 After the race I tell my family how much the walkie-talkie encouragements from Robin and Anna helped me. But Robin tells me that she didn't talk to me, that only Anna had the phone and she was at a different location. I don't know if God had me hear her voice or how it was, but it was a burst of encouragement hearing her words.. however it was that i heard them. Thanks you, Lord.