Date/Location:

May 11th, 2013 – Granite Beach,
Granite Bay, CA

Distances:

Swim 1.5k – Bike 40k – Run 10k

Time:

2:43:14 (23:58 – 1:26:41 – 52:36)



Place:

1st/13

Teammates:

Amanda Balser
FCA Teammate – Jenny Boakes
I decided to jump into this race only the week before. I received a free entry and couldn't pass that up. I told Troy and the girls that they didn't have to come. They could spend the day at home getting things done (Troy) and playing (the girls). I'll miss them but I know they are praying for me! It's a race, but I'm training through it. I'll ride down to it and back home afterwards. I'm still a little tired from Wildflower and the training miles so don't have high expectations but still plan to give it my all. I'm especially excited for the swim and pushing it extra hard!
I arrive 45 min early and run into Dave Campbell. He and wife, Francie, and son-in-law, Steve, are always working these TBF events. They always do an excellent job! I run into my FCA teammate, Jenny Boakes. She's doing the Aquabike. We agree to meet to pray later.
I set up my transition site. There are some fast looking folks here! I give Troy and the girls a call. We pray together and now I'm ready to go! I get to the water and do a warm-up. I'm feeling strong despite being fatigued. I find Jenny and we pray. Now, it's time to go!
My wave is women 35+, AquaBike (swim/bike only) and Relay. On the starting line I chat with a girl. She's nervous about the swim and I tell her I will pray for her. I hear a guy say, "hey, there is someone with a wetsuit as torn up as mine". I look back and, sure enough, their wetsuits are ripped around their ankles. I love their calm attitudes tackling the swim with some drag to deal with. I wish I had a camera!
The Swim
Ready, set, go! It's tight going out! I'm afraid I'm going to get wacked or swum over. I pray and ask the Lord to relax me. After a few minutes, it spreads out and I find myself next to another girl. I think we are the lead women of the group. I get behind her for a draft and it's great for a few minutes until she starts drifting off. I keep my line..something I prefer to do than chase the draft. That gal pulls ahead but I'm able to catch her as we turn.
The next turn to the finish is far off, so I just focus on pulling the water. As the gal drifts in and out from in front of me, I take advantage of the draft that comes with that. She remains ahead slightly and I dig to keep the gap from growing.
At the last buoy we are together again. Finish line here we come! I push harder and I can tell she is, too. We are neck and neck! I anticipate her bumping into me but I think she's using me as a guide to keep her straight. I dig, she digs! It's going to be close! She comes out just a few seconds ahead. So close. I rip off my wetsuit and again it get stuck around my ankles. I still get it off pretty quick and dash up to my bike.
The Bike
I get on my bike pretty smoothly and head out. I'm looking forward to this course because these are roads I ride all the time.
Mile 5.
I'm feeling strong and passing a lot of folks. Suddenly a girl zips by like I'm standing still. Wow! I push harder and see if I can keep the gap small. It'll be cool if I can stay with her! Suddenly, I see a guy walking his bike. I slow down and ask him if he needs help. He tells me he has a flat and nothing to fix it. I would love to continue chasing that gal but I know I need to stop. I pull over and pull out a tube.
"Do you know how to fix a flat?" He doesn't. I ask him to take off the tire and I go to work pulling out the tube and checking for the cause. Jenny rides by and asks if we need help along with another gal. What a great group of athletes out here!
As I inspect the tire, I see a very big tear in it. I ask him if he has a wrapper to put between the tire and tube. He has a GU wrapper and tears it to make it smaller. Oh, dear, a sticky mess! I shove the wrapper in the tire. I try to make the wrapper cover the tear, but I'm not sure it's right. Please Lord, make this work. I grab my inflator and let it rip. The tire blows up nicely and I hand him back the wheel. "Can you take it from here?" He nods and thanks me. "God Bless you!", I say and jump back on my bike.
Mile 10
. I continue to fret about whether that guy's tire is going to hold. Lord, I know I'm not supposed to worry so please give me peace. I take a deep breath and let the stress go. I feel better! It's been hard to get my average up since the stop, but I'm not upset. I just keep trying to push hard even though I'm far behind that gal and the others that passed me.
Heading down King Road to Brennans Road, I see Troy and the girls! Wow, they came to see me! I give them a big smile. What a boost!
Mile 15. I've made some good progress and have passed a lot of people who passed me. My average is better and now it's time to climb! Up Powerhouse Road I go. I know once I make it to Auburn-Folsom Road, it's going to be a nice downhill back. I see a no pass zone at the steep downhill, and I barely make it past a group of riders. I coast down the hill and think about how Troy could skillfully bomb this. One last climb! Hey, there is Troy and the girls! I'm going slow enough that I can actually give Anna a high five. That is fun! "I love you guys!"
I turn on Auburn-Folsom and enjoy the downhill! Though it's a nice ride, I'm feeling more tired…mentally mostly! I feel something fly into my jersey and look down to see a yellow jacket! I try to squish it and pull it out. Ouch! It stings me. After a few moments of that drama, it's gone! I realize I've been swerving around and could have been hit by a car. Thank you Lord that no cars passed me during that moment!
Mile 25
. Just about done. Over the short gravel section back into the park. My average climbed back up a bit…thanks Jesus! I make the last turn at Dave's hot corner and hear him say "we were wondering about you!".
I pull into transition and for the first time ever was able to pull my feet out of my shoes and ride smoothly in with my feet on top. Awesome! I rack my bike and get set to run. This is going to be tough because I'm tired and it's getting really hot!
The Run
Going out of transition I feel pretty good. There are not any girls heading out with me on the run which means a lot of them are already out on the run. I'm not discouraged but I'm not exactly fired up to go out and find them.
Mile 1 is 7:26. I'm happy with that. As I round a corner, I see a few runners helping a girl up. She obviously took a good tumble. One of the runners runs ahead to notify folks at the next aid station. I stop and ask if she is okay. She tells me she's pretty upset and that her ankle really hurts. She tells me she wants to try to run and I encourage her to walk a bit first. I start to run and I tell her I'm praying for her. I can hear her crying out in pain as she continues to move ahead. I tell her to hang in there.
I continue around the corner and navigate my way down a steep, sandy trail. As I get to the bottom, I realize that girl will need help getting down this. I run back up and the other competitors look at me in confusion. "Did you see that girl walking? Is she behind you?" They think so and I continue up. I get to the top and run around the corner and see her walking back. "Are you heading back?" She tells me yes and that it is too painful. I assure her that help will come. I say goodbye and continue the race.
Mile 2 9:14. No bother, it was worth it! I look for the next aid station and let them know that the girl they were told about is heading back and needs to be picked up. I miss grabbing water but figure I'll be back here soon…thinking that the turn around is soon.
Mile 3 7:42. Wow, it's getting hot and I'm getting thirsty! Where are we going? Where is the turn around? I've never run out this way and it looks like we do a loop back to the spot I'm at now. Lord, help me keep going!
Mile 4 7:48. It seemed like a long loop but I'm back on the trail. I'm so very thirsty and hot now! I finally make it back to that aid station and there are no cups ready to take. I grab one and fill it up but the water is flowing so slowly I have to wait patiently. I remember the last 2 miles, dreaming of being able to pour cool water on my head. Finally, it's full, and I pour it on my head. That was dumb. Now I have to fill it up again and there is a line of folks coming behind me. I finally drink some water and start running.
Mile 5 8:22. This is hard! And feels long. I'm so focused on the fact that I might be running more than a 10K, I start asking others if this seems too long. One guy says with a chuckle "no, just too hot." Lord, let me not worry and give me the endurance to get to the finish! Once I climb the Big Hill, I see that the course turns at the top. That means it won't be as long as I thought…yeah!
Mile 6 8:44. Ugh, that Big Hill! Got to get to the finish! I really start to get moving again. It's mostly flat now and I just need to run as fast as I can. Some of the guys ahead of me move over as I try to navigate these narrow trails. "Thank you!" Actually quite a few guys have been doing this the whole time and have even cheered me on. I'm really grateful…what guy wants a girl to pass them? These are quality guys!
Finally, the finish is right there! I push hard and get it done. Thank you Jesus! You rock!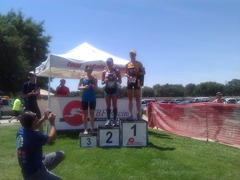 Name
Race
Time
Age Group
Place
Swim
Bike
Run
ROBIN SOARES
OLY
2:43:14
W35-39
1st
23:58
1:26:41
52:36
AMANDA BALSER
OLY
2:59:07
W40-44
5th
27:03
1:26:53
1:05:11
JENNY BOAKES
AQUA
BIKE
1:50:28
OPEN WOMEN
2nd
26:01
1:24:27
NA