| | |
| --- | --- |
| | April 22, 2017 – Grass Valley, CA |
| | 5km |
| | 24:24 (PR 23:59, 2016) |
| | 1st Place, 40-49 |
| | Anna, Ariel & Troy Soares, Elizabeth Katsura, Lauren Langhofer |
Always fun coming to the CEM (Christian Encounter MInistry) Ranch! Not only do we get to race/see with our Tuesday Track teammates, we get to support an awesome ministry impacting the lives of teens!
Our FCA teammates and CEM counselors, Caryn Galeckas and Suzanne Hartley, have done another great job setting up this event! Looks like a bigger crowd this year! We also get to race with our track friends Laurn Langhofer and Elizabeth Katsura! CEM asked us to set up our FCA booth and share our ministry with the racers. Such a great honor to share how we race for Christ!
We all line up on the start line. Another friend and CEM counselor, Charlie Cazin, tells us about CEM and how it's impacting lives. Then the leader of CEM says a prayer for all of us! What a pleasure to hear Christian music playing and to pray at a race…very special and unique indeed!
The question this year is Anna going to surpass me today…very likely and possible! Anna lines up on the front row of the starting line. She whispers that she hopes to beat the boys her age next to her. I encourage her not to go out too hard and just see what happens. Troy and Ariel are just behind me.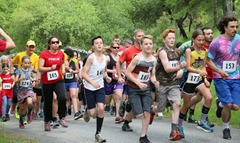 Ready, set, go! The kids, including Anna, take off! I know the hills that are ahead so I'm going to be careful. Troy quickly catches up to Anna and passes her but she surges and stays just behind him for a bit through the first big hill. That first hill is tough and some of the boys are falling off pace. I sure hope Anna isn't going too fast!
We get a little reprieve as we tour the outskirts of the campus and go down and around a pond. Anna is still ahead of me looking strong…and the first female!
Mile 1 is 8:24. Pretty good…a bit faster than last year which is encouraging.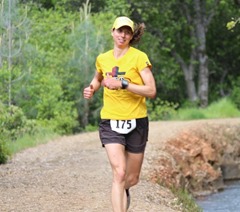 Another climb up to the canal trail…phew, tough! Anna is just a little bit ahead. I close the gap and catch her just past the halfway point. Her little cheeks are red and she's tired but still smiling. I tell her I'm excited to see the smiley face which indicates no more hills to the finish!
We turn off the canal to a road above it. Mile 2 is 7:36. Anna is doing a great job staying with me despite being noticebly tired and quiet. I don't have to hold back at all.
This road is rolling. I'm so ready to be done with hills! I ask Anna several times "where is the smiley face?!" FINALLY, we see it spray painted on the ground! Yes!
We get back on the flat canal and continue to be in step with each other. As we exit the canal, it's a nice continuous downhill. I tell Anna "downhills are your specialty, go for it!" She takes off and I cannot keep up. Down, down, down we go!
I can hear the finish line announcer. Anna turns off the main road and onto a path to the finish. I'm not too far behind but still too far to catch her. I watch her finish and point up to God. So proud! It's a very special moment to see my daugther surpass me. Thank you Lord for being able to witness this!