| | |
| --- | --- |
| Date/Location: | March 15th, 2014 – Sacramento, CA |
| Distances: | 40 min |
| Place: | Cat 4, Master 35+; 33rd |
| Teammate: | Aron Yevuta, Garin Moore, Matt Marks |
I'm not as prepared as I should be. It's my first Cat 4 race. There's been many crashes lately amongst our team (Victory Velo). Robin prayed for me beforehand. I feel it will be alright. My goal is to stay in the main pack until the sprint.
Aron, Matt and Garin teammates are also racing. It's a full field and nerve-racking as always being surrounded by bikes going 25mph. The far corner is a sharp left-hander (following by 2 hard rights). I try going into it first a couple times and it's not a problem. But within the pack it really slows, which makes for a lot of work coming out of it to catch up.
There are many primes but I'm not strong enough to get in good position for any of them. It keeps the pace up. A couple of times Aron goes off the front and we block for a bit but there's no way I could bridge up.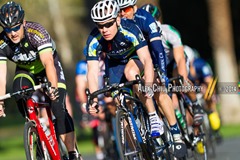 After 14 miles, I see the "2 to go" sign and it takes me by surprise. This is it.. I have to work to get near the front and then stay there for the last lap. It goes well and I'm in good position with 1 to go with the field now surrounding me.
I've got to get to the outside. Moving up has gone well today, I thank the Lord for providing an opening and a rider to follow many times back to the front. I need every "lift" I can get as even short pulls really tire me. Again, an opening presents itself and I'm able to get to the outside. I'm really tired and want to just maintain but I know if there's an opportunity to shoot through the tight corner first, it will be a huge different in final placing.
I push to the front. This is the fastest lap yet but the intensity drops just enough to let me get in front… perfect! I know I can't win because I don't have a strong enough sprint. But I can take the corners with the lead guys and that will help the most for my finish. 40 guys behind me and I've got the corner to myself. 27mph. Far outside.
I lean and sight my line from outside-to-inside. Suddenly I'm surprised to see 2 riders coming even faster on the inside. Not wanting to crowd into them, I drift a little farther out. But then realize I had no margin to change the plan like that. I grab the brakes. Exactly what we are told NOT to do, or else cause a crash. When you follow someone fast through a tight corner, you're at the mercy of his ability. It's important to me to be the guy you can trust in a corner. But now I'm slowing, anticipating hitting the curb. My speed goes from 27 to 16 as I enter the far gutter.
I don't hit the curb, I'm ok! But riders swarm by the inside… I immediately think of the riders going the same speed behind me having to hit their brakes.. which always leads to one thing… crash. I hear the awful sounds behind me. Hard, cracking metal sounds. I can't believe it. I botched up that corner and caused others pain and expensive repairs. I continue on as hard as I can but I fall far behind the large pack. All energy is gone before I hit the sprint. None of that matters as I wonder who crashed and hopefully it's not a teammate.
I ride to the scene where 2 riders are holding bloody arms and another is walking with a broken bike. I help him get to the finish. Victory Velo is ok. But I'm upset. I've been praying for no crashes and then I'm the cause of one. I should have just stared into the corner and trusted instead of ever doubting. Or stay back in the pack. I'm not afraid of taking a corner fast, but when I'm not the only to suffer the risk, then it seems a selfish thing to do.
So today's race didn't go well. I did it wrong. I know God's saying I need to make the effort to learn from the mistake. But it's hard to want to race again. I better figure something out soon as the next race is tomorrow. The Lord did protect me and helped me through the race. But my prayer next time will also be to protect the racers from me.