| | |
| --- | --- |
| Date/Location: | August 23, 2014 – Winters, CA |
| Distances: | 48mi (24 x 2 loops) |
| Place: | 17th, Cat 4 |
| Teammate: | Charity Marshall |
Looking forward to racing today even though I've had limited time to train over the last 3 weeks. I convinced Charity to race today, too…she is in the same boat. We carpool to Winters…enjoying the farmlands and hot air balloons as we get closer. We talk about recent rides and Charity tells me how her front tire flatted while descending Mt. Vernon Road. Scary!
As we head over to registration we see a teen race volunteer back up right over a guy's bike that was lying on the ground…crunch! Oh, that is a terrible sound and the cyclist is getting mad! It's too hard to watch so we head over to registration. I hope that guy can still race!
Registration is easy as there are few Women's 4 riders! They have changed the race finish. I check out the hand written map and cannot make any sense of it. I guess after the first loop I'll figure it out!
We then head out for a warm-up. It's pretty warm already. My legs feel pretty good but I have doubts about my fitness.
We pray before the race for safety and a good day. Then we line up on time but the races are running behind so we have to wait. I try Charity's trick of sticking Clif Blocs to my top tube. I show Charity a video of a 4x 400 meter relay race where a team back in 4th place actually wins the race. It's a great example of never giving up!
Okay, time to roll. The head ref tells us to stay neutral until we get to the main road. As I start up I notice I've already lost a Clif Bloc. I grab the one remaining and gobble it up quick just in case!
I haven't ridden in a pack in a long time and I'm definitely being tentative. Charity is right in the mix and positioning herself well. Within the first 5 miles, the Men Masters 30+ 1/2/3/4 are passing us. I hear Lance cheer for Charity and I. Wow, they are booking! They must be on lap 2 of 3. If only I were starting my 2nd and last lap!
Our group of girls is sticking together well. I'm anticipating a lot of girls will fall back at the big climb! At mile 10, the grade is building. I'm at the back of the pack and stuck here. I should be able to get ahead once the group splinters. It gets steeper and a big group is still pushing hard and holding their ground! I push hard to get around only a few girls struggling and stay with the large pack that is trudging up the hill strongly! I catch Charity and encourage her to keep at it. At the steepest part of the hill which is also the very end of the hill, I am amazed at the big group of girls still riding strong.
I'm just barely with them as the descent begins. I'm pretty wimpy at descending but have improved. There is a gap forming but I still am close enough to close it…this is exciting!
As the descent starts to straighten out and flatten out I hear a loud pop and realize my front tire has just blown out! I'm scared but keep composure and try to brake carefully. I'm heading straight for a CHP officer at the bottom of the hill. I'm about to yell for him to grab me but I'm able to stop just in time. Phew! Thank you Lord for keeping me upright! How ironic that Charity and I were just talking about her flat!
Charity rides by and I tell her to go for it. I know now that my race plans have changed. As I change my tube, I think back to that video. I know that my goal today now is not to give up even when it looks bad. Chances are I won't catch anyone in my group, but I'm going to try!
After 5 min, and a little help from a stranded rider who helped me with my inflator, I'm off. It's time-trial time. 15 miles into a 48 mile race…boy this is going to be a long day! As a triathlete I cannot be too upset because it is still good practice.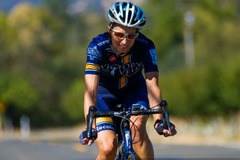 I'm surprised to find that 5 miles down the road, and around a corner, is the finish! Ah, it's closer to the end of the hill…good to know!
The next loop is pretty lonely but the Lord provides a few stragglers to watch. I pass one guy and we chat briefly. We both agree that this is good practice in perseverance!
I make it to the hill and still no sign of any girls. A group of guys starts to pass and I cheer them on…until the group gets larger and rides dangerously close to me…at this point I'm just concentrating on staying upright.
Not too long after, a paramedic and fire truck is passing with their lights on. Oh dear, not a good sign! I wonder who is hurt and pray for them.
I feel good climbing. I'm alone so most likely not climbing as fast as with a group, but still trying to push hard. On the descent, I'm much more cautious and in prayer. I make it to the bottom unscathed. Thank you Jesus!
The Women 1/2/3s pass me with a follow car. I pick up the pace and try to keep them in my sight. I cannot use them or the car for a draft so I carefully keep my distance. This is great motivation and helps those last miles fly by!
In the last few miles, the pack slows way down and I decide to pass instead of slow down to keep my distance. It seems funny that I'm flying by these pro women but I'm certain my pass will not last. Sure enough, they soon start their 1K sprint and pass me back like I'm standing still.
I put my head down and dig deep on my own. Got to finish strong! I briefly look up and see a bunch of cars stopped ahead. Uh oh, there was a crash in that group of girls. I slowly weave my way through the crowd of fallen riders and cars. Bystanders are helping girls off the road and out of a ditch. Poor girls, looks bad but fortunately not serious!
My finish is anticlimactic…but I'm done! Thank you Jesus! I make sure my result is recorded and then ride the long 3 miles back to the car. Glad to be done! Good effort today!