Date/Location:

August 17, 2014 – Pollock Pines, CA

Distances:

13.9 Miles

Time:

2:01:34

Place:

1st

Teammates:

50k - Lee McKinley
20 Miler – Rich Alesci, Tim & Austin Twietmeyer, Troy Soares
1/2 Marathon – Gary Carpenter, Manouch Shirvanioun
12K – Leonie Alesci, Megan Sebra
It's great to be back at this race…and with Troy! It's like a date! Last year was a great race but, later that day, I got sick and it turned into pneumonia. That was right before IM Tahoe and it sure made things uncertain and hard. But, Jesus brought me through the pneumonia and the 32 degree air temp at Tahoe…so He'll help me through today…and through the hamstring soreness and general fatigue.
Troy takes off an hour ahead of me. It's nice to cheer him along with Rich Alesci, Lee McKinley, Austin Twietmeyer and Tim Twietmeyer. I'm praying that his hamstrings will feel great and that he'll have the fitness to push it out there. I hope he also has fun! We pray before he goes and it puts us both at ease.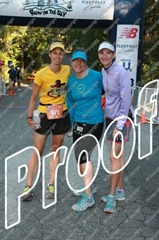 I run into my college roomie, Leonie, and Megan Sebra. They are racing the 12K in preparation for our CIM Relay. It's an all girl and all Aggie team…yeah! I also run into Gary Carpenter, a Tuesday Track veteran, and his friend Manouch.
It's time to go! We line up and always fun and witty Courtney Cardenas counts us down. It's go time! The first 1/2 mile is uphill and I love it! I feel good and get in a good position. There are 4 girls ahead of me.
Mile 1 is 9:04. Feeling good but trying to hold back some. We are on a beautiful fire trail along a water canal.
Mile 2 is 7:58. I pass one girl and get close to the next gal.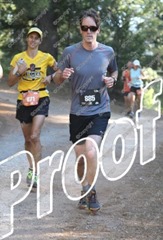 These hills are really helping me!
Mile 3 is 8:03. I make it to the top and the first aid station. Some friends are there cheering me on. It's nice to have the support! The dirt on the trail up here is really loose. There are many ruts in the road but they are hard to see when the sun is blaring down. It's hard to keep a rhythm on this!
Mile 4 is 9:43. The girl I was catching up to is pulling away. I continue to struggle with the footing but still feel pretty good!
Mile 5 is 7:41. Okay, getting into a good grove. Heading downhill!
Mile 6 is 7:37. I am all alone now! It's hard to push without some motivation!
Mile 7 is 7:55. A guy passes me up and now I've got a carrot! We head down to the next aid station. He stops and I keep going. I start to head down the super steep and rocky part and he catches back up. I pull over and almost fall over from the momentum. He passes and I try to move as fast as I can. For a mainly street runner, this is a definite weakness! On another spot I almost trip but recover…thank you Jesus!!
Mile 8 is 9:26. I finally make it to the lower campgrounds and take a road to the left. Last year I went right and around the lake. Now I'm in new territory! I'm climbing again and catch up to that guy. Another guy flies by and I try to match his speed but he is strong!
Mile 9 is 10:37. My hill climbing is not as strong and I know it's because of my recent lack of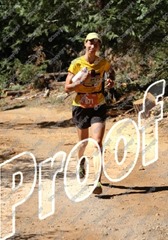 miles and hills. I stay positive and focused on the Lord…and I'm having fun despite suffering!
Mile 10 is 9:44. I see a volunteer walking down the trail so I know the aid station (the first one I passed) is ahead. I don't need anything but it will be nice to have some cheers again and from my friends.
Mile 11 is 8:48. I'm so looking forward to the turn off back down to the finish! Where is it? I'm really tired but just trying to hold on! I'm alone again but I know there are folks coming from behind. I'm back on the loose dirt…ugh, hard to stay steady!
Mile 12 is 8:56. Finally, the turn off! I head down a steep single track. Just like last year, my IT band attaching to my left knee starts to twinge. Ouch! I have to slow down and run with good form. Funny how it's the same exact place on the course!
Mile 13 is 8:36. I'm back on the fire trail. I hear footsteps behind me and make a quick look back (something I rarely do!). I can see a runner getting closer and cannot tell if it is a girl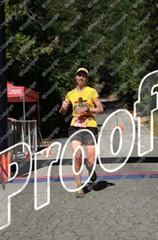 or guy. That's just the motivation I need! I pick it up and push hard. The IT/knee is still giving me reminders so I have to continue to take the time to focus on form.
Finally the finish is near! I hear Courtney calling out my name. I smile as my watch hits 7:35 for the last mile. Thank you Jesus! Great to be done! I rest for a few minutes and here comes Troy! An hour a part we start and 3 minutes apart we finish…Awesome!!
| | | | | |
| --- | --- | --- | --- | --- |
| Name | Race | Age Group | Place | Run Time |
| LEE MCKINLEY | 50K | M50-59 | 1ST | 4:25:14 |
| RICH ALESCI | 20M | M30-39 | 3RD | 2:53:32 |
| TROY SOARES | 20M | M40-49 | 1ST | 3:03:48 |
| TIM TWIETMEYER | 20M | M50-59 | 4TH | 3:53:39 |
| AUSTIN TWIETMEYER | 20M | M1-29 | 4TH | 3:53:39 |
| ROBIN SOARES | 1/2 MARA | W40-49 | 1ST | 2:01:34 |
| GARY CARPENTER | 1/2 MARA | M50-59 | 4TH | 2:08:36 |
| MANOUCH SHIRVANIOUN | 1/2 MARA | M50-59 | 5TH | 2:08:59 |
| MEGAN SEBRA | 12K | W30-39 | 6TH | 1:13:31 |
| LEONIE ALESCI | 12K | W30-39 | 7TH | 1:15:01 |