Date/Location:

September 5, 2011 - Davis, Ca

Distance:

10K

Time:

42:36

Place:

4th, W30-39

Teammates:

Hal Tacker,
Kathy Kelly Roggenbuck
It's always good to be back in Davis even if I'm not feeling well rested or stretched! The girls are really excited to race and we are excited to watch! Poor Troy is on crutches today because he sprained his ankle on the trails jumping over some rocks and brush yesterday. He is still joyful and smiling and I know that it's because he's focused on Christ...and trusting His plan. It's a good reminder for me that's it's all about Him out there today. Our buddy Hal Tacker is here doing the 5K. He injured his plantar fascia this year and had to miss out on a lot of run races. Today he's back and curious what he can do with minimal run training. We all pray together before the race.
I run into an old college teammate, Kathy Kelly now Kathy Roggenbuck. It's great to see her! She moved back here 10 years ago and is raising her family. She's now back to teaching after staying home with her kiddos. I'm reminded that it was Kathy that introduced me to Rancho San Antonio back in the Bay Area. What an awesome park! I miss it! I also run into the coach at Davis High, Bill Gregg. It's always great to see his smile and enthusiasm!
All the racers line up (5K and 10K). Before we start, there is a small ceremony honoring some Japanese visitors, a yearly event. I see their sign reminding us of the devastating earthquake and I am humbled. I've been complaining lately about being behind on tasks at home...at least I have a home and a healthy family...it really puts things in perspective!
My goal today is to run under 43 minutes (under 7 min pace). I spent the last few days painting in our garage and I didn't make it out yesterday for my usual 1 mile pre-race run. We'll see what happens! Ready, set, go! It's a narrow start with speed bumps and a wooden ramp to get up onto the bike path. I breathe a sigh of relief as I make it through.
I feel nice and comfortable at 6:54 pace and I hope I won't be suffering later on. I've got Troy's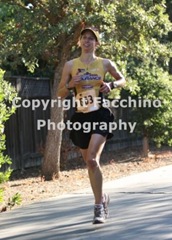 Garmin on this time as mine ran out of battery...oops! As I pass some of the Japanese visitors, I cheer them on. I see Beth Bourne up ahead directing the 10Kers and 5Kers in 2 different directions. "Hey Beth!" She cheers me on, encourages all the runners as they go by and directs them at the same time...you go girl!
Mile 1 is 6:54, I think. I'm getting used to the settings on Troy's watch. I set the mile alert thinking it would give me splits but it's just an alarm.
I still feel good and focus on pace and not on passing runners yet.This race benefits several local high school cross country programs including Davis High which I coached back in college. The kids from these teams are out in full force at every possible corner, turn, intersection, you name it! They are also cheering with such great enthusiasm which reminds me to smile. I once told my top runner at DHS that she was smiling too much in the race and not focusing enough. In retrospect, now as a racer for Christ, I've learned you can be a tough competitor with a joyful and humble heart. As the Fellowship of Christian Athletes Competitor's Creed says...
I am made to strive, to strain, to stretch
and to succeed in the arena of competition.
I am a Christian Competitor
I face my challenger and as such, with the face of Christ.
I do not trust in myself.
I do not boast in my abilities or believe in my own strength.
I rely solely on the power of God.
I compete for the pleasure of my Heavenly Father,
the honor of Christ and the reputation of the Holy Spirit.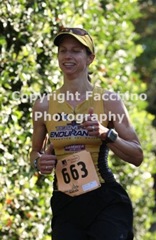 "To compete for the pleasure of my Heavenly Father" was something that the late Eric Liddell (Chariots of Fire) used to say and he smiled, too....so smile on!
Mile 2 is 6:53. Wow, still feeling good! In just a few miles I'll try to push the pace. It's nice and flat out here. Coming from hilly Auburn, it makes my legs feel light and fast.
Mile 3 is 6:54. As I look ahead now to see if there are some women to pass, I see one not too far ahead. I feel fatigued more so I take a Espresso Hammer Gel for a kick.
Mile 4 is 6:53. I'm ready to pass the girl and I'm tempted to sneak by quietly and quickly to make the pass last. I feel it's not the Lord's will so I make it a point to encourage her even knowing she could go with me. The pass does stick and it feels good that I did it a better way.
I can see a few girls way ahead. Chances are I won't catch them but I press on anyway as if I can.
Mile 5 is 6:45. Alright! Now, I remember Troy telling me that the last mile is the time to pretend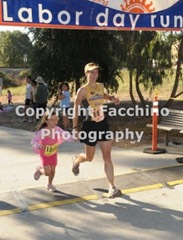 I'm on the track back in Auburn on Tuesday nights. I try to run with good form and fast. The last mile always seems so much longer in my mind, funny how that works! It hurts but I still put
on my smile. Those girls are closer but still far. Keep pushing!
Mile 6 is 6:38. Go! Last lap on the track Robin! As I round the last corner, I see Troy and the girls. Anna is ready to run in with me. I grab her hand and we sprint to the end. Yes, thank You Jesus! I'm so wiped out but I still give Anna a hug and thank her for finishing with me. What a good day! Now it's time for the girls to go!
Go Hal and Kathy!
| | | | | |
| --- | --- | --- | --- | --- |
| Name | Race | Age Group | Place | Time |
| Hal Tacker | 5K | M50-59 | 3 | 20:42 |
| Robin | 10K | W30-39 | 4 | 42:36 |
| Kathy Roggenbuck | 10K | W30-39 | 10 | 54:13 |