| | |
| --- | --- |
| Date/Location: | June 8th, 2013 – Loomis, CA |
| Distances: | Circuit Race |
| Time: | 30 Min |
| Place: | Elite 5, 5th |
| Teammates: | Jesse Warda |
The course is 12mi from our house. I meet up with Jesse Warda and we start down Auburn Folsom Rd. It's nice being able to go downhill to the race start so it doesn't wear us out. I'm concerned about the difficult course. It has 2 good climbs, a stair-step, to the top, and then a sweeping descent into a 180 degree round-about. Climbing used to be my strong suit, but now I feel strongest on the descending instead. The climbs will hurt trying to keep up with the pack. So my plan is to get ahead on the descent through the tight corner and then latch back on when they pass me up the hill. The problem with attacking descents is the risk of crashing. That concerns me a lot. So I've been praying this week for God's help in the races and others have prayed for me as well. I know it will go well. I just have to not give up when the climbing hurts, not loose focus in the corners, and not loose focus on the Lord.
The first thing I do is practice the descent into the round-about. I climb part way up and drop back down, taking the turn a little faster each time. Ok, I think I've got it. Just remember not to go into it above 33mph.
My friend Vince is volunteering at this corner and tells me I'm taking it wellwhich really helps encourage me. Now I find a little bit of grass to sit and stretch and eat the rest of my oatmeal. Stretching is critical. My tight hamstrings and quads can make the hills even harder to climb. I'm really glad to see Shayne here early for his Cat 4 race. We pray together for each of our races.. reminding each other to race for God. Ready to go!
Cat 5's. We're starting at 8:10 and it's already getting hot. It's going to be over 100 today. I don't know how the later groups will survive these exposed climbs in the heat! Fortunately Dan Tebbs sends us off on a neutral loop because I haven't even seen the top of the course yet. It's steep. Ok, here we go..
We're off. The pace up the 1st climb is faster than expected, but my speed up it is always faster than expected. The 2nd climb goes well, too. About 6 places back aproaching the descent… now to follow the plan… I sprint up to the front, drop down, and take the turn. It worked! But I only got a second or 2 on them. There's a hose sprayer set up which we ride through but it doesn't do any good. It's getting hot.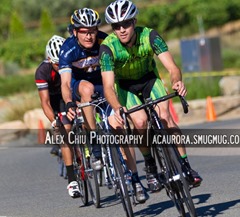 Robin is out here cheering for me. It means a lot. Also the cheers from Todd, Shayne, Vince, Jay & Jay, Dan, and others also help. Each climb gets harder and hotter. Jesse and I are in the top 6 now. But I'm falling off a little more each climb and now, instead of leading through the bottom turn, I'm using it to catch back up.
After 25 min, we only have 2 laps to go, thank goodness. This climb hurts a lot but I stay with them and we're a tight 6 going into the final lap. Boom! They hit the climb hard and Jesse keeps up but my legs hit their max output and I loose contact for the first time. I'm digging deep inside.. still hoping to catch up a little before the 2nd climb. Finally, at the top, legs screaming, the 5 far enough ahead I won't be able to catch them by the turn.
I fly down to the final round-about and see Jesse already sprinting out of it trying to hang with the 1st 2. I make up a little ground in the turn and push hard… never giving up.. and it pays off as the 5th guy blew up and I'm able to pass him up the hill. I give everything left for a sprint to the finish by myself for 5th place. Thanks, God! So glad to be done. That's a TOUGH challenging course. A good course. Next year, I got to practice more on the hills.