Date/Location:

December 8, 2018 – Davis, CA

Distances:

10km Run

Time:

45:47

Place:

1st out of 2 (12-13yrs), 4th Woman Overall!

Teammates:

5K: Ariel Soares, Robin Soares
10K: Troy Soares
3,2,1 Go! I start to run. I am feeling great. My goal is to keep a 7:10 minute pace. I am running with my Dad. He will probably take off though because he wants to keep a 7:00 minute pace. We turn a corner and my Dad starts to take off. I see a girl up ahead and think it is someone in my age group. After a while I finally catch her and find out she is an adult. We go under a bridge. It is pretty small bridge but it's cool. We keep running and get on to a concrete sidewalk. My feet are starting to hurt and I can't wait until we stop running on the side walk.
We run for about a half a mile. After a half a mile we run behind some houses and there is a small dirt path on the side of the concrete. I run on the dirt path to give my feet a break. There are some plants on the side of the dirt path that have some dew on them. When I brush past them, it seems to refresh my legs. I stay on the dirt path for a little bit hoping that it wouldn't slow down my time. I run on the sidewalk for another half a mile. I can see a lot of farm land next to us.
After the half mile, I see an aid station up ahead. I run towards it. We are now allowed to run on the road. I also see two big signs that point 10K one way and half marathon the other way. I grab water and turn to go on the 10k path. Shortly after turning I hear two guys say "Oh shoot. This is the 10k not the half." They run back out to go over to the half course.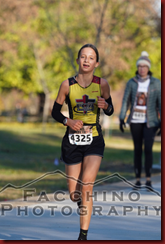 I am running behind the houses on a secret trail. We come out onto the street. We run a little on the street before going into another secret trail. We run through the park. My feet and calves are starting to hurt. After running through the park, we run onto the road for about 10 seconds before going into another secret pathway. Running on the secret pathways are fun. It is shady too. We soon run back on to the road. But it is only for 20 to 30 seconds before going into another secret pathway. The pathway is only 20 seconds before we are back on the road again.
We run on road for a while. I see a park up ahead and we run into it. It is nice and peaceful in the park. There are people walking but otherwise it is not really crowded. My calves start to hurt worse now and my feet start to hurt bad too. I wonder if I shouldn't have worn my new shoes.
I see a bridge up ahead and a camera man. I run by and smile. The bridge is fun to run across. I imagine what might happen if the bridge collapsed. I am glad that God didn't let it break right then.
At the bottom of the hill I make a sharp turn. We are running in a park again. There is an aid station but they aren't giving out water. I think that they are probably waiting for the half marathoners.
While running through the park, a bike seemed to be following me. I don't know if the person wants to pass or not. I move to the side for a little bit but they don't pass. I turn and I think the bike kept going forward. I am now back on road. My calves are hurting really bad and so are my feet. I have to just keep saying God is with me over and over again. I just keep running straight.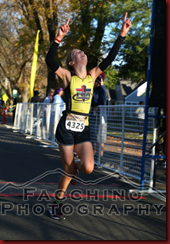 After a while, I can see the finish far up ahead. I run towards it but seems like it's not getting closer. Finally, I get closer. I can now see my sister and mom waiting for me. I look behind me and then at the finish. I start to run down the long finish shoot. Ariel shouts "sprint Anna sprint!" I start to pick up the pace. When I get really close, I sprint in. I point to God as I finish. I couldn't have done it without him. Praise the Lord I got my time to even though I was hurting. Praise the Lord for He Is Good His Love Endures Forever.