Date/Location:

June 23 & 24, 2012 –
Morgan Hill & San Jose, CA

Distances:

Sat - Long Course Relay 1.2mSwim
Sun - 1.5K Swim-40K Bike- 10K Run

Time:

Sat - 33:13

Sun - 2:32:05 (26:18-1:51-1:17:40-2:13-44:03)

Place:

3rd, WRelay

4th, W35-39

Teammates:

Long Course - FCA: Jessica Bonner, Karen Nickel, Les Wong, Marilyn Watson
Other: Kathleen Calkins, Kathy Winkler

Olympic - FCA: Christy Floyd, Clyde Floyd, Cory Floyd, David Fraser; Other: Tana Jackson
Long Course Swim - Saturday
I'm excited to swim for my friend, Karen Nickel, today. I hope to beat Troy's time…it should be close(= The girls are probably still sleeping back at the Ridder's house. It was so nice of them to keep the girls at their place so I can focus on the event! Troy and I drive out towards UVAS. We stop at the long road leading to Karen's campsite along the way. I pick Karen up and drop Troy off. This way they both are getting warmed up on the bike.
Before the races begin, Troy and I lead the FCA Endurance sponsored group prayer. It's the perfect way to start the day and remind us and others it's all about Him. It's so nice to be here with many FCA Teammates, new friend and old friends. In addition, I'm with my training partners this season, Karen and Jessica Bonner.
I tell Jessica to stay with the pro racer, Kathleen Calkins. Kathleen is a super sweet gal that is also super fast. I know that Jessica and her will be well matched for the swim. Troy takes off in his race first and I warm-up for my race. I run into fellow relay racer, David, that I met in transition. He is excited for his first triathlon experience. We swim over to the start and wish each other well. It's a small field of relay racers and Aquabikers.
Ready, set, go! A few swimmers sprint ahead and I do my best to keep them in my sights. For a moment, I think I've got a draft but then the swimmer drifts off to the left. I opt to stay the course since I'm good at swimming straight. I wonder if it's to my advantage or disadvantage to swim alone. I make the first buoy feeling strong. Out to the next buoy I focus on my stroke and keep my head down as much as possible. I'm passing swimmers from the previous two waves now. I don't notice any swimmers from my wave which means those swimmers ahead of me have pulled far away.
By the 3rd buoy, I'm feeling tired but I continue to put my head down and reach out with each stroke. I'm still passing other swimmers and wonder if I'm swimming faster than Troy. I can see a few swimmers from my wave and it motivates me to push hard through the last buoy.
I can see the swim finish now and I remind myself to go for it. Karen is waiting for me and don't want to let her down. I'm kicking hard and trying to maintain efficient form. Soon I'm at the shore and I stand up and run straight up into transition…there's no need to take the wetsuit off today. I hit my watch and see 33:13. Yes! I'll take it! I hope that trumps Troy;) I run up to Karen, take off the chip and put it on her ankle. "Go Karen!" She runs out of transition and off she goes.
I wait for David to finish and cheer for him and his teammate, Issac, who is taking off on the bike. Now it's time to head back to check on the girls. It's going to be a long, fun day!
Finish Strong Karen!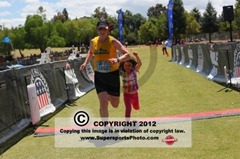 ---
International Tri - Sunday
Today Troy and the girls drop me off at the same road as yesterday. I bike in. I'm a one-man band today. I'm not as excited. Mostly I'm feeling tired from the long day yesterday and late nights catching up with old friends. I know that it's not all about me and I pray for reminders of that.
I set up my spot and run into Tana Jackson and fellow FCA teammates, Clyde and Cory Floyd. We all meet up later at the pre-race prayer. Troy and I again lead the group. I feel led to thank the Lord for giving us all the ability to race even with the challenges we face daily with health or circumstances. Anna prays for the group to have fun today…what a sweetie! The sun comes out as we wrap up the prayer. It's a beautiful morning!
Today while I swim, Troy and Anna are going to practice some open water swimming. Anna is doing a kids triathlon in a few weeks and she will have to swim 50 meters in a lake. I warm-up and then swim over to the family to give Anna some encouragement. Anna is putting on her spring suit and Troy his full wetsuit. I hope Anna is warm enough!
I get to the start of my race and line up with the other ladies in purple caps. I'm wearing an almost new wetsuit sent from our friend Patty at www.WetsuitRentals.com. I'm hoping it will make me faster than my old one. Ready, set, go! I go out quick and tuck in behind another swimmer. At the first buoy, I'm alone and I can see a few purple caps ahead of me. I'm really noticing that my arms are tired. I expected to feel more recovered but it makes sense because I swam over a mile yesterday. The wetsuit may make me faster but my body is going to make me slower.
I'm passing quite a few swimmers from the other waves. There is one purple cap way out in front of me. I use the same strategy as yesterday to put my head down and stretch out my stroke. I'm relieved to see the last buoy is much closer than yesterday. I'm swimming about 0.3 miles less today…yes!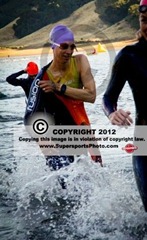 I'm finally heading to the shore and I am looking forward to getting on the bike. A swimmer from the wave behind me goes flying by and I get right on his heels…wow, he's an aquabike or relay guy several waves back! I stay in the draft even as he pulls away. I feel like I woke up from my slumber and I continue to push to the finish. I get out of the water ready to pull off my wetsuit quickly. I struggle to pull my arms out and then I cannot seem to get my legs out either. I have to pull it off with my hands. (I realize later that I never put "Pam" on the suit to make it slick…rookie mistake).
I run up to my bike and pull on my new FCA Endurance race jacket. I struggle to pull it on but it's well worth being warm out there! I run out with my shoes on my bike and manage to put my feet in will swerving very little. I'll need to work on that more in the future!
Starting out I feel great! I get aero and pass a hand-full of riders out there. It is quite chilly even with the jacket and I'm really glad to have it! After a few miles a girl passes me. I make an effort to catch back up but she is too strong. Before the first turn at 5 miles, I've been passed by several different girls. My legs are tired and are not able to respond. I can feel the frustration setting in and I am reminded of how often I tell people that with the Lord, even a bad race day is a good day. I see a girl with a flat and I ask her if she needs help. "I need a tubular tire." "I don't have one, I'm sorry!" I feel bad riding on. I pray that bike support will find her out here. Lord, my bike is still working, forgive me for being a grump!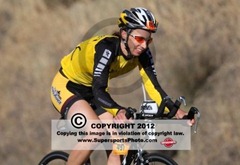 I turn on Oak Glen and ride out to beautiful Chesbro Reservoir…I find myself thinking, "it's the only beautiful thing as there is a headwind and many riders ahead" There I go again, being negative, Lord, help me to be content. I see several girls riding back from the out-and-back section. I see an FCA jersey…I think it's Cory Floyd. I try to continue to push the pace as much as possible despite being a ways back. I still feel the chill even in the sun.
I make the right turn to the out and back section. It's narrow here that no one can pass. To make it even more challenging, it's a downhill so the cautious riders are going really slow. I remind myself that I have been in the "cautious rider" category so don't get upset if I have to slow down. I make the turn and start to pass the riders ahead little by little.
At the top, I am able to pull ahead of a few riders. I see Clyde Floyd approaching. "Go Clyde". He's a fast rider and I expect he'll pass me. It gets me motivated to ride harder to try and hold him off. Soon, I'm back on UVAS/McKean Rd. and the head wind continues to be strong. I'm trying not to be negative but hopeful. A girl in a Facebook jersey goes by and then settles into a slower pace. I pick it up and pass her. In a few moments, she attempts to pass me back but I push hard to keep her from getting past my front wheel. I don't want to go back and forth, having to back off each time she passes. I want this to stick so I keep up the effort. It's a good challenge that has me motivated. Thanks God, it was a good way to get my mind back in the race.
Knowing someone is chasing me down, it makes the rest of the ride on McKean go by faster. I turn off into the neighborhoods just before the finish. I continue to push hard. The road has cones for us but it's such a narrow section, that in order to pass, I have to go outside the cones. It also makes me focus on looking ahead at where I want to go.
I sense a rider coming up on me and I pick it up. I assume it's the FB girl so I press hard when I see a wheel coming up on me. I hold them off for a moment and then they pass. It's actually a guy and he kindly tells me "nice colors" in reference to my jersey. "Thanks and good job to you!" As he goes by I notice another rider right on him. This other rider is clearly drafting off of that nice guy. I try to pick it up so I can tell him to stop. They are going too fast so all I can do is shout…breathing hard, I can only get out, "drafting!". Then I feel a little silly, probably the emotions of the moment, not really my job to tattle-tale. If this is a pattern with this guy, then he will get caught. God sees and knows all. I'll let Him handle this.
I'm relieved to see T2 approaching. I'm tired and running doesn't sound so great but it does sound better than being on this bike! I find my rack but I don't see my bag. This is a 2 transition race where we drop off our T2 bags but can't actually place them. I rack my bike on the next rack over and look around for the bag. I find it under a bunch of bags. That's going to cost me some time. I rip it open and get my gear on.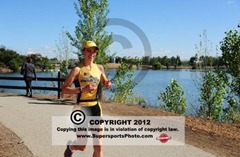 I head out feeling slow and unmotivated to run fast. I see Jessica Bonner at the FCA booth and wave. It's nice to see a familiar face. It looks like the girls and Troy didn't make it back in time to see me head out. I'll see them hopefully in 45 minutes if it goes well.
On the way out to the first mile, a girl in black with a 38 on her calf goes by quick. I can't let another girl in my age group go by without a fight. I pick it up and get on her shoulder. Well, Lord, now you've given me another motivator…thanks! It's hard to run this fast but it's worth a try. Mile 1 is 7:37 even with the boost.
The girl seems to be bothered by me hanging out on her shoulder. She picks up the pace and I continue to hang on…mostly because she's slowing down through the aid stations. We hit the out and back. I start looking for Tana and other familiar faces. Soon I see Clyde. "Great job Clyde". Mile 2 is 6:50.
The girl pushes harder and breaks me. I wish it was more like Troy yesterday when he did that to another guy. I try to hold the same pace and keep pressing on. I see Tana…"I'll see you soon"…I anticipate her passing me in the near future.
I make it back out to the lake. First out-and-back, done. Thank you Lord! There is a girl already heading to the finish line. She must be first. Mile 3 is 6:59. I feel extremely uncomfortable so I know I'm doing what I can. I just try to keep my eye on the girls ahead of me. I pass a few of them going out to the perk ponds. The girls heading back are looking FAST! I see Megumi who I beat at Wildflower. She's quite a ways ahead now but I can't be discouraged. Next I see Maria Hodges. She is the wife of Troy's old boss at Humpty Dumpty's Kitchen in Grass Valley. She's been trying to make the Philippian National Tri team and she's probably looking to make this race count. "I think you're 9th, good job!".
Mile 4 is 6:55. I make it out to the ponds and can now see that I'm most likely in 14th behind the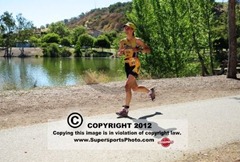 girl in black. As I make the turn and head back, I can see 2 girls running really fast behind me. I have another reason to push it…thanks Lord! It hurts bad but I've got to hang in there. I see Tana again and tell her good job.
Mile 5 is 6:52. Ugh! One more mile! Why does the last mile always seem so long?! I have no idea what is going on behind me and I don't dare look. I keep looking ahead and trying to catch the guys I see ahead of me. I get to the lake and see the finish line…almost there!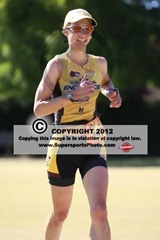 Mile 6 is 6:55. I hit the bridge…yeah! I pass the photographer and he cheers me on. I don't hear him cheer anyone else on so I can safely say I'm all alone. I can't let up because I see Ariel and Anna waiting for me. I try to tell Ariel to go but she waits for me. I tell Anna to go and she starts moving. I catch up to Ariel and know that she cannot run very fast and the finish is 100 meters off. I pick her up and catch up to Anna. I hold Ariel tight and dig deep to keep her in my arms. Once we are almost to the finish, I put her down and we all finish together. Wow, what a tough day Lord but what a great ending! Thanks so much!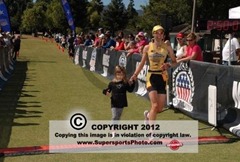 Go Christy, Clyde, Cory, David & Tana!
| | | | | | | | |
| --- | --- | --- | --- | --- | --- | --- | --- |
| Name | Race | Time | Age Group | Place | Swim | Bike | Run |
| FCA TEAMMATES | | | | | | | |
| TROY SOARES | LC | 4:38:46 | M40-44 | 3rd | 32:04 | 2:40:59 | 1:21:55 |
| JESSICA BONNER | LC | 5:17:33 | W20-24 | 2nd | 28:01 | 3:00:22 | 1:43:08 |
| LES WONG | LC | 5:33:10 | M50-54 | 6th | 37:54 | 3:02:25 | 1:48:56 |
| FCA Endurance Relay -ROBIN SOARES (Swim)KAREN NICKEL (Bike/Run) | LC | 5:44:55 | W Relay | 3rd | 33:13 | 3:17:27 | 1:50:51 |
| MARILYN WATSON | LC | 6:17:50 | W50-54 | 6th | 42:07 | 3:30:06 | 1:57:47 |
| STEVE CORRALES | SPRINT | 1:53:57 | M45-49 | 13th | 18:24 | 1:03:10 | 27:07 |
| TIMOTHY HESS | SPRINT | 1:37:29 | M45-49 | 3rd | 15:18 | 53:07 | 23:04 |
| ALICIA BUESCHEN | SPRINT | 2:04:09 | W30-34 | 7th | 21:27 | 1:09:10 | 26:31 |
| ALYSSA HESS | SPRINT | 2:19:33 | W20-24 | 4th | 15:17 | 1:26:49 | 30:23 |
| ROBIN SOARES | OLY | 2:32:05 | W35-39 | 4th | 26:18 | 1:17:40 | 44:03 |
| CORY FLOYD | OLY | 2:37:01 | M25-29 | 10th | 28:20 | 1:17:46 | 46:56 |
| CLYDE FLOYD | OLY | 2:48:50 | M50-54 | 14th | 33:33 | 1:16:48 | 54:28 |
| CHRISTY FLOYD | OLY | 3:22:26 | W25-29 | 18th | 36:48 | 1:32:42 | 1:08:01 |
| DAVID FRASER | OLY | 3:44:19 | M65-69 | 3rd | 40:26 | 1:39:10 | 1:15:18 |
| OTHER TEAMMATES | | | | | | | |
| Kathleen Calkins | LC | 4:24:56 | Elite W | 1st OA | 28:55 | 2:28:23 | 1:23:56 |
| Kathy Winkler | LC | 4:46:37 | W45-49 | 1st | 28:53 | 2:43:38 | 1:30:45 |
| Tana Jackson | OLY | 2:34:35 | W40-44 | 3rd | 30:15 | 1:15:12 | 44:51 |