| | |
| --- | --- |
| Date/Location: | July 8, 2012 – Rancho Seco Park, Herald, CA |
| Distances: | 1.5kmSwim - 40km Bike - 10km Run |
| Time: | 2:08:24 (23:30-1:04:40-40:15) |
| Place: | 1st, M40-44 |
| Teammates: | Dave Campbell |
We're at Rancho Seco County Park, in the shadow of the giant reactor towers! Before my race I get to watch Anna do her first open-water triathlon! It's amazing watching her swim in a lake, with all the bumping that goes on with mass-starts, and round a buoy and sprint for the finish. She races up and carefully goes through her transition just as planned and now is out on the road. Very exciting… but I've got to warm-up for my race now.
I run and stretch. No time to bike. Last night we had to camp a 1/2 hour away because the gates closed here. So we didn't have as much time to prepare for our races. But I feel like it's going to be good anyway. My focus is on the bike. It was my weak link in my last race so I've changed my seat position and hope for good results today, my last race before my Vineman attempt in 3 weeks.
I rush down to the water. Swim a hundred yds in my new, warmer wetsuit. The water is already warm so I'll actually have to make an effort this morning to stay cool. I fill my suit with water, pray, and line up. This is the "Over 40" wave with 100 athletes. I hear my friendly competitor, Dave Campbell, but can't find him in the crowd.
The Start:
Go! It's a wide start and a nice straight shot to the buoy. I feel like I'm swimming fast. I pull ahead of a guy next to me, round the buoy and head into the sun on the long back stretch. I never find a good draft. I'm side-by-side with the guy next to me, which is helpful when I try different techniques to see which is fastest with less energy. Periodically I pull the neck of my wetsuit down to let in some cool water. I'm very warm.
Around the final buoy I let the guy next to me get ahead and stay in his draft to rest up. With 200 yds to go I make my move by him and go all out. He picks it up but isn't close enough to get my full draft. Good effort, good plan. I come out of the water in 23:30, 9th (1:15 behind Dave), I get out of my suit well, and Anna and Ariel are there to cheer for me :) I have a good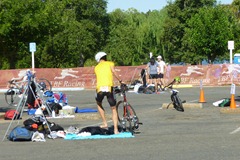 transition and I am out on the road.
The Bike:
This is my focus. At San Jose I couldn't get into the groove. I've adjusted my seat since then. So far it's going well. I absorb the 6 speed bumps heading out of the park. On the open, rolling roads, I have a tail wind. Goal speed going out is 25. Last time I raced this course, I passed guys going out and then got passed coming back into the wind. So I have to save some energy for the return. I'm looking for Dave. There he is. He always has great aero position. 12 yrs older than me and still hard to catch him.
"Good job, Dave!" I pass Dave, 55yrs old, but another 50yr old passes me. Now I pass a 44yr old (my age group). Can I stay ahead of him on the way back? Nearing the turn-around, it's nice to be so familiar with the roads, since we drove them last night and this morning returning from our camping at Camanche Lake.
On the bike is a good time talk to God and go over the previous day and the days to come. I realize He takes care of everything so why do I get frustrated and grumpy, thinking things aren't right sometimes? I always look back and see its futility. I want to look back and see someone always joyful, relying on the Lord. Thanks, God, for this good time together on the bike.
I make a good turn-around and see Jeff, the 44 yr old, right behind me. Slight headwind now. This is where I have to make it count. I work my position. I focus on the road just slightly ahead when going up the rollers. It's working out, I'm maintaining a good speed, even into the wind. I'm not slowing as much as I did at SJ. I'm staying ahead of the 44 yr old.
Towards the end, I'm staying above 23mph and realizing that the goal has been met today! I finish in 1:02:12, 4th in the above 40 wave. I felt much better on the bike and am excited to hit the run now.
The Run:
After a great transition, Anna & Ariel cheer me on and Anna tells me she got 2nd! Wow, I didn't expect that. I'm pumped up and still feeling inspired from the great run race in San Diego. I don't know what place I'm in but am ready to catch a few.
Mile 1: 6:50. I feel great, confident, motivated. I encourage those from earlier waves that I'm passing. It's a warm day but I'm trying to ignore that. I drink at every aid station. Now I see 2 guys far ahead. I time it.. 1min ahead. I can catch 'em.
Mile 2: 6:38. I check the time again and I'm only 40 secs back.
Mile 3: 6:19. We make the turn-around and I'm getting closer to one guy while the other pulls away a bit. I also see Dave Campbell behind me. Wow, he's closer to me than I thought he would be.
I'm working hard and confident I can hold the pace. I'm thanking the Lord for making my running possible. For years I endured a painful achilles heel ailment and now I run pain-free. Thank you, Lord. And He's always helped me run well in the heat, as uncomfortable as it is.
I catch the 50yr old, Steve, that passed me and put 4 min on me on the bike. I'd love to ride like that when I'm 50.
Mile 4: 6:23. We're on the dry, winding single-track trails near the lake now. I've got the next guy in my sights. I feel like I'm doing great and not slowing down but I'm mindful that anything can happen. I can slip, fall, cramp, or get injured in some way. So I continue to thank the Lord and appreciate what He's already done for me. I make my move and pass the guy, finding out that he's 39, and not in my age group. Maybe I'm close to the front in my age group?
Mile 5: 6:19. I don't see anyone else ahead except for a relay runner that I'm trying to catch but is really running fast. I drink as much water as possible at the aid station. I cheer on the runners going the other way. My legs are getting tired but I have to push with everything now as there's only 1/2 mile to go.
Mile 6: 6:31. I see the spectators. I hit the grass and try to sprint. There's Anna ready to run with me. She starts going and I have to pick it up even more to catch her. It's a perfect connection and we sail in the finish.
Thank, you, Lord. All the credit goes to you. I finished the run in 40:15, 2:08:24 overall, 3rd in the above 40 wave and 1st 40-44. This was my last race before my big even, the Vineman, and what a boost it was. First, to gain confidence in the run at the Independence Day 15k, and then to nail the bike and the run at this tri… I now feel ready for the Ironman!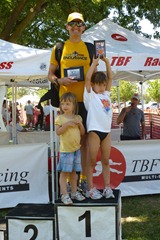 Great Job Dave!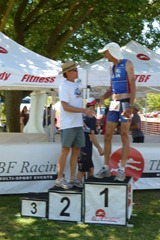 | | | | | | | |
| --- | --- | --- | --- | --- | --- | --- |
| Name | Time | Age Group | Place | Swim | Bike | Run |
| TROY SOARES | 2:08:24 | M40-44 | 1st | 23:30 | 1:04:40 | 40:15 |
| DAVE CAMPBELL | 2:12:18 | M55-59 | 1st | 22:14 | 1:07:54 | 42:09 |