| | |
| --- | --- |
| Date/Location: | July 4, 2012 – Coronado, CA |
| Distances: | 15km Run |
| Time: | 1:00:30 |
| Place: | 6th, M40-44 |
| Teammates: | Robin Soares |
I'm glad to be on vacation in San Diego where Robin's family lives. With busy work & longer training, I'm tired. But today we have to race. It's a great event.. large turn-outs.. patriotic.. very competitive. I look forward to it but maybe I'll just take it easy. I don't feel like I can run fast.
The kids are with Grammie and Papa as we drive to Coronado Island. It's a little foggy & cool. We warm up & stretch. Runners are coming from everywhere, filling the large beautiful park along the bay. The race announcer says "It's a perfect day for running!" True. Last year was a little hot. I remember being way back (99th) at the 1/2 way turn-around and then making a big effort that felt good and moving up to 50th at the finish.
Before the start a guy talks to us about his big marathon come-back he's making after injuries. He mentions fast times & his goal to "crush" everyone in his age. We're interested to see how he does today.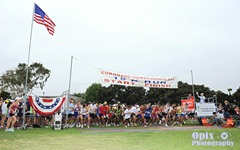 The National Anthem is sung. We line up a few rows back in a crowd of 1200 and pray together before the start. Go! Right off the bat we have to sprint just to keep up with the field. The grass course funnels down to the bike path. Nicely winding along the water, then the golf course, then onto the roads. I'm behind a small woman that seems to use no energy to maintain this pace.
Mile 1: 6:40. On the road now I focus on efficiency. I try to match her running style by thinking "light". I lean forward slightly and try to "fall-ahead" while tapping the ground just enough to stay afloat. Nice thoughts but my engineering brain knows that 165lbs turns into over 300lbs every step. The real help comes from the Lord. When I focus on Him, I feel more capable, relaxed and joyful.
Mile 2: 6:05. Wow, that was a fast mile. I'll continue focusing on efficiency and the Lord above. The woman is pulling ahead but I keep her in sight. I'm starting to pass a few runners. I see the guy we spoke to before the race and he says to me, "I'll probably turn at the 5k mark. Don't want to push it." Interesting. Now we turn onto the Navy base and start thanking the military volunteers for their service.
Mile 3: 6:35. We head back and forth on the straight roads in the base. I still see the fast woman farther ahead and hear someone say, "… first.." to her. Maybe she's the first woman. Now I feel better for being able to stay with her. But as we turn the corner I start to see other women already heading back to the finish! Maybe what they said to her was, "51st".
Mile 4: 6:33. I encourage the runners heading back. I plan to pick it up after the turn. Counting runners I find I'm 50th. Great improvement over last year. That feels great. I start ramping it up. I'm happy to see Robin on the other side and we encourage each other as we go by.
Mile 5: 6:27. Good to see the pace picked up some. This is the fun part because last year I remember picking off so many runners on these straight stretches. I feel good. I'm moving up.. 44, 43..
Mile 6: 6:10. Wow, great mile. I'm thanking the Lord for feeling so capable. We head off the base now and I know it's only a few more miles. I hope to move up to under 40th. Go, go, go. I try to relax and lengthen the stride. But I'm starting to feel some soreness
Mile 7: 6:20. Onto the sidewalks now. Some people are cheering. I see the woman ahead a little closer. I start to keep splits to see if I'm gaining. I'm in 40th now and still gunning for the next runner ahead.. 39th..
Mile 8: 6:14. Another great mile. Onto the nice curving road. I'm slowly catching her but she's also picking up the pace. 38th now. I see the talkative guy that was downgrading his race to the 5k. Looks like he stopped altogether and now is chatting away with the volunteers. Funny. We make the turn onto the bike path.. Here we go!
Mile 9: 6:04. I've moved into 37th place after passing the "effortless woman" and telling her her stride was inspiring. I pass a guy, moving into 36th. I curve around to the park with the cheers of many spectators. Onto the grass and the guy I passed moments ago now comes sprinting by. I give my best sprint but I'm out-matched. Did I break 1 hr? Close, 1:00:30. 37th pl (6th in my age). Thanks, God, that was exciting and unexpected. I feel great!