| | |
| --- | --- |
| Date/Location: | May 13, 2012 (Mother's Day) – New Melones Reservoir, Angels Camp, CA |
| Distances: | 1000ydS-14mB-4mR |
| Time: | 1:20:50 (14:33-38:06-26:47) |
| Place: | 1st, M40-49 (2nd Overall) |
| Teammates: | David Slothower, Ken Hale, Scott Zavack |
Going to Angels Camp as a family and having me race was actually Robin's choice for Mother's Day. This is a great race-getaway. It's small (63 athletes), racers bring their families, the kids play in the lake and the park and everyone has a BBQ together while Mark Aiton presents unique awards and tells great stories from his 25 yrs putting on triathlons.
Robin's won this race before and wants me to try to win it today. So I'm going to give it everything I've got to make it a good show for her. After last week's great feeling during the run, I'm confident about that portion. And the swim is shorter so I'm not concerned about getting cold. But it's the bike I feel I have to work harder at, so that's my focus. Robin drops me off at the top and I practice the descent and push the final mile into transition.
At transition I see Scott Zavack, a friendly and formidable competitor of mine. We enjoy racing together. He's usually faster than me. Part of me says, "uh oh, he's going to win" but really this is what racing is about.. taking on challenges that seem out-of-reach. I also see Dave Slothower (we raced together back in '95) and Ken Hale (600+ triathlons). While in line, I meet another guy, Ken Rakestraw (his name is on his shirt). He's about 6' 5" and all legs. Surely he can cover this course in about 4 steps. I hear he won it last year.
At the swim start I fill my suit with water to make it comfortable. Nice not being concerned with being cold. I'll be in and out in no time. RD Mark Aiton gives the course talk and, as usual, points out that if you're scared of rattlesnakes, it's better to be first or mid-pack, because the snakes get mad at about the 3rd and 4th runner that go by. Robin comes to the water and we pray for the race. Now Robin, Anna & Ariel are on the dock encouraging me. Telling me to go hard.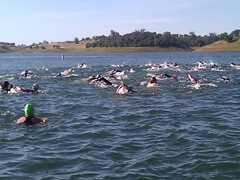 SWIM: Go! I take off fast. It's thrilling to look left and right and see that you're on the front line. But that quickly changes by 100 yds when the fast guys pull ahead and I can't even stay in their draft. I head right and surge to try to catch some feet but now the heart rate is getting to high.. gotta settle in. I try to swim straight (afterwards, my friend Dave, who was behind me, tells me I was zig-zagging. But I think I was pretty good).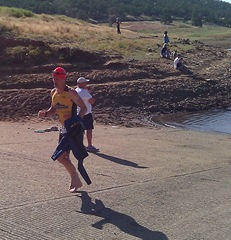 Around the buoy and try to pick it up, all-out for the boat ramp. I'm keeping up with the pack now. Passing 1 or 2. I see some already running up the ramp. It's ok, I feel like it's a good swim. I stand up to the cheers of my family. 14:33. 8th pl. My suit kicks off fast and I'm off to climb up the ramp. Earlier, walking down, I was careful to notice all the areas with debris and pieces of glass on the group. But funny thing in the heat of the race, you don't care about sharp ground, stickers, rocks, you just run for the transition.
BIKE: Mark & Candy Aiton cheer me on saying, "Go Get Ken". He's got a huge lead. I'm more interested where Scott is. I take off, on a goal to pass as many as I can. I go by a couple. But then it takes a while to pass my friend, Dave, "Good job, Dave!" He's 56 but still races like a 40yr old. I pass a couple more and then I see the leader, Ken, coming back. Behind him is Scott. I feel like I'm flying so after I make the turn I hope to catch up to them.
When I complete the first turn-around, I see all the guys I just passed not too far behind me and Ken and Scott are a long way ahead. I'm also breathing really hard. This takes the wind out of my sails for a moment. "Ok, got get back in the groove and just work". I'm trying to speed into each climb and stay on top of it. I like seeing the other racers going out. So many have smiles on their faces.
Approaching the big climb up to Hwy 49, I see a rider way in the distance. It's Scott. I push the hill. Something sharp is in my shoe. I coast for a second to shake it out. Pushing up the hill. Going well. Getting into the aerobars on each flat. I see Ken coming back down. Father back is Scott. He's riding a road bike so I wonder if I'll have an advantage on the fast sections. I hope the turn-around comes soon. I am a mile behind him. No, there it is, I'm only 1/2 mile behind! I'm making up ground.
I fly down the hill, thankful for my practice run earlier. The final mile to transition is my best effort. I feel really good about it and hit transition ready to run. 38:06. Now in 3rd pl. I'm excited about the run.. so much that I start before I tightened my shoes.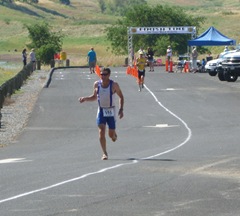 RUN: Ok, here we go. Candy says "Go get him". I look up and there's Scott only 200 yds ahead. I smile at Robin and the girls who are really excited. I feel confident and plan to push the steep hill, and catch him on the flat, expecting him to slow down after the climb. But he doesn't slow. The gap remains. I'm running well and thankful to the Lord for the Wildflower run which was really encouraging.
At mile 1 I'm breathing hard but don't care.. every step needs to bite into his lead. It's only 100yds now. I take a Hammer Gel and plan my attack. The downhills are my specialty so that's where I inch closer each time. I yell ahead, "Good job, Scott", both to be friendly and let him know where I'm at, but also to see his reaction.. does he slow and give up the fight? No, he stays steady. He runs with his hands relaxed, kind of shaking them out. Reminds me to stay loose as well. Is he comfortable? I'm pushing so hard I'm sure he's got to be hurting as well.
At 2miles I'm close and ready to make a pass. We're on single-track. Shaded by Manzanita brush and trees. Here it goes. I find a wider section, rev it up, and surge in front. What? Immediately he surges right back to take the lead. Ok, that's fine, he can do the work leading and I'll follow. Then I follow too close and put my hand on his shoulder to keep from falling. "Sorry". We're winding through the trail, up and down, I'm shadowing his every move. He asks which way at the fork and I direct him. Up the hill.
This is hurting. I need water bad. Finally! I douse myself and drink a whole cup. But Scott passes it by and now has 25 yds on me. I know the leader Ken is young, so Scott & I are battling for the Masters Rock, and Robin would be so proud to get it. But I start having thoughts of succeeding, settling for 2nd, this is too hard.. But I have to do it for Robin, torture myself with a smile on my face, make it exciting.
Mile 2.5. I catch back up. This is it. The last technical sections before we climb back up and then all down hill to the finish. I make my pass again, faster this time. Again, he surges back immediately. I'm taken back. I've never seen this strategy before. Usually when you pass someone after staying on their heels, they feel defeated and try to rest up in your draft. But it's as if Scott is proving he's got plenty in the tank and is going to control the pace. I know he can out-sprint me (just about anybody can out-sprint me) so I can't wait to the end. I must get ahead now if I'm going to have a chance.
Mile 3. Weaving through the hot shadows, I pass again, even faster, and somehow he sling-shots right back into the lead. Ok, this is it, my adrenaline is pumping, is this a fight? I jump over some brush and pass for the 4th time but this time I run like the finish line is 100 yds ahead. Go, go, go! I may blow up around the next curve but I've got to break this cycle. It's working, I'm staying ahead, but I hear his steps behind… until… CRASH. What was that? I look back.. "Are you all right?" Scott just pulled himself out of a bush. "I'm ok". Turned out he tripped on a rock and tumbled, rolling into a bush. I take off. Either he's going to be slower after his fall, or he's going to be faster with extra adrenaline flowing.
Up the hill. Go, go, go. I can't hear anything over my breathing. I won't look back. It's going to be close. Just have to hurt a little more. I grab another cup of water and race to the final down hill. At the sharp turn, I'll look back. I don't see him. I've got at least 50 yds on him. Just don't fall on the descent and I've got it.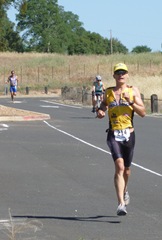 The final long stretch to the finish. Robin is at 1/2 way cheering. Anna is farther down waiting to run in with me. After going by Robin I hear her cheer, "Good job, Scott!" He's back! (Robin said he put on a dash that she'd never seen before) I turn on the after-burners. In 2006, Mike Statz passed me for 1st within yards of the finish line. It's what Mark calls the most exciting finish in Angels Camp history. All this hard work, I can't leave anything out now. Anna's ahead waiting with outstretched hand. "Anna, run ahead!" She starts jogging towards the finish. I want her to be at top speed when we connect. If I have to slow down he'll catch me. "Anna, go, go!" She goes a little faster. "I'm going to catch you". This gets her going, she looks back and says, "Oh, no you won't, Dad!", and goes into a sprint. I run up to her, grab her hand and we finish… ahead of Scott. 26:47. Now in 2nd pl. 1:20:50 overall.
Scott had blood on this knees and shoulder. The fall had knocked the wind out of him. It was the most exciting race I've had in years. Back and forth 4 times on narrow trails. It was an adrenaline-pumping battle. I'm not glad he fell but I know things like that happen to all of us and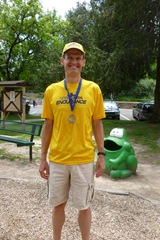 it's part of racing. You just never know what's going to happen.
Turned out the masters trophy went to Dave, the 50+ winner. Makes sense as 40+ in triathlon no longer marks a big change in performance. Also, the winner, Ken, turned out to be pro, recently placing 13th at Wildflower in front of Matt Lieto.
I thank the Lord for allowing me to push beyond what I thought possible and for making it an exciting race for Robin - she thoroughly enjoyed it. We went on to have a great time at the park and then met my mom for a Mother's Day dinner in Stockton before heading home. Thanks, God, for moms. Robin inspires me with all she does and just makes me wonder, how does she do it? All the while, taking care of me, too? The Lord gives her strength.
| | | | |
| --- | --- | --- | --- |
| Name | Age Group | Place | Time |
| Troy Soares | M40-49 | 1st | 1:20:50 |
| Scott Zavack | M40-49 | 2nd | 1:21:09 |
| David Slothower | M50-59 | 1st Master | 1:32:30 |
| Ken Hale | M40-49 | 8th | 2:14:31 |