Date/Location:

May 4, 2014 – Lake San Antonio, Bradley, CA

Distances:

Swim 1.2M – Bike 56M – Run 13.1 (2.2m + 11m)

Time:

5:07:54 (30:06-4:46-2:48:32-1:28-1:43:02)

Place:

3rd/142

Teammates:

Olympic Distance: FCA TEAMMATES – Cory Floyd, Karen Nickel, Mike Cassidy, Robin Soares, Troy Outman; Martin Messersmith
Mtn. Bike: FCA TEAMMATES - David Fraser, Timothy Hess
Long Course: FCA TEAMMATES - Clyde Floyd, Dan Perkins, Nevah Frogozo, Scott Hodson; Dale & Tana Jackson; Martin Messersmith
I started the week with very tight hamstrings. At Tuesday track workout I couldn't stride out or run faster than 7:00 pace at best. Robin had given me massages and I've been trying to rest up and stretch. We packed up and headed to Wildflower on Wed. I was looking forward to time away from work to enjoy both rest and more activity to help loosen my hamstrings. Thursday I ran a little. A little less tight. Fri I ran 1 mi and still getting better. Now it's race morning and I feel my best for the week, but they are still a little tight.
This year's drought has left Lake San Antonio empty and dry across 90% of it. It's a surreal sight. Thankfully some water remains at the very bottom of the Harris Campground boat ramp. The course is changed in order to swim there, then run 2.2mi to the regular Lynch transition area, and then complete the rest of the course, minus 2.2mi at the end.
Robin prepares oatmeal for me and I head down Lynch at 6:15am. I happily see Jim Grant and Dale & Tana Jackson in transition! I warm up running a little and catch the 7am shuttle to the swim start at Harris boat ramp. I talk to a woman looking forward to completing the course this year and optimistic because they've waived the cut-off times due to all the course changes.
At the top of the Harris boat ramp it is a crazy sight. It looks like a 1/2 mi steep descent down to water. The pros swimming their warm-ups look so tiny from here. In fact, the 1.2mi course looks more like .8 mi since it's so far away. The entire ramp has become a transition zone. Those at the top have a long barefoot run! Fortunately 1/2 the ramp has carpet on it. I am very close to the bottom.
I prepare my site and run some more for warm-up. I talk to Martin Messersmith. He's always in good spirits. I run into my FCA TeamMates, Dan Perkins, Nevah Frogozo and Jody Galvin at different occasions and we each take time to pray together.
Start time is nearing. The pros have covered the swim in very fast times. I run into Darrin Gill as I near the water start. We raced together over the years but most memorable was in '96 when we both qualified at the old Keahou-Kona 1/2 Ironman. Good memories. We jump in for a quick warm-up and we are surprised that the water is pitch black! The earlier waves have churned up the black silt / mud and you can't see your hand in front of your goggles. It's eerie. Just hope it clears up farther out.
Julie Moss announces our group and highlights the top 5 from last year. I was 5th, it was a good race, but I hadn't remembered that Darrin Gill was 2nd. When she said that I immediately thought, "I just have to stay near him and I can get into the top 3". It's a great mental goal for me and I am ready to give it my best. I pray that the Lord will help my hamstrings and that I will be first and foremost a good example out there, ready to help anyone in need.
Swim
Go! It's a calmer start with people carefully stepping into the black water and I take the outside (left) so even when we bunch up, I'm not jostled too much. With my head down it's pitch black but I tell myself to relax and be calm. After 200yds, the water clears up and I can breathe a little easier not clenching my mouth shut. I'm outside the pack without a draft. I feel calm. I'm keeping my head as low as possible. Remaining relaxed and trying to streamline forward. The 1/2 way turn comes sooner than expected. I notice I never started my stopwatch. I get hit in the goggles but am ok. Twice I had to stop to clear my goggles.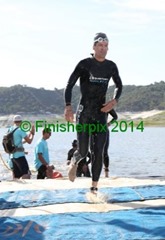 On the way back I pick up a draft and it's going well. He navigates through the slower ones in waves ahead. I try to be careful not to run into slower swimmers as I know it's scary to get run over. Looking down, the clear water starts getting darker and darker until the lights go out all together! We're in the mud zone. 100yds to go and my hands are touching the oozing sludge below the shallow water. Finally it gets a little deeper and then we hit the man-made underwater ramp. Helpers guide us out and it's climb to climb the ramp. 30:06. 15th place.
T1A:
30:00 swim is great for me but I suspect the course was slightly short. Suit comes right off, find my transition area, sit down and put on my socks & shoes then grab my hat, heart rate monitor and gels and start up the ramp. I'm at the top before I know it and the volunteers are great. I'm already thirsty and get water everywhere available.
Run #1
It's neat running so fast at Wildflower. Without a bike in the legs they feel fresh and I'm flying down the trail. It's really cool. At 1 mile, where the bikes make the turn up Beach Hill, we veer off onto a new trail heading right into where the lake used to be! It's surreal running by the "No Lifeguard on Duty" sign into the lake bed! I comment to those near me that we're now running the original swim course. There are soft-sand sections. I use quick short steps and stay on the surface. It's like we're running across the moon, somewhere no one has ever run. It's a good trail. I'm running fast but wonder if too fast. We hit the Lynch boat ramp and run up to the original T1 transition. There's Robin & and the girls! They have big smiles on and give me high fives. It boosts me so much.
T1B
I grab more water, get right to my rack and sprint out in my socks. I jump on and head through the chute. I see Sarah and then Robin and Ariel. I feel great starting the bike after the short run. Not the typical out-of-breath-from-the-swim and chilled core. I like starting the bike like this.
Bike
I pass my friend, Jim Grant, turn onto Beach Hill and immediately throw my chain. I have to get off to fix it but it's no big deal. I happily push up the hill, pass Jim again near the top and head out onto the main course. I feel great on the bike. I'm using the position and technique that worked so good at HITS Napa 1/2 Iron. I'm really optimistic. I feel fast.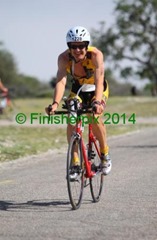 On the main road I'm passing many in the earlier waves and not getting passed myself. I wonder how long I can hold off the faster riders. I feel like there is a head wind which means I'll go even faster when we make the turn at Jolon. I have a GREAT ride to Jolon and make the turn, but am disappointed that the head wind seems to only pick up. Oh well, just gotta push through it. I'm grabbing water bottles at EVERY aid station. Unusual for me but need to stay hydrated. On the rollers I am finally passed by a couple faster riders. I try to stay near them. I realize that the first run, where I increased a gap on the fast riders behind me, was why I didn't get passed until later. But also because God is giving me a good ride. I still feel good.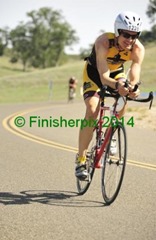 The back side is what I look forward to. But the headwind makes it a little less enjoyable. Darrin Gill goes by and smiles. I try to keep him in sight. This is good. All I have to do is catch back up to him on the run. Finally by mile 36 we turn into the Canyon and it's a tail wind. I stretch a little, drink and get back to work. I'm riding good now after starting to get tired in the wind. It's warm. I pour water on me. And now we start climbing Nasty Grade. My low gearing helps. I head straight up the middle and it goes well. Guys with higher gearing are swerving back and forth trying to lessen the grade. Near the top my left knee starts hurting. My seat is too low. And a little uncomfortable. Good for the hamstrings, though. I focus on form.
On the long descent I get stuck behind an emergency vehicle. I relax and stretch a little. Now back to work. I really push hard, through the discomfort, for the last 8mi. I'm trying to hit 20mph. It goes pretty good and finally I can relax down Lynch Hill. I finish with a 2:48:32 bike split, 9th in my age and now in 5th place.
T2
I make a good dismount and transition. There's Darrin Gill just going out on the run. Soon I'm heading out, too, and grabbing more water. Robin, Anna and Ariel are at the stairs again with great smiles and now beautiful signs for me. I tell them, "I would kiss you if I could stop running!" I'm still in 5th place.
Run
Onto the run it feels stiff which is normal for the 1st mile off the bike. I don't think the first 2.2mi hurt me any so I'm excited to only have to run 11 more miles. At 1 mi I see Darrin just ahead. Alright! I come alongside and we talk about the swim and bike. I'm determined to stay with him and pull ahead somewhere on the course. He's a faster runner than I expected and pulling ahead of me on the hills. I'm catching up on the downhills.
We pass another guy and now are in 3rd and 4th. Along Harris Campground we're side-by-side reminding me of the Iron War between Mark Allen and Dave Scott. Cool. I'm working hard to keep up. Onto the dirt trails, which I know so well and which don't intimidate me as much as they used to, I'm trailing him but happy with the good pace I'm maintaining. It's warm, dusty and there's no water below like there used to be. It makes for a desolate, intimidating run. But I keep smiling and talking to the Lord, realizing there's no need to worry because when we have faith in God, He gets us through and the worrying only makes me get centered on myself.
At mile 4, which is actually 6.2 now, I take a gel and get as much water as possible to drink and pour on my head and get motivated for the tough climbs ahead! Darrin's 30yds ahead. We hit the steep section which I'm thinking I'll walk.. but he starts walking first. I'll try to run it.. even though my run may be as slow as his walk. But I know it's harder to get started running again so if I don't stop running, I might be able to get a few seconds on him at the top. I pass him 1/2 way up and, sure enough, I've got a gap at the top. My left hamstring is on the verge of pulling when I make it to the top. Whew, it was risky, but it's working. More water and then the 2nd steep section. Another "walking section" I run the whole way. Hamstring holds up. Get a few more seconds on Darrin.
Down the steep path to the pasture. Hard to run in control.. make it to the bottom and now enjoying the flats. Getting tired. Another gel, encouragements from the volunteers, more water. Ok, gotta push hard, last tough trail section to come. Get sprayed near the park entrance. Running with a couple guys. I see the FCA sign ahead and tell them, "check out this sign, it'll really help". Yes, the sign was perfect, "Christ gives us the strength to do all that we do" I needed that and I hope it helped them, too. Over the top and start pushing but the hamstring starts hurting. I tone it down a little and it's ok.
Into the Redondo Vista camping area! The many cheers really help. I'm running strong. Turning up the last gradual climb I see Megan and her family that came by the booth. She's running to raise money for Leukemia that her brother is fighting. She recognizes me and gives me ice! I say hi to her family. Great boost. I push the hill and now cruise down through the campgrounds. I know I have to push it because Darrin is back there and guys in my age group are ahead somewhere. Through the trail to the overflow camping. I'm really pushing well. I see Muddy Waters, just like every year. We both glad to see each other. He's seen me when my foot problems really slowed my running. But, thanks to the Lord, I run with good form again now and I think he's kind of amazed to see that.
Mile 11. I turn onto the paved road and take one look back. Darrin's not right behind me but may be within a minute. Push, push, push. I veer over to see the FCA sign in the shade and am encouraged by the words that true love is shown by sacrifice expressed by God sending His Son to die for us. I'm reminded that my love for my wife will be shown best when I'm ready to sacrifice my life for her. I can't wait to finish and see her.
The last aid station. Water, Gatorade and now put my head down to charge the last hill. Yes! With arms up thanking God I crest the top and let gravity pull me down Lynch. I'm not able to let it roll like I used to. A 36 yr old goes flying down the hill. Yes, I think 10 yrs ago I could stay with him. But the knees and hamstrings are barely hanging on as I go as fast as I can.. never knowing if Darrin will charge by any moment.
Finish:
Finally, the finish chute, so happy, I see Sarah taking pictures, other friends cheering, and there's Robin and the girls! God is good, thank you for making the smile on my face throughout the race and getting me to the end where I can now rest! I finished with a 1:43:02 run for a 5:07:54 total, 3rd in my age. Darrin finished 2 minutes back. It was exciting racing. Thank you everyone that prayed for my hamstrings. I'm so thankful they held up.
Name

Race

Time

Age Group

Place

Swim

Bike

Run

TROY SOARES

LC
5:09:56
M45-49
3rd
30:06
2:48:32
1:43:02
DAN PERKINS
LC
5:36:59
M55-59
4th
31:03
2:57:00
2:01:13
TANA JACKSON
LC
5:56:42
F40-44
7th
35:30
3:05:12
2:03:08
MARTIN MESSERSMITH
LC
5:57:33
M45-49
37th
35:15
3:05:12
2:08:58
DALE JACKSON
LC
6:07:16
M50-54
23rd
30:12
2:58:07
2:30:18
SCOTT HODSON
LC
6:10:17
M50-54
28th
32:43
3:18:29
2:10:17
TEAM FCA ENDURANCE -
Nevah Frogozo & Clyde Floyd
LC
7:04:20
Open Coed
30th
44:28
3:23:33
2:48:01
JODY GALVIN
LC
8:34:29
F35-39
53rd
51:08
4:26:42
2:59:36
TIMOTHY HESS
MTN.
1:09:28
M50-54
5th
7:07
40:25
15:18
DAVID FRASER
MTN.
2:00:39
M70-74
3rd
12:02
1:06:20
26:01

ROBIN SOARES

OLY

2:42:25
W40-44
1st
23:56
1:23:50
48:29
MARTIN MESSERSMITH
OLY
2:54:52
M45-49
24th
27:02
1:25:44
52:45
CORY FLOYD
OLY
3:01:20
M30-34
41st
30:29
1:28:58
54:53
TROY OUTMAN
OLY
3:07:17
M40-44
36th
27:51
1:32:35
57:17
KAREN NICKEL
OLY
3:24:22
W35-39
22nd
31:33
1:41:27
1:02:29
MIKE CASSIDY
OLY
4:03:13
M60-64
18th
34:29
1:47:40
1:20:35