Date/Location:

May 18, 2014 – HOME!, Auburn, CA

Distances:

Swim 1.2M – Bike 56M – Run 13.1

Time:

5:48:16 (32:13-1:53-3:20:38-1:22-1:52:08)

Place:

1st/6; 3rd Overall

Teammates:

Mini Tri: Mai-Ly Ramirez

Olympic Distance: FCA TEAMMATES – Troy Outman, Troy Soares; Dave Campbell

Long Course: Holloway Relay, Rochelle Zolna
There is nothing better than sleeping in your own bed, getting up and biking to the start of a race! This is a race I look forward to for sure! Thanks to our friends, the Nickel's, who took the girls for the night, we had a quiet night of sleep and an easier morning routine.
Yesterday was a great blessing. Our local FCA Endurance Huddle had a free pasta dinner for the athletes. And, our friends Daniel and Cerissa Patterson did amazing worship music. Daniel also shared about his marathon experience and how Christ worked in their marriage while on the course. Jamie Whitmore shared about how God is working in her new career as a World Record breaking para-cyclist. She is always so honest and is so fearless in sharing her faith!
I am nervous about today's race. I won the last two years and hope to repeat this year. I know that the most important thing I can do is to focus on Christ. Win or lose the race, if I give a 100% for His glory it's a win.
Troy and I leave bright and early for the start. It's downhill but even so I'm feeling tired. Maybe it was from the racing the last 2 weekends. Maybe it was from the swim meet the day before. Or maybe it was all the work going into the pasta dinner. Doesn't really matter because I felt the Lord's approval in those things so I cannot lose even if I don't win overall!
Locals Dave Campbell, David Holloway and Troy Outman are here. Our friend Rochelle from the Bay Area is here too. It's going to be a great day! "My" Troy and I do a warm-up and get our stuff ready. Somehow time is short and it's already time to get to the start. I have to run back to my spot twice to set up some things I missed.
Finally, down to the water we go! A nice gal, Anna, comes and asks to pray with us. So great to be united in Christ with other fellow triathletes! I give Troy a kiss and go do a swim warm-up. The water feels great and I feel pretty good.
THE SWIM
Okay, time to go! Ready, set, swim! I push hard for the first 100 meters. I actually get in a good draft right after the short swim to the first buoy. There is a group of 4 of us working in a pack. I set my sights on one gal in particular who seems to have the best path and draft. Another gal tries to move in and I hold my position. It seems like I'm with the top girls but really it's hard to tell.
At the second buoy I still have a good draft and she's pulling me through the previous waves well. As we head into the third buoy, I try to maintain contact but it's here that we turn into the sun. I am totally blinded and loose track of her. I just follow all the other bodies. This always amazes me how people seem to go the right way in this type of challenge. I think I see my draft but it's too bright to tell. Someone seems to be at the right speed so I stick with them.
I am looking forward to turning at the last buoy and getting my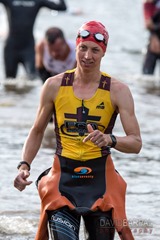 sight back. In the meantime I'm just trying to stay with this draft so I don't run into anyone. Finally, we make the turn…yeah! I see the finish and try to push a little harder. I manage to stay with the few red caps (girls) I see.
I hit the shore, take off my wetsuit well and head to my bike. Now the real fun begins. I'm using the race wheels again and hope to see some good gains. I say hi to David Barpal taking pictures. Up to my bike I go and make a good transition. On my way out I see Francie Campbell, her daughter Sandy and granddaughter Isabelle. I say hi while little Isabelle tries to take my picture. Once almost out, my aerobottle cap pops off and my Perpeteum spills all over the front of my bike including the race wheels! Bummer! I have no water and will have to give my bike a wash once I get some.
THE BIKE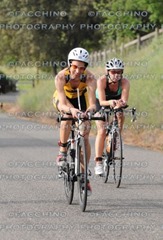 I slide my feet into my shoes quickly and I'm off! Time to climb! The next six miles are pretty much straight up to our neighborhood. Heading out of Rattlesnake Bar park I see a girl in green. I pass her and soon she is passing me back. We go back and forth up to Shirland Track. I am able to pull ahead just before the big hill. Right at the start of the big hill I hear a truck coming from behind at a good clip. There is a race photographer on the hill. As the truck blows by all of us cyclists on this section I can see the photographer is obviously shouting, though the truck is drowning out the sound, and waving his arms at the guy. It has no affect on the guy and he continues to motor off narrowly passing riders. I thank the Lord he didn't take any of us out and I pray for the riders ahead.
Soon I hear Troy from behind. His wave of the Olympic Distance swim was right behind mine. It's awesome to see him going out on course and be able to encourage one another. Usually his group is ahead of us long course folks so I only see him as he's flying back to T2. It's great to actually talk to each other a bit. I say "Go Troy!" as I watch him take off. Not too long after Dave Campbell flies by too.
At Mile 7 we pass T2 at the Overlook. Only 49 miles to go! Oh joy! I don't feel as snappy today but I am still able to go at a good clip. I wonder how I'll feel 30 miles from now.
On the path that takes us over towards Placer High, I see our friend Michael Cook running. "Hey Michael!" It's awesome to see faces I know in random places while racing
Just past Mile 13 I cross Bell and head up the hill toward Christian Valley. I see Troy's high school friend, Doug Olson, at the aid station. "Got to catch Troy!" he says. I chuckle and smile.
I wonder if I'm the first girl. Not totally sure.
Around Mile 20 we are on Geisendorfer. This is a tough climb! I see some Victory Velo jerseys ahead. The shop must be doing their Sunday morning ride. Cool! I hope to see some familiar faces again. As I catch up to a few I don't recognize them but I say "yeah Victory Velo!". "Hey, you're the first girl" they say. Wow, really? Maybe?
At the top of the hill and around the corner I see the whole VV group waiting to regroup. I shout "hey guys!" and they wave and cheer. That is a great boost and I feel great!
At Mile 25 I turn on Tokayana to head up to the Bear River campground. A girl passes me and she's flying up the hill! I feel the wind go out of my sails a bit. I compose myself and try to keep her in sight. I am able to do this all the way to the descent to Bear River. I see that she's braking quite a bit so I'm able to fly by. A year or more ago I would have never dreamed of flying by her like this. Thanks to the many group rides and recent bike races the fear is not as great. Thanks Lord for giving me the confidence to do this! So exciting!
At Mile 30 we are climbing out of Bear River. About halfway up here comes that girl and she again flies by. Just try to keep contact! It's hard to stay positive. I want to win this race and I want to be the best out here…but Lord this is not what is most important. I flash back to a talk I gave to an FCA group at Whitney High School on Thursday. I told them the key elements I use to let me know I'm racing for Christ…
1. Committed to seeing the goal through – I am the Lord's warrior

2. Always hoping things will turn around when things are not going to plan – Demonstrating praying continually

3. Willingness to stop for someone in need – Sacrificing like Christ did for us

4. Smile
Well I'm clearly struggling with 1, 2 and 4. I pray and ask the Lord to give me what it takes to get there.
At Mile 40 and at Clipper Gap, I'm feeling tired but able to keep up the effort…and I'm feeling like I'm racing for the Lord. I see Gary Carpenter and Roni Jones cheering as I'm flying down the hill. That's awesome!
Now it's time to climb up Lake Arthur to Crother. This is a tough climb coming at the end of a long ride! As I head up I see that gal heading down. Wow, she's got a big lead. I hope to close that on the run!
Around Mile 45 I make the turn around. Heading back I see that girl in green from the beginning and another girl flying by her! Wow!
Around Mile 50 I'm on Bowman and that girl in a Jackaroo outfit flies by. Wow! I cannot match her speed. I find my attitude going negative and ask the Lord to help me keep things in perspective. There is still a run, there is still hope!
Around Mile 53 I'm riding past Robie Point and the home of the Carnahan family. All their kiddos are cheering along with the Hamilton kids. What a boost and a reminder that the end is near! Yeah!
Soon I'm heading into T2. I'm feeling stiff as I jump off my bike and run to my gear. I make a good transition and I'm off! Last leg, here we come!
THE RUN
We head immediately down to the Western States Trail. My back hurts going downhill as I try to navigate over the rocky trail. Soon it loosens up but my hamstrings start feeling sore. Lord help my body…and my attitude as I wonder if I can catch those girls especially on the up hills.
Mile 1 is 8:07. Feeling tired and sore. I'm looking forward to seeing the FCA Endurance Aid station led by Desiree Swift. And, looking forward to seeing Troy and our church at a later station!
Mile 2 is 8:25. There is no one around me in the race but a few other folks just out for a run. As I round a corner I see the FCA Endurance Aid Station. Wow, I didn't expect them to be here. I get some water as I go by and wave.
Mile 3 is 8:11. My run is not feeling strong today but I try to remain hopeful. I see a guy racing back on the trail and I give him a thumbs up. Time to start looking for those girls. As I hit Robie Point, the first girl goes by and she looks strong. Ouch, that's a huge gap she's got…have hope. Further down the trail I see the Jackaroo girl and she looks good too! Wow, tough to close those gaps…but have hope!
Mile 4 is 8:10. As I make the turn around and head back I get a look of who is behind me. I see the next girl at Robie point so I know I've got a good lead. So this is looking to be a 3 girl race if I include myself.
Mile 5 is 8:35. I can feel myself slowing down a bit but I'm still giving what I have. I make it to the FCA Aid Station and they are smiling but a bit quiet…maybe I'm getting farther behind? Friends Ron and Lori get me some HEED and I continue on after.
Mile 6 is 9:39. I'm on the prettiest part of the course, Railhead Trail, but it's hard to enjoy it as I struggle to run fast. I hear a runner from behind and pull over and let him go by. That is a sign I'm really struggling! Have hope!
I hit the section that scales the walls of what would-have-been the Auburn Dam. We call it the "Dam Road"…the steepest and hardest part of the run. I was hoping to pass the girls here but there is no one in sight…sigh!
Mile 7 is 9:43. Wow, this hill is long! I'm ready to be done. I'm thinking back to my last training run here and how I felt so good. Not today. This is not very fun right now!
Mile 8 is 8:24. Got some downhill, phew! As I make it to the bottom of the next section, I can see the same girl leading and her lead has grown. Not too long after is the Jackaroo girl. I know that there is no way I can close this gap and I feel relief from the negative pressure I had been fighting all day. Lord, I will continue to give my best for You!
I make the final out and back turn around and head back uphill.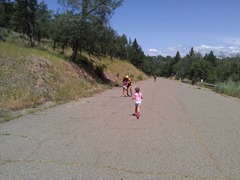 Mile 9 is 9:46. Still climbing and looking forward to Troy's Aid station. As I make another turn and climb another hill, I see the FCA tent in the distance. Yes! Anna and Ariel see me and they start racing towards me. Anna gets to me first and I stop briefly and give her a hug. She then proceeds to give me a cool sponge bath on my back. Ariel comes next with some water and I give her a hug too. I see Troy and other familiar faces from church…and they are cheering loud..it's great! Once I go back to the finish area I have to go out for another short loop back to here. Yeah, one more time to see them all!
I make the next turn and see emergency vehicles. I hope nobody is seriously hurt. I get on the NID ditch trail and see a bunch of emergency personnel bringing a woman back on a gurney. I say "hang in there" as I go by. She must have fallen off the trail and rolled down the hill…poor dear.
Mile 10 is 9:01. Off the ditch I go and up to the finish area. Legs are feeling really tight and sore now. I just need to survive a few more miles.
Mile 11 is 8:48. I hear Jamie Whitmore and her husband Courtney cheering for me. I pass by the stage and Brad Kearns is MCing at the moment. He says on the mic "you winning?" I smile and laugh and put up 3 fingers.
Mile 12 is 9.22. Almost back to Troy and the girls! I round the corner and there they are! I stop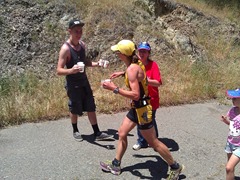 again and give friends Shannon and Christian hugs and thank them for their help.
Time to finish this thing! I get off the ditch again and climb back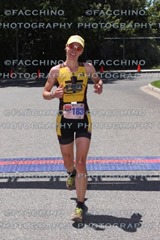 to the finish for the final time! I cross the finish…phew, thank you God! That was tough but I never quit. I still won my age group and I still got to be on the podium for a top 3 finish. I am thinking about how Jamie said that people watch to see how believers react to a bad/tough race day. I know that this is where I can walk the walk. I seek out those two girls and congratulate them with a smile. Lord, thanks for today and may my actions have glorified You!
Name

Race

Time

Age Group

Place

Swim

Bike

Run

MAI-LY RAMIREZ
MINI
1:21:04
W40-44
1st
11:48
38:55
24:36

TROY SOARES

OLY
2:29:36
M45-49
2nd
24:01
1:17:14
44:24
DAVE CAMPBELL
OLY
2:33:51
M55-50
1st
25:06
1:22:26
43:25
TROY OUTMAN
OLY
2:59:42
M40-44
6th
28:29
1:32:32
52:36

ROBIN SOARES

LC

5:48:16
W40-44
1st
32:13
3:20:38
1:52:08
TEAM 172 -
DAVID (S/B) & STEPHANIE HOLLOWAY (R)
LC
6:09:45
MIXED
2nd
32:55
3:23:30
2:06:42
ROCHELLE ZOLNA
LC
6:37:17
W45-49
2nd
32:06
3:38:00
2:19:28