Date/Location:

August 16, 2015 – Pollock Pines, CA

Distances:

13.9 Miles

Time:

2:10:38

Place:

2nd/30

Teammates:

50k - Lee McKinley
20 Miler – Gary Carpenter, Manouch Shirvanioun, Troy Soares
12K – Shannon Ciotti
Troy and I wake up early. I do a last minute check of our entries and see that I signed up for the 20 miler! Oops! I guess I did that since I might have been doing IM Hawaii…well that didn't materialize. I hope they will let me change that on-site!. This is my first race since IM Coeur d'Alene. I took 2 weeks off after that and my training since has been minimal. It could be a painful morning!
We head out to Sly Park on curvy Hwy 49. This has become our yearly "date" race. The girls are sleeping over at our friend's, the Nickel's, so we can have some time together racing.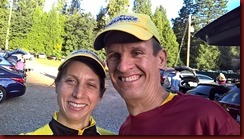 When we get there I am able to change to the 1/2 Marathon. Phew, what a relief! I see Troy off on his 20 miler along with Gary Carpenter and Manouch Shirvanioun. He also has had minimal training for his IM in Tahoe next month because of work and our backyard project. Today should be interesting for both of us! An hour left until I race. I do some more warming up, chat with Courtney Cardenas who is announcing and lay low until the start. I look up last year's results and see that I ran 2:01 which is 8:42 pace. I hope to match that this year. We'll see!
Go time! As I wait on the start line, I don't recognize anyone. That's pretty unusual but I guess with more trail races popping up every year, it's not a surprise. Ready, set, go! Our course (1/2 Marathon and the 9K) heads straight up. A big crowd takes off and I hold back and bide my time. After a 1/2 mile folks are slowing down or walking. Long and steep hills are my strength and I'm able to pass several folks and catch up to some gals that I think are in the half.
Mile 1 is 9:26. Not bad. The course flattens out and those gals pull away again. I'm tempted to go after them but I know it will wipe me out for the end of the race.
Mile 2 is 8:04. I seem to be on last year's pace and I feel pretty good. The gals are off in the distance.
Mile 3 is 8:19. Feeling good and wondering when we turn off this trail. Must be soon. The course starts to really get steep and familiar. I think the top is near. The gals are walking off and on so I am able to catch up and pass them.
Finally the top! I skip the aid station since I have my Heed.
Mile 4 is 10:23. The course is flat, sunny and dusty. One of the gals in a pink top catches up again and passes me. I should know for certain if she and others are in my race once the 9Kers turn off.
Mile 5 is 8:08. Phew! Hard to go fast on a dusty, bumpy and hole ridden fire trail in bright sunlight…and with the temp starting to soar. I try to stay far right or left where the road tends to be more even. But even so, the footing is tough.
The turn off is just ahead. The girl in pink goes straight so I know she's in the 1/2. Down, down, down the trail goes and so does the pink gal. Soon, I'm all alone. At least it's shady here and the trail is better.
Mile 6 is 7:55. Feeling good and seem to be on pace. The other gal in a Fleet Feet jersey goes by with a guy. I sure hope to hit a hill soon so I can catch back up!
Mile 7 is 8:17. I chug a Hammer gel just before I hit the next aid station. I grab some water and take off. I realize there are no trash cans along the way and I cannot just drop the cup on the ground…leave no trace! I quickly run back and drop it in the the trash at the station.
Mile 8 is 9:44. Now on to the steep rocky downhill. Downhills are NOT my favorite and especially this one! I'm going so slow that a runner catches up to me. I pull off the trail and let him pass.
Almost to the bottom, I'm able to glance over and see what is left of Jenkinson Lake…sadly it's really not much of lake from this view.
Mile 9 is10:04. Very slow for a downhill portion of a race! My pace has fallen off of last year's race but I know that I'm working hard. I'm off the trail and on a paved road that campers drive on. I'm very surprised to see so many camping here considering the dismal lake. It's got to be a really fun place for so many to be here!
Mile 10 is 9:51. Off road again and heading up! Yeah. This is another long and steep climb and my chance to make up some ground! I catch the Fleet Feet girl and can see the pink girl ahead…yes! I catch and pass. The top is near and I know it's flat up there so a chance for that girl to catch up again.
Sure enough she catches me at the aid station. I grab water quickly, drink, dump and run. We are neck and neck!
Mile 11 is 9:03. We continue racing with me on her heels. We make the turn to go downhill and back to the finish. Mo Bartley is there directing traffic and encouraging all the runners. She says "It's going to be a race! Good job girls! Jen, be good!" Hum, what does "be good" mean? Oh well, let's get his done!
Mile 12 is.8:46. I'm actually keeping up well on a downhill! I guess competition is the motivation I needed to go hard!
We turn a corner and Jen goes down. I stop and ask her if she is alright. She tells she heard a pop and it hurts. I tell her that I can go back up the hill for help. I know that Mo is the closest person that can help. The finish line is over a mile away. First Jen tells me to keep going but I insist that I want to help. She asks if I'm sure. "Yes! You need help!". I head up the hill and then I hear her shout "I think I'm okay" followed by a scream of pain. Oh boy, doesn't sound good!
On my way up, the Fleet Feet girl is coming down. I tell her to watch out for a fallen runner. I start to shout Mo's name in hope that I she can hear me and I don't have to run the half mile or so to the top. I get to the top and tell Mo her friend went down and then race back down. With all the adrenaline flowing, I feel great!
Mile 13 is.9:40. I get to the spot and Jen is gone. Oh, she must be limping up ahead. I look for her around every corner and she is not there. I ask walkers in the 9K race if they've seen a limping runner but they haven't. Surely I'll run into her soon.
I hit 13.9 miles which is the actual distance of the race. I'm not close to the finish and I'm not seeing Jen. She must have made some kind of miraculous recovery! I not mad or regretful of my decision. I know in my heart it was the right thing to do. It's just feels weird to be in this odd situation.
Mile 14 is 8:48. My energy is going fast! The adrenaline is gone and I'm looking forward to being done! I round the last corner and there is Troy. I smile and try to explain quickly what happened. I tell him I'm happy with my race.
I cross the line with a smile knowing I did my best.
I find out that Troy was the Overall winner for the 20 miler! Awesome!
I see the Fleet Feet girl and ask her about Jen. She tells me that Jen was still down when she got to her but then she later flew by to beat her. Wow! I finally find Jen who is icing her ankle. I tell her it's impressive she made such a comeback and she thanks me for the help. This was an interesting day to say the least!
Troy and I soak up our time jogging, eating, relaxing and watching our friends finish. It's been a fun time together!
| | | | | |
| --- | --- | --- | --- | --- |
| Name | Race | Age Group | Place | Run Time |
| LEE MCKINLEY | 50K | M50-59 | 1st | 4:36:13 |
| TROY SOARES | 20M | M40-49 | 1st Overall! | 2:59:10 |
| GARY CARPENTER | 20M | M50-59 | 1st | 3:47:19 |
| MANOUCH SHIRVANIOUN | 20M | M50-59 | 3rd | 3:56:54 |
| | | | | |
| ROBIN SOARES | 1/2 MARA | W40-49 | 2nd | 2:10:38 |
| | | | | |
| SHANNON CIOTTI | 12K | W30-39 | 13th | 1:29:32 |