Date/Location:

June 28, 2014 – Pleasanton, CA

Distances:

.5m S - 11m B - 5km R

Time:

1:13:21 (15:45 – 1:19 - 33:15 - 00:58 – 22:04)

Place:

3rd/21

Teammates:

SPRINT: FCA Teammates - Christy & Cory Floyd, Clyde Floyd, Steve Corrales, Timothy Hess; David Slothower
OLYMPIC: FCA Teammates – Carrie & Steve Chavez, Flor Hodges, Karen Nickel; Dale Jackson, Dave Campbell, Dave Leroy
It's going to be short and sweet today! I'm looking forward to the race being done quickly…but on the flip-side, I have to push harder. I ride my bike to the start and enjoy the quiet streets on a Saturday morning.
I arrive to a booming transition area. I first register and then find the FCA Endurance rack. The Floyds are there: Clyde, Cory & Christy. It's nice to see them! And, great to see Clyde back to running once again! Other teammates arrive too, Steve Corrales and Tim Hess.
Troy and the girls arrive. We run into our friend David Slothower who has had some health setbacks. We tell him we will pray for him at the pre-race prayer. We head to the beach and put up the FCA flag. We get a nice group of folks for the prayer including Carrie Chavez. We pray for a calm spirit in the swim, safety on the bike and fellowship with Christ.
It's time to swim a bit. I feel tired but I know with Christ it's still going to be a good day!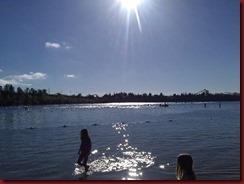 The Swim
Ready, set, go! I realize I'm not in the best position right away. I'm too far right. I try to move left but it seems like I'm not getting any closer. Finally at the first buoy, I make some contact with other swimmers.
Heading to the next buoy, I am unable to find a draft but I keep looking. I don't quite feel like my normal self in the water. I should be totally hammering this short swim but just seem out of wack… but I press on as best as I can.
The last buoy is here! To the finish! I find a swimmer to follow and keep as close as possible all the way to the shore. I'm done, already?! Boy, it's good to be finished!
The Bike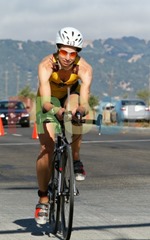 I make a good transition getting my wetsuit off and to my bike. My shoes are on my bike already for a quicker get away. Clyde had just been asking me about doing that and feeling proficient. So far this season, it's been no problem.
I exit transition and am greeted by Francie Campbell. She directs me to the mount line. I get on and head straight uphill. I get one foot in and decide to wait for the other one…but then I think I have a good position and try anyway. The shoe falls right off…dough! I have to go back and get it. That will cost some time.
Finally, I'm on my way! It's nice and flat once at the top! I get aero and push. Just when I think I'm flying, two girls go by. Wow, they are strong! I focus and catch up to one of them and pass her. It's hard to push hard but it's so short I have to!
Halfway through I'm feeling strong and am passing a lot of folks from previous waves. I'm trying to stay light on my pedals and spin!
Soon we are heading back…yeah! That girl passes me back and so does another guy. I am able to keep them in sight and don't loose much ground.
Down to T2 I go! My dismount goes way better and I keep my shoes on my bike. That girl and I are neck and neck now. I transition quickly and head out.
The Run
As I'm 500m from exiting transition, I go to hit my watch to start the run splits. No Garmin?! Bummer, I left it on my bike. Wow, 2 rookie moves today. Well, I just need to run hard and try to catch anyone that might be ahead of me…maybe that girl that passed me early on is in my age group?
My hamstrings have been hurting chronically. I can barely run over 3 miles at a fast pace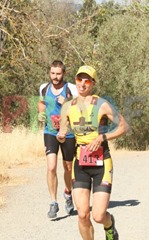 without tightening up. This is a blessing today since the race is a 3 mile run. Even with a lot of soreness, I can push hard, so I do.
Within the first mile I have passed a dozen people. I see some women in the distance and dig deep to catch them. I pass one gal and she says "you're supposed to be racing tomorrow!" I tell her not this time.
It's nice not having the pressure of my Garmin. By the 2nd mile, I have only been passed by one guy and I am flying by others. On the out and back I can see some gals. They look younger than me so I start to think I'm leading my age group. I also see Cory Floyd coming back looking strong.
As I make the turn and head back, I can see I'm in a good position. I see Tim Hess running really strong…"good job Tim!"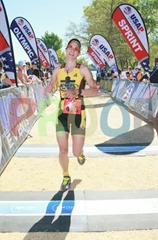 One more mile to go. There are fewer people to pass but I keep trying. There is a Marine, below the knee amputee, ahead. I'm doing my best to catch him but he is flying. He flew by me on the bike and continues to go strong!
Home stretch! My hamstrings are hurting a lot but I'm not tightening up…thanks God! I dig deep and finish strong! It sure is nice to be done.
I find out later there were 2 girls ahead of me today.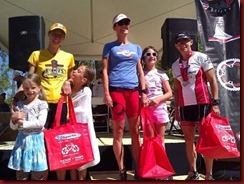 They are impressive cyclists and I'm just blessed to be in their company.
This is my last triathlon until October. Time to focus on helping Troy to his Ironman finish in Tahoe in September. He's racing tomorrow for the first time since the crash. I'm excited to see what the Lord is going to do!
| | | | | | | | |
| --- | --- | --- | --- | --- | --- | --- | --- |
| Name | Race | Time | Age Group | Place | Swim | Bike | Run |
| TIMOTHY HESS | SPRINT | 1:11:38 | M50-54 | 3rd | 15:27 | 30:34 | 23:44 |
| ROBIN SOARES | SPRINT | 1:13:21 | W40-44 | 3rd | 15:45 | 33:15 | 22:04 |
| CORY FLOYD | SPRINT | 1:14:50 | M30-34 | 7th | 16:40 | 32:00 | 23:14 |
| DAVID SLOTHOWER | SPRINT | 1:15:43 | M55-59 | 2nd | 15:08 | 31:57 | 25:39 |
| CLYDE FLOYD | SPRINT | 1:18:58 | M55-59 | 4th | 19:05 | 30:57 | 26:11 |
| STEVE CORRALES | SPRINT | 1:25:10 | M45-49 | 14th | 18:59 | 36:18 | 26:54 |
| CHRISTY FLOYD | SPRINT | 1:36:16 | W30-34 | 17th | ? | ? | ? |
| | | | | | | | |
| DALE JACKSON | OLY AQUAB | 1:30:23 | M | 3rd | 25:53 | 1:04.?? | NA |
| STEVE CHAVEZ | OLY AQUAB | 1:32:05 | M | 4th | 27:04 | 1:04.?? | NA |
| | | | | | | | |
| DAVE CAMPBELL | OLY | 2:16:27 | M55-50 | 2nd | 26:27 | 1:08:31 | 39:55 |
| DAVE LEROY | OLY | 2:18:25 | M50-54 | 6th | 26:03 | 1:06:20 | 44:17 |
| FLOR HODGES | OLY | 2:23:21 | ELITE | 1st | 27:03 | 1:09:13 | 45:23 |
| TROY SOARES | OLY | 2:27:37 | M45-49 | 17th | 29:46 | 1:05:42 | 48:45 |
| CARRIE CHAVEZ | OLY | 2:30:11 | W45-49 | 2nd | 34:04 | 1:07:48 | 45:25 |
| KAREN NICKEL | OLY | 2:38:18 | W35-39 | 2nd | 35:18 | 1:14:50 | 45:35 |