Date/Location:

May 17, 2015 – Auburn, CA

Distances:

Swim 1.5k – Bike 40k – Run 10K

Time:

2:49:05 (25:00 – 2:50 – 1:29:27 – 1:43 – 50:02)

Place:

2nd

Teammates:

Mini: FCA TEAMMATES Trixie Bradley
International: Brett Rosane, Dave Campbell, Elise Winter, Farah Avasarala;FCA TEAMMATES – Connie Wilson, Flor Hodges, Katy Rosane, Mike Pirnat, Pete Hradecky, Troy Outman Toughest Half: Lee McKinley; FCA TEAMMATES - Troy Soares
Awesome again to be racing at home! The girls stayed the night our friends the Nickels to make the morning much easier. Troy and I get up and start the morning right with Quiet Time: reading our Bibles and praying. We then hop on our bikes and ride 6 miles downhill to T1…so convenient!
The other awesome component is being able to hang out and race with a lot of local friends. There are 8 folks from our local FCA Huddle, runners from our track group and a few others. I know that I'll be trying to keep up with 2 gals, Elise Winter and Flor Hodges. I've been trying to keep up with them on the track and on training rides so I know today will be no different.
Our teammate Jesse Ellis is here too with friends and a drone to film parts of the race. I also have our FCA Endurance run aid station to look forward too later with some of these folks and my church, Elevation.
Time to get to the swim and pray with Troy and another teammate Mike Pirnat. Troy is off and then I find Flor and we pray. Time to warm-up a bit!
THE SWIM
I line up next to Elise and Flor. We get our final instructions and then ''"GO!"
Elise and Flor head towards the left but I decide to stick to my course and hope they'll find their way back. There are a lot of strong gals in this group! By the first buoy, I think I'm in the top 5.
Now I'm heading into the sun and there are swimmers everywhere from the Long Course and International. Thank the Lord for colored caps! I'm able to follow one of the girls in my group until the last buoy. I make the last turn and dig. I'm able to pass a lot of folks and get to the shore.
I pull off my wetsuit and book it down the single track trail. I have to run in the bushes for a lot of it because of the congestion. I'm thankful that I don't step on any of those big bushy thorns! Courtney Cardenas is announcing the swimmers coming up the ramp: "Robin Soares….Elise Winter…Troy Outman". Wow, I've got some good company!
THE BIKE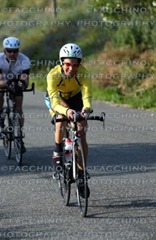 I get to my bike and struggle to put on my jacket. I watch as Elise takes off and wonder if this is worth it. I finally get it on and head out.
As I head out of the park I realize I'm not bodymarked! Oh, my, this is the first time I've ever done that! Will I get disqualified for this? Should I go back? I decide to trudge ahead and hope it won't be a big issue.
Flor flies by and I try to keep the gap small. I see her catch up to Elise. Okay, if I can see them, then that's good sign.
I finally make it up and over Shirland Track. I'm feeling pretty tired already but know I'll see Anna and Ariel in a moment cheering. Sure enough, there they are! I wave and I can hear them screaming with the Nickel Family. What a nice boost!
By Mile 10 I can no longer see Elise or Flor. I keep pushing as hard as I can and try to hold off other riders. I pass the I-80 exit along Lincoln Way before Foresthill Road and there is no CHP there. Oh dear, that is very dangerous! I hope they will be here soon because the top guys will be heading back soon!
Pretty soon, I can see the top guys coming back. There is Dave Campbell in the top 10. "Go Dave!" I should be seeing some gals soon. I see a girl coming back. Right behind her is Elise and then Flor. They look strong!
Right before the turn around a 50+ gal passes me. Wow, impressive! I try to push the downhill on the way back but she alludes me! Another young gal comes by. I'm in 6th and have my work cut out for me!
Flying down Lincoln Way, I can see the freeway exit is still unguarded. I roll through cautiously. I see an policeman down the road and pull over to let him know. "That's the CHP jurisdiction", he says. I take off and process what he said…it shouldn't matter who is in charge, that is dangerous!
I fly into transition. I have trouble getting my right shoe on and have to take extra time to get it just right. Finally I'm off!
THE RUN
I'm glad to be running and hope to catch at least the last 2 girls that passed me.
Mile 1 is 7:41. Not sure if I can go any faster. I'm running alone but will soon get to see where I'm at.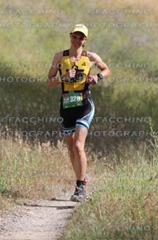 Mile 2 is 7:22. I'm heading down toward China Wall. Here comes Elise in first! She looks strong! "Great job Elise!" Soon after is Flor. "Go Flor!" Then comes the gal they both passed. I can see the 50+ gal and young gal heading towards the turnaround. I can get them!
Heading back up hill I catch the 50+ gal.
Mile 3 is 7:43. I hope I can keep this pace! I make it up to the green gate and head up to the canal. The young gal is right there! I surge and get by her. Now the pressure is on to hold this spot. I wonder if I'm making any ground on 3rd place.
Mile 4 is 7:46. Hanging in there! I climb back up to T2 and run past the finish line, I see Joe Pace and try to tell him about the freeway offramp. It's hard to explain while racing but I hope he understands. Only a few miles left!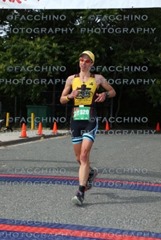 Mile 5 is 7:38. Man, this is getting tough! I feel myself slowing down. I need to keep pushing! Thank you Lord for getting me this far! I climb back up to the canal. This should fly by now but I feel like I'm just barely going.
Mile 6 is 8:11. Ouch! The last climb to the finish is so hard! I just need to push a little more!
I cross the line exhausted and so glad to be done! Thank you Lord for sustaining me!
| | | | | | | | |
| --- | --- | --- | --- | --- | --- | --- | --- |
| Name | Race | Time | Age Group | Place | Swim | Bike | Run |
| LEE MCKINLEY | TH | 5:24:33 | M50-54 | 2nd | 33:42 | 3:08:13 | 1:37:28 |
| TROY SOARES | TH | 5:27:19 | M45-49 | 2nd | 32:36 | 3:07:08 | 1:43:33 |
| | | | | | | | |
| DAVE CAMPBELL | INT | 2:39:01 | M56-59 | 1st | 24:33 | 1:26:06 | 43:32 |
| ELISE WINTER | INT | 2:42:19 | W40-44 | 1st | 25:11 | 1:24:54 | 48:55 |
| FLOR HODGES | INT | 2:43:57 | W25-29 | 1st | TBD | 1:25:59 | 48:53 |
| ROBIN SOARES | INT | 2:49:05 | W40-44 | 2nd | 25:00 | 1:29:27 | 50:02 |
| TROY OUTMAN | INT | 2:57:24 | M45-49 | 6th | 30:08 | 1:32:53 | 49:40 |
| KATY ROSANE | INT | 3:11:45 | W50-54 | 3rd | 29:59 | 1:39:18 | 57:31 |
| FARAH AVASARALA | INT | 3:20:40 | W40-44 | 3rd | 34:11 | 1:48:04 | 52:24 |
| PETE HRADECKY | INT | 3:26:29 | M50-54 | 6th | 23:16 | 1:47:56 | 1:05:04 |
| BRET ROSANE | INT | 3:34:06 | M50-54 | 7th | 36:03 | 1:50:38 | 1:02:20 |
| MIKE PIRNAT | INT | 3:4335 | M50-54 | 8th | 30:18 | 2:03:04 | 1:04:32 |
| CONNIE WILSON | INT | 4:25:42 | W65-69 | 2nd | 33:33 | 2:13:01 | 1:29:21 |
| | | | | | | | |
| TRIXIE BRADLEY | MINI | 1:18:23 | W40-44 | 1st | 11:45 | 35:49 | 25:55 |