Date/Location:

May 2, 2015 – Lake San Antonio, Bradley, CA

Distances:

Swim 1.2M – Bike 56M – Run 13.1 (2.2m + 11m)

Time:

5:24:08 (31:11-4:54-2:57:25-1:54-1:48:44)



Place:

7th/67

Teammates:

Olympic Distance: FCA TEAMMATES – Cory Floyd, Clyde Floyd, Dave Fraser, Karen Nickel, Mike Cassidy
Long Course: Dale & Tana Jackson, Derek Garcia, Kathy Winkler, Matt Sheeks, Warren Mine; FCA TEAMMATES - Clyde Floyd, Cory Floyd, Dan Perkins, Reynold Lewke, Troy Soares
We drive down with our new 1940's trailer we fixed up. 3 days before the race so excited about having some peaceful time to rest up for it. Kind of a rough trip down but we got there, greeted fellow teammate, Dave Fraser, set up our tent and got some good sleep.
Camping at Wildflower is great. Birds singing in the trees, wildlife all around, and, when you're 3 days early, no other campers in our area. Anna and Ariel are exploring. Robin makes great meals. We get our bikes ready and do some light training. The days are hot and the nights are chilly.
The cool thing this year is that Robin and I both are doing the Long Course at the same time! Our friend, Karen, is doing the Olympic course the day after and will watch our girls for us. Even though I'm not fully prepared for the 1/2 Ironman, to race it with Robin is something I wouldn't miss.
We arrive at the boat ramp after warming up together and taking a nice warm shuttle bus to the swim start. It's the same alternate swim area as last year since the water levels dropped drastically. But the water is much cleaner this year. We tried it out yesterday and it's the perfect temperature, too.
It's great catching up with good friends and teammates, Dale and Tana Jackson. Dale's only doing the swim since coming back from surgery. But he's raced almost every year since 1984 or something! And another good friend and teammate, Pastor Dan Perkins, will be racing with us. He's back from injury thankfully. Clyde and Corey Floyd are 2 more teammates we always treasure racing with.
We pray and then Robin goes off to start in her wave. 5 min later it's my turn. I warm up a little. Julie Moss is announcing and calls me out to do a 5:05. Oh boy, that's a hard goal but now I feel like I have to try for it.
Swim
Go! I get a good start in the middle but soon get hit in the eye. Serves me right for trying to swim right in the middle. I get hit a 2nd time. But soon I'm around the 1st buoy and into the long straight-away. The water is great. I know I should find a draft but can't figure out which one. The guy in front of me is zig-zagging. I make a big push and finally catch up to another guy farther ahead. I'm working hard, it's going well. Thank you, Lord, for making it go well despite little training.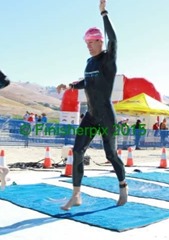 Around the final turn I rinse my goggles as the shampoo I used to prevent fogging was stinging my eyes. But then I get a good draft and stay on the guy all the way back to the start! I'm also keeping my eye out for Robin thinking I could make up 5min on her. Going back seems farther than going out, but having a good draft makes it all worth it. 200m to go I go on my own and make a direct line (shorter than his line) and see if I can beat him to shore. We come in right together, tied for 5th, in 31:11 which is a good time for me (was 30:06 last year). Surely I made up some good time on Robin.
T1a
Up the long boat ramp on the carpet, put on shoes, shirt, race belt, and continue up to start the run. This steep climb really warms me up from any chill. Breathing really hard. Hoping to settle down into a calmer rhythm.
Run 1
I try to push it but stay comfortable. I'm concerned about the long day ahead but feel the Lord saying "trust me". Down into the lake bottom, along the sandy section.. short steps, short steps. Land on the Lynch Boat Ramp and start climbing again. My achilles has been sore lately so I'm careful not to push too hard here.
T1b
I make a quick change to the bike and run it out in bare feet. This 2.2mi warm-up run is a great warm-up. I don't have to put on socks and a jacket to keep warm so transition is faster.
Bike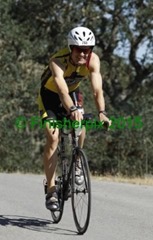 Now to catch Robin :) I climb up Beach Hill, reciting the Bible Verses we placed on signs the day before. An FCA Endurance tradition started by team members many years ago. I hope they are placed in the right location for people to be helped by them. It's a tough climb but goes well. I love the fast ride out of the park with everyone cheering. Out on the main road, it's now a long loop around the lake trying to maintain 20mph. It's a little windy.. but mainly a tailwind.. which is not what I want because on the back side it will get stronger and be a headwind.
I'm trying to ride like I did at Ironman Lake Tahoe which, thank the Lord, went great. But I can't seem to get in the same groove. I ride hard nonetheless. I drink Heed and water from aid stations. At 18 miles I see Robin! But the wind is picking up so I can't catch up very fast. I start eating my Hammer Bar. Important to fuel for the rest of the race. In the "5 Sisters" (the 5 rollers at 21mi) I finally pass Robin. I wish I could ride alongside and talk to her and enjoy the rare moment we get to race together. With big smiles we encourage each other as I take the lead. She's doing great! It took me a swim, run and 26mi of biking to make up 5 min. As I ride ahead I hope I can be an inspiration to her to ride hard.
A mile later I hear, "Come on, Soares, move it! I don't want to pass you." It's Robin! About to pass me back. I've heard a lot of things over the years like "move over, on your left!" but never "Hurry up, I don't want to pass you". My wife is helping me go faster in the bike. Is that legal? I do pick it up and have a great climb out of the last of the rollers and think I've got a good gap on Robin now. Time to focus on the 10mi flat back-stretch. A great place to make up time. But the wind is against us and I can't find the right position. As a result, I turn into the canyons at mile 36 behind schedule. 19.5 mph instead of 20.5 mph.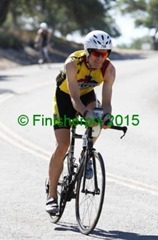 But we're out of the wind and I'm feeling better. I try to make up time. At mile 42, before Nasty Grade, I see Tiana from Gold Country Tri Club, and then teammate, Clyde Floyd. It's really boosting to see them both and I focus intently on good climbing form. It goes great! I pass a dozen people on the climb. I have to pass 1 guy on the right, because he was riding on the left edge of the road in the shade (it's always hot on Nasty Grade). That's a new one. I can't go over the double-yellow so there's no way to pass on the left.
My knees are starting to hurt as I finally make it to the top. This is a tough course. But it gets better now. Starting down the long, screaming descent, a gust of wind hits me and scares me out of my aerobars onto the handlebars. I pray that Robin is kept safe when she hits this section because she has the deep-rim aero wheels on which could be dangerous. I usually fly down this always wondering why there is an ambulance parked at the bottom but today I'm more cautious.
Time to work. I've got to break 3hrs. Average 20 and I can do it no problem. With 8 miles to go I check again and realize I'm NOT going to make it. I get water and drink more Heed and push it harder and check again. Now I WILL make it under 3. Each mile I re-calculate and keep getting different results. Just keep trying, you never know. Into the park, good climb, through the gate, over the highest point where another verse awaits, Heb 12:1 "we are surrounded by such a great cloud of witnesses.." I check again and I'm going to make it! The Gold Country Tri club is cheering loudly. Descend down Lynch, stretch the calves, finish my drinks, and dismount for T2. Bike was 2:57:25 (10th fastest, but 9 min slower than last year)
T2
This time I put on socks. Didn't want to but the first run proved to be irritating with the dirt and sand. Good transition and off for the run with my 3 Hammer gels. And there's the girls! Anna, Ariel and Karen's kids, Ellie and Ben, too! They give me high 5's and it's so joyful to have that encouragement.
Run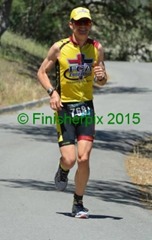 The 1st mile always hurts. This time my knees hurt as well. I still have to remind myself, even after all these years, it gets better after 1 mile. And it does. Every aid station I drink water and pour it all over me. It's hot. I have to prevent cramping and overheating. The nice thing is that we've already done 2.2mi so only 11 more on this leg. 4mi. Up the steady climb on the road to the trail turn off. It's hard. I smile. I focus on the Lord. I want to ease up but feel Him saying to trust Him. He will get to through and won't let me blow up.
Onto the trail. Dusty. I pass a few men and women. Looking forward to a gel soon. 6mi. 8:00 min pace. A gel and lots of water. The volunteers are so enthusiastic. Splashes, extra water, anything you need. But a 1/4 mi after the aid station I'm hot again. This is the 1st tough climb. I won't walk. Thank you, Lord. Achilles and hamstrings holding together. Across the top, want to stop but gotta trust the Lord. More water and dousing and now for the 2nd steep climb. It's brutal but I think of Robin in 2007 bounding up this climb when everyone else was walking. Today is the first day she's done this course since then. I hope she's having a good run and praying for her hamstrings. I'd rather suffer the hamstrings if it means hers feel better.
7mi. Down the steep drop to the pasture lands. This section used to demoralize me. Most sections of this course did at 1 time or another. But after doing this course dozens of times over the last 23 years, I also have GREAT memories about each section. I reflect on those to make these sections more enjoyable.
8mi. I long for the hose at the entrance gate. I need to get my temperature down. There it is.. Ah! Feeling much better. Now just watching the hamstrings. They're threatening to tighten up suddenly. I try to use my core and good form. Just gotta get to the campgrounds… there they are! All the cheering is so helpful. 9.5mi Up the final hill. Dale Jackson's at the top encouraging me greatly! He tells me to pick it up or my wife might catch me. I think he's joking but he says, "Seriously, Soares, now focus!" I pick it up but still think she's got to be way back there.
Across overflow and finally, onto the road! Only 1 mi across the top and then the "free" mile downhill to the finish. I read all the verses on the signs and look forward to each one as a goal to get to. It's hot, I'm tired and sore, but after this last aid station, with plenty of cooling water, I'll hit the last climb and be home free. 12mi. From behind someone at the aid station yells, "Your wife is right behind you!" Sure enough she is! Wow! I'm surprised and happy for her at the same time. This has never happened before. If she can catch me we might finish together.
At the top of the final descent down Lynch, Robin catches me! It is such a joyous moment. I couldn't ask for a better way to finish. We both push it and fly down the hill. Usually I'm much faster than her on the descent but we're neck-n-neck. Into the chute we sprint together. And there's the kids! Thanks, Karen! Holding hands, the whole Soares family finishes the Long Course triathlon together! Thank you, Lord, for such a memorable special race!
| | | | | | | | |
| --- | --- | --- | --- | --- | --- | --- | --- |
| Name | Race | Time | Age Group | Place | Swim | Bike | Run |
| DEREK GARCIA | LC | 4:14:31 | PRO | 5th | 24:30 | 2:21:40 | 1:24:44 |
| MATT SHEEKS | LC | 4:33:27 | PRO | 19th | 29:58 | 2:36:51 | 1:21:57 |
| KATHY WINKLER | LC | 5:20:57 | F45-49 | 1st | 28:15 | 3:00:21 | 1:46:32 |
| TROY SOARES | LC | 5:24:08 | M45-49 | 7th | 31:11 | 2:57:25 | 1:48:44 |
| ROBIN SOARES | LC | 5:29:08 | W40-44 | 2nd | 31:56 | 3:05:50 | 1:45:12 |
| DAN PERKINS | LC | 5:35:39 | M55-59 | 3rd | 31:40 | 2:56:15 | 2:00:16 |
| TANA JACKSON | LC | 6:04:01 | F40-44 | 3rd | 37:31 | 3:10:44 | 2:07:36 |
| CORY FLOYD | LC | 6:47:53 | M30-34 | 62nd | 33:59 | 3:38:57 | 2:21:33 |
| JON CARTMELL | LC | 7:10:48 | M35-39 | 50th | 35:54 | 3:46:32 | 2:36:46 |
| REYNOLD LEWKE | LC | 7:47:23 | M60-64 | 10th | 45:45 | 3:39:40 | 3:00:35 |
| WARREN MINE | LC | 7:48:19 | M70-74 | 1st | 50:26 | 4:11:42 | 2:32:08 |
| DALE JACKSON | LC | NA | M50-54 | NA | 31:07 | | |
| | | | | | | | |
| KAREN NICKEL | OLY | 3:03:56 | W35-39 | 4th | 30:36 | 1:33:56 | 53:12 |
| CLYDE FLOYD | OLY | 3:25:11 | M55-59 | 14th | 32:21 | 1:36:02 | 1:07:13 |
| MIKE CASSIDY | OLY | 3:56:21 | M60-64 | 9th | 36:36 | 1:43:13 | 1:19:36 |
| DAVID FRASER | OLY | 4:52:22 | M70-74 | 4TH | 38:33 | 2:17:10 | 1:41:00 |