| | |
| --- | --- |
| Date/Location: | 8/18/19, Greenville, CA |
| Distances: | 1/2 Marathon |
| Time: | 1:42:10 |
| Place: | 1st, 50-59; 3rd Overall |
| Teammates: | TeamMates/Friends: Oscar the Dog, AnnaSoares |
Not only Anna's big day today to run her longest race, but Oscar's big day to see if he can run 8min pace for a 1/2 marathon! Already have run 18mi with him during marathon training, but that was much slower.
Slept good last night in a cabin at Copper Creek Camp. It was totally quiet! Although I did have a nightmare that Oscar was wreaking havoc with other dogs at the race because I wasn't watching him.
We drive to the shuttle pick-up in a pasture in Greenville and get attacked by mosquittos. Anna & I get on the bus, almost forgetting our bibs. Oscar has to wear a muzzle due to race liability rules, but he's getting comfortable with it after tra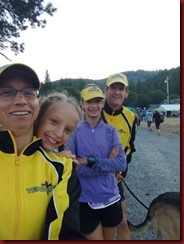 ining him yesterday.
It'll be perfect temperature, perfect course (small rolling hills counter-clockwise around Indian Valley), and perfect for Oscar with Doggie water and treats along the way.
Robin & Ariel are supporting us and pray together before we start. I still have the Achilles injury and hope it won't hurt much. Anna is coming off a sprained ankle injury. Nothing wrong with Oscar.
During our warm-up my Achilles hurts. Anna seems good. Plan is 8:00 pace for me and 8:20 for Anna.
National Anthem. Trust God. Hear we go!
Starting, Oscar is super excited of course and pulling too much. I get him under control and now we're rolling better. Anna slightly behind me says, "8:20 feels really easy". I'm glad to hear that. I won't be able to coach her through it so I hope she keeps it easy for a few miles.
My heel is hurting. I focus on the Lord and remember the walk-run form that helped at Lake Placid.
There are a few other dogs but only one is challenging us.. Bax, a Burmadoodle, and his owner, Angela. But Bax was too nervous to do his business before the race but now's he ready and suddenly stops. Oscar and I move ahead.
Mile 1. 8:08. Bax is back! And now leading. His owner dumps the doggie bag in a conveniently placed garbage bin along the road. At the first turn a few volunteers greet us and cheer. Otherwise it's just us, the beautiful hills on our right and the peaceful valley on our left. Bax and Angela running well. Oscar is eager to catch them so we push a little..
Mile 2. 7:44. We catch them and do introductions. They are both nice runners.. but Oscar is quickly focused back on the road ahead and doesn't look back.
Mile 3. 7:33. Aid station! 60's theme. Cool music, lot's of enthusiasm. Supposedly they're giving $1000 to the best aid stations so I remember this one well. I drink a lot of water since I didn't before the start. Oscar doesn't need anything yet so we lose little time. Bax, however, takes a stop and we gain another 20 sec gap. There's about 6 runners ahead spread far apart. The road is so pleasant. I have good energy but try to keep near the plan. Oscar runs smooth and true. I point out some "working dogs" to him that are hearding cows on a farm to the left. He's interested for 1 sec and then back to the big race.
Mile 4. 7:52. We pass a runner taking walking breaks. If I look back I can sometimes see Anna's yellow FCA shirt. I pray that she's doing well and the ankle is holding up.
Mile 5. 7:50. I don't feel any pressure for myself and would be fine going easy. But Oscar's been looking forward to this day and we've also been wondering just how fast he can go. For that reason I know I must run the best that I can today!
Mile 6. 7:46. There's the aid station ahead. I take a gel and then tell Oscar, "Water!" and give him leash as he heads for the doggie pool. I down a couple cups of water. He drinks, cools his paws, lays down real quick, shakes and he's ready to go! On the main road. Pushing harder to make up lost time. I look back and see Anna running with Bax and Angela about 2 min back. I'm glad she's made friends.
Mile 7. 8:14. We see a helicopter fly overhead and wonder if it's headed to the race finish. I'm really looking forward to this short out-n-back because it's only 4 miles after that! Plus Oscar and I can see competition ahead and get status on Anna behind. A woman is leading the race. Then a guy who yells to us, "The Canine record is 1:45. Don't beat it because it's mine!". I tell him thanks for letting us know and immediately things just got really interesting to Oscar..
Mile 8. 7:31. Fastest mile yet. "Beach theme" Aid station is awesome. I get water but Oscar ignores the treats and water and is anxious to head back. There's Anna, Angela and Bax. Oscar tries to run over and greet them. I ask Anna how's she feeling but she's excitingly telling me we're 4th place. I figure that's a good sign she's feeling fine and thank the Lord for answered prayers.
Mile 9. 7:18. Even faster. But I start planning our next pit stop. I see a small non-doggie-pool aid station and verify there's another up ahead. We're definitely on pace to break the record but we both want to see by how much. We're gaining on a woman ahead. Going up a slight hill, 2 white dogs suddenly jump out from a property and startle her. Then the big one comes at us. I sternly tell him to "Go home!" and he leaves us alone. Oscar isn't phased, he's got a race to run.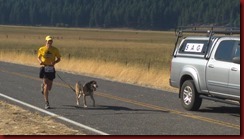 Mile 10. 7:32. A significant climb. Only one on the course. It's warming up but this side of the valley is shaded. Nice! Yes, at the top is the aid station. I say, "Water!" and Oscar runs for the doggie pool. The volunteers think I'm demanding water and run at me with cups. I do take a couple and tighten my shoe as Oscar does his routine. Drink, bathe, shake and go. I feel good that Oscar is refreshed for the last 3 miles. No more stops till the finish!
Mile 11. 8:09. Great split even with the stop! We pass another runner. We stay on the left side, even though the road is winding, so Oscar can choose the dirt shoulder when he wants. He's running so well. He pulls ahead a little but when I say "heel" he eases back alongside so I can give him a pet.
Mile 12. 7:19. I'm tired, both feet are hurting, but Oscar is still eager, running slightly ahead. I thought he might show signs of slowing by now. I thank the Lord we are about done and the great pace He alowed us to have.
Mile 13. 7:24. Up ahead I see Ariel, and then Robin. And the helicopter we saw now landed by the finish. I thank God, turn up the gravel and we break the tape for first Canine Runner!
Finished at 1:42:10, 7:48 pace. Oscar got to stand on the podium.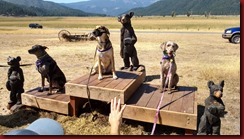 And he was fine the rest of the day and showed no soreness. But his dog-naps were longer.