| | |
| --- | --- |
| Date/Location: | 8/11/19, Rancho Seco Park, Herald, CA |
| Distances: | 1.5km S – 40km B – 10km R |
| Time: | 2:36:37 (26:16 – 1:22:21 – 48:01) |
| Place: | 3rd, F 45-49 |
| Teammates: | TeamMates/Friends: Anna Soares(Aquabike), Ariel (Kids Tri), Dave Campbell, Keith Hansen, |
Up early with the girls, their friend Ruth and Troy. It's so nice that the girls are old enough now to get chores done and ready to go. They are in the car ontime! At the last minute this morning Troy gets Anna's bike ready to go. She was going to do the Aquathon (Swim-Run) again but a sprained ankle has caused us to change her to the AquaBike (Swim-Bike).
We get to the race transistion in time for Ariel and Ruth to set up and head down to the water. I'm having a hard time with being joyful. It seems like little things annoy me like my aero bottle not going on right and having to keep returning to my transistion site for gear/things I keep forgetting.
I am able to catch Ariel finishing up her swim and transistion to the bike. She looks strong even though she's further back since she aged up to the big kids 100m swim. I am able to see Ruth come out the her swim wave. Though there are a lot more kids, she holds her own and is in the top 1/3.
I get to the water and realize I forgot to bring my spray (to help make wetsuit come off) and Sportslick (to help prevent chaffing). I run back to transistion and make it back when the last men's wave is about to go. I get in the water and decide to adjust my goggles. The strap comes undone and I hear "one minute to go"! I see Anna on the shore. I know her wave starts about 10 minutes after mine. I can grab her goggles and give mine to Troy to fix for her to wear. I run up to Troy and put the mess in his hands and ask Anna if I can take hers. Without hestitation she gives them to me and tells me that I'm really going to enjoy them. I jump back in the water just in time! "Go!"
I get a good start and fall in behind the top 3 girls. I start thinking about Anna and I am concerned that I have messed up her swim start. Maybe I should have gone without goggles. I pray and ask the Lord to let my goggles be fixed in time and for them to work on her face.
At the first turn buoy our group has dropped by one. The two remaining girls split off and I stick with the one that seems to be swimming a nice straight line towards the next buoy. I have a nice draft for a bit until she drifts over to the right a bit far. I go it alone and try to see if I can get ahead. The other girl is to my left and back. I seem to remain in the same position for a while and realize it's best to have a draft. I veer right and get back in the top girl's draft. It seems like the next buoy is still way out there. My mind wanders back to Anna and I wonder again if she's doing ok with my goggles. I like her goggles and find them very comfortable.
Finally the turn buoy is here and we are swimming around it. I am right with the top girl and accidentally touch her foot. I know how annoying that is so I pull off to the left a bit. I try to pass again but she's swimming strong and I notice the fatigue setting in. The shore is close! She's out and I'm right behind. I pause to hand off my swim tag to a volunteer and then I take off my wetsuit. I've been struggling for many races now to get the wetsuit off from around my ankles. Finally, it's off and I'm off!
Once I get to my transistion area, I struggle to know what to do first. I pick up my arm warmers. I do feel chilled but are they needed? I put them down and put on my helmet, shoes and glasses. I pick up the arm warmers again and attempt to put them on. Forget it, too hard! I grab my bike and go!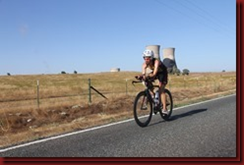 Right away, there is a series of speed bumps and Bott Dots. It's hard to get into a rhythm. As I'm about to leave the park and get on the main road, I start to notice that my pedal stroke is not smooth and there is jerking on the chain. This often happens when I'm in an easy gear on a flat road. I shift to a harder gear. Same thing. I shift up again and again but no change. This is weird. Something is wrong! It feels too hard pedaling. Troy had replaced a chain wheel on my bike yesterday. It must not be compatiable with my set up. I'm so frustrated that I consider turning around to show him and basically demand him to fix it. I think back to his Ironman race story where he recalled quitting mentally in the past and didn't want to do that again. I don't want to "quit" and show our girls and Ruth that when things go wrong, just stop. I decide to live with it and continue on. So on with the next 24 miles!
I turn and head out the long stretch to the turnaround. The jerking continues and I try to focus on pedaling smoothly. Cyclists seem to just be flying by me and I am so frustrated with this situation and Troy. I know Troy didn't do this on purpose I should have rode my bike yesterday to test it. I just feel mad and I don't feel like cheering anyone on. I know this is simply selfish behavior. Lord, I'm having a bad attitude and I'm sorry. Please help me get through this.
I get passed by several women and I fight each time not to let them get far ahead. It takes so much effort to maintain this pedaling! I wonder if Anna will be able to catch me.
I finally make the turn around and head back. I'm looking for Anna. I'm still getting passed by other riders and just keep on praying for my attitude.
There's Anna! I wave and I hear her call out my name. She looks great!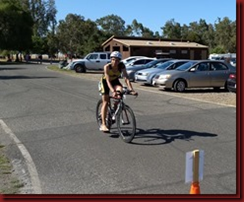 Further down the road another rider comes by. He actually tells me good job and smiles. It wakes me out of my selfish stupor a bit and reminds me it's about Jesus, not me! Thank you Lord for using that man to help me!
Finally I can see the nuclear stacks. I am almost done! I start thinking about what I'll say to Troy about the bike. I want him to know there is a problem so he can look at it but it's too hard to explain it all. I'll have to wait until after the run.
I turn back into the park. Once again Bott dots and speed bumps.
I pull my feet out of my bike shoes as I pull into transition. I see Troy and blurt out "Something is wrong. The pedalling is a doozy!" Suddenly a wave of negativity comes over me. I get to my spot and I feel unmotivated to run. I make myself get ready and head out. I see Troy again and say the bike didn't go well. I hear him say "Have a great run! Try to go 43 min." I give a thumbs-down. Immediately I feel convicted. What a bad example! Here I am wearing an FCA jersey and here I'm not being an ambassador for Christ. I am sorry Lord! That was wrong.
I regroup over the first mile. I pass that nice guy from the bike and he says "there she is!". It is another encouraging boost.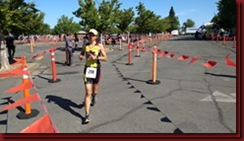 Mile 1 is 8:22. I start to feel relaxed and am able to pick up the pace. I was expecting my legs to be trashed from the bike so this is a gift. I starting to pass more folks but few are women. I can see runners coming back on the trail along the lake. I see Keith Hansen and cheer.
Mile 2 is 7:40. I grab water and electrolytes from the next aid station. I can see runners coming back from the out and back on the road. I see four women in row. Three look hard to catch and one looks like a possiblity. I say good job even though part of me is envious of their position. Natural human nature is not nice but selfish. Today is not really a battle with my body but really with my attitude. The physical challenges just help to fan the flames of my bad attitude.
I hit the road with one guy in front of me, Vern Holthouse. He's 79! It takes me almost the entire out and back on the road to catch him!
Mile 3 is 7:28. I'm surprised with that split since there is a slight incline. I can hear another runner behind me. I saw him on the way back. I try to keep up the pace. This curvy trail is a fun part of the race but it's hard because I'm getting tired. I can see the one girl I thought I can catch in the distance.
Mile 4 is 7:35. That guy passes me and I tell him good job. I try to keep up. I pass the girl. I'm geting worn down by the winding trail. I just want to be back on the main fire road. I start to notice there are large rocks painted orange all along the trail. It's a nice distraction looking for the next rock! Finally, I can see the entry back to the fire road!
Mile 5 is 7:25. Great! Just one more mile. I try to keep as close as possible to the guy. I grab water at the last aid station. Getting close!
MIle 6 is 7:42. I can see Troy and I wave. He tells me to push it to the end. I dig a bit deeper and find a little speed. I see the finish! I am so glad to be done! I cross the line and look up to God! Thank you!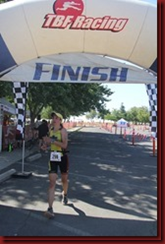 I spent the rest of the day continuing to fight my flesh. Without Jesus I would be just a selfish mess and lost. Lord forgive me and help me to overcome these challenges. I love you!
(follow-up from Troy: "After the race I tried to spin Robin's pedal by hand and was shocked how hard it was. The chain had wedged between the hangar and the jockey pulley! It was literally scrapping metal off of the hangar on each pedal stroke! As the mechanic I felt so bad, but hopefully won't happen again ")