7/4/14
| | |
| --- | --- |
| Event: | Firecracker 5k for the Food Closet, Auburn, Ca |
| Friends: | Many! |
| Time: | 21:01 (7:01 pace) |
| Place: | 1st |
This is a local event put on by our good friend and FCA TeamMate, Karen Nickel. It's free as long as you bring foot for the hungry to be donated to the local food closet. The course runs from California St., up and over Maidu (next to our neighborhood), along the old Auburn Dam Site, by the Railhead Prk and back to Karen's house. It's a familiar loop.
I'm excited to try running fast for the first time since the bike crash. It's been 5 weeks. I ran 8min pace a week ago for the 10k run split of the California Triathlon. My ribs have been feeling fine since then, but the opposite side of my back has been sore from over-compensating.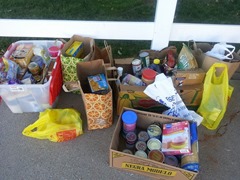 Robin & the girls are on Coronado Island right now finishing up their own 15k and 5k's. Because of my lung injury, I wasn't allowed to fly to San Diego for our annual vacation. But it's neat to all be running at both ends of the State. I talk to Robin on the phone beforehand and we both pray.
Karen's got great music going, lots of food donations, a registration table, finish line.. it's great. I see many of our friends and fellow track runners. And LOTS of kids! I warm up almost a mile and stretch a lot. We all line up and the kids lead us in the national anthem. Karen prays for the race and we're off!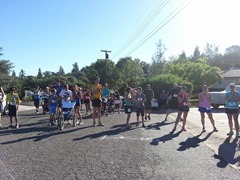 Ellie Verdi & I leave the neighborhood first on California. Then 2 young kids pull ahead. We're all going so fast, but that Maidu climb will be tough. The kids run erratically, of course, in front of us but we give them room. I want to tell them to save energy for the climb but know it won't work.
I push it on the climb, really wanting to see if I can maintain 7min pace today. I encourage the kids but am glad they settle down so that they can keep the pace to the end.
Mile 1: 7:19. I lead up the hill and make sure in my head that I know the course perfectly.. I don't want to lead anyone astray.
Now the long downhill into the canyon / old dam site. The back soreness bothers me a little. Breathing deep is feeling better. Going downhill is uncomfortable, but I've got to push through to help loosing things up.
Mile 2: 6:33. I see the usual walkers in this scenic section and they all smile and cheer. At the climb to the gate (and multiple points through the course) Karen has friends positioned as course monitors. Very professional and encouraging.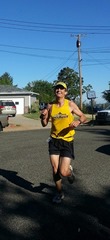 It's warm now. I'm digging deep. California St. will be more shaded. I'm right at 7min pace. Gotta hold it. Onto California. Cross the street at the cross-walk. Course monitors cheering for me. Down into the neighborhood, a brief recovery, and then the final gradual climb to the finish line. It's tough but I'm so happy to be meeting my goal and running fast again!
Mile 3: 7:10. I high 5 the kids and finish with a smile. (21:02. 7:01 pace). A great tune-up and confidence builder! And my thanks goes to God for giving me a quick successful recovery. And also thanks to those that fight for our country, in the beginning, and now, so that we can have the freedoms we love.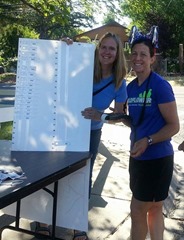 RESULTS