| | |
| --- | --- |
| Date/Location: | July 4, 2014 – Coronado, CA |
| Distances: | 15km |
| Time: | 1:07:35 |
| Place: | 3rd/69 |
| Teammates: | Anna Soares, Detrik Heidt, Jan "Grammie" Heidt |
It's an early wake-up time to get the girls, Grammie and I to the starting line. The hard effort pays off though as we get a great parking spot! I really miss Troy this morning and wish he were here! I know that he will be toeing the line at our friend Karen's 5K as I'm finishing up my race. I do have my parents, my sweet girls, my sister-in-law, niece and nephew so I'm not too lonely. Detrik, my nephew, will be racing with Anna and my mom in the 5K.
I hope Anna's race goes well. Two days ago she stepped on a bee and her foot has been sore since. I also hope my race goes well. My hamstrings have been extremely sore and tight for weeks now. Stretching seems to help little now so I have a "Monster" massage scheduled. It's a real toss up on what will hurt more, the race or the massage. Troy describes these massages as being attacked by a bear!
Detrik, Anna and I need to do a last minute potty break. Usually I try to find a "secret bathroom" around race starts, but there are no options like that today except the long porta-potty lines. As time ticks down to the start of the race, I pray for us to make it on time. Detrik entertains Anna and I and puts us at ease. Finally we are done and I give hugs and literally race off to catch the start of my race. The 5K goes off 10 minutes after so the kids and Grammie have plenty of time. I nearly run right into another athlete on the way but manage to dodge them in time…"so sorry!" Phew, I'm here…thank you God! I say a prayer for the Lord to help me battle through the pain and discomfort.
The gun goes off and so do we! Right off the line, I can feel the hamstrings. They are sore but not terribly tight. Once I get past the 5 mile mark, things will get interesting! I hope to go under 1 hour and 10 minutes. My PR is 1:06:28 but I don't see that happening!
Mile 1 is 7:02. It's beautiful running along the Coronado golf course. Folks have already set up their chairs for the fireworks show tonight…dedication! The hamstrings hurt but I can still move pretty well(=
Mile 2 is 7:03. We hit the strand. Still hanging in there but feeling tired. This race is flat as a pancake but it's always tough!
Mile 3 is 7:06. Running on the Sub-Base now. It's a cool treat to go behind the scenes of our military…especially on the 4th of July! Hamstrings still sore and feeling a little tight.
Mile 4 is 6:52. Alright, finally broke 7min pace! Thank you Lord! Physically and mentally getting tough!
Mile 5 is 6:48. Surprised I can go this pace! The hamstrings are getting mad now. I notice that focusing on running on my forefoot, running tall and smooth helps. And talking to the Lord and keeping my thoughts on Him help a great deal too.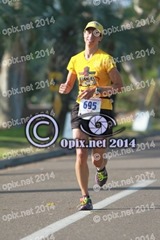 Mile 6 is 7:06. Getting tough! I do well when I focus on form and Christ but I find myself getting distracted and experiencing great discomfort!
Mile 7 is 7:08. Ugh! Thank you Lord for helping me stay strong! The last 2 miles of the race is always the toughest!
Mile 8 is 7:11. Hamstrings getting super tight! Lord, help me! I try to go with a faster guy going by. It helps get me going faster and is a good mental break!
Mile 9 is 7:12. Home stretch now! Dig, dig, dig! Lord, almost there! Thank you! I really have to focus on keeping my form together. I look at my watch and see that I will be under 1:10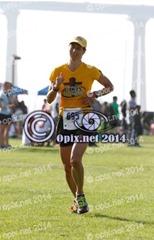 and maybe close to my best time! Wow, that is crazy!
Finally, I can see the finish and can hear the kids, my parents and Kristin cheering. I cross the line and hit my watch. Wow, 1:07:35, just about one minute off my best! I'll take it! Thank you Jesus!
| | | | | |
| --- | --- | --- | --- | --- |
| Name | Race | Time | Age Group | Place |
| ROBIN SOARES | 15K | 1:13:21 | W40-44 | 3rd |
| | | | | |
| DETRIK HEIDT | 5K | 34:21 | M0-9 | 29th |
| ANNA SOARES | 5K | 34:33 | W0-9 | 22nd |
| JAN HEIDT | 5K | 42:09 | W75-79 | 4th |