| | |
| --- | --- |
| Date/Location: | March 6, 2011 - Napa, Ca |
| Distance: | 26.2mi |
| Time: | 4:20:10 |
| Place: | 108th |
| Teammates: | Robin, Mary Serna, Todd Brown |
Robin & I were excited to put this race on the calendar a year ago in hopes to both qualify for the Boston Marathon. Then, a few months ago, I started having some setbacks with injuries and being sick. I had gotten up to a long run of 17 miles (my longest in 5 years) before I got injured. I kept trying to "come back" but I could only get back to 10 miles at the longest. Along the way I missed 3 other planned races. But today I will start, and just see how far I can go.
Robin and I are riding the bus together from the host hotel in Napa, to the starting line in Calistoga. This is really exciting for me.. my "best friend" heading to the start of possibly the best marathon in No. Cal. It's raining but we are fully prepared with our parkas (trash bags).
Robin's MyAthlete tracking device is on and, even though it's 5:30 in the morning, we know Dave Campbell is already up and probably tracking us. The phone rings and it's Dave. We ask how far it is to the start and about the forecast. Rain should let up some.
The start brings back many memories. I did my first marathon here in '94. I've run with many friends on this course.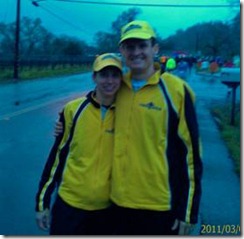 Now Robin & I are done with pre-race preparations. It drizzly. I'm wearing 3 shirts and gloves. We're both wearing trash bags to keep us dry until we get too warm in the race.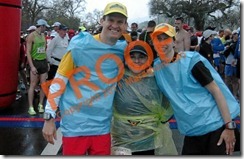 Go! I try to stay with Robin for a while but her 7:30 pace is just too fast for me. I send her off, hoping her race will go well. I'm trying to run a 9:00 pace for 16 miles. At that point if injuries are flaring up, I'll quit, otherwise I'll continue on walk/running and finish before the 6hr cutoff.
4miles. It's been a consistent light rain but I'm comfortable in my trash bag and gloves. The camber in the road is severe in places, but I still run on the steepest inside angle trying to shorten this race as much as possible. I'm also constantly monitoring my body: how's the glute? How's the left hamstring? How's the Achilles? At 4 miles I stop and stretch my injury areas. It's a priority to finish today without injuring myself.
8miles. I again stop to lie down and stretch. Right behind the mile marker. Staring up at the sky while the rain drops land on my face and other runners' feet land close to my head. It's actually a relaxing moment. Back running I think of Robin now over a mile ahead of me and imagine what it's like up there. I've never been back this far but interestingly it's not much different. We're all trying just as hard back here, concentrating on fueling, running tangents, and monitoring our bodies. A long way to go still but it really is a beautiful course, even in the rain, and it's more enjoyable than any training run.
12miles. I stretch again, sticking to my "every 4 miles" plan. A woman had been stopping to stretch as well and we started sharing training stores. She was nursing injuries as well. She was from Minneapolis. The runners are tough out there to train in sub-zero weather. It helped the miles go by faster. We part ways now and I'm looking forward to the next break at 16 miles where I'll get to see Anna, Ariel, Mom and Ray! I'm happy that I'm averaging 9min pace but it's getting hard. I can't wait to see them. It really helps push me along. I see a sign, "Beat Oprah" and I ask what her marathon time was. 5:00. Hmm, I can do that..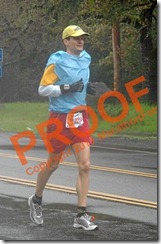 16miles. There they are! Anna comes running. I give them all hugs and gingerly lay down to stretch real good. "I'm feeling ok. Nothing hurting. I'm going to continue walking/running. Just come pick me up at the finish around 5-6 hrs" I head off now with no pressure, planning to walk quite a bit. I try walking some but decide I think I can run most of it. Just carefully, smoothly jogging along. Eating oranges, bananas, and gels at aid stations and drinking plenty. I've had to stop for "bathroom" breaks multiple times but it's not hurting my time. Passing 17mi is a big accomplishment. I've now run my farthest in 5 years. In fact my last straight marathon was here in 2004. Up ahead is the mile 20 hill. I'm looking forward to it. ½ way up I switch to walking. Have a Sport Beans snack and try to get my phone working but the battery has died. It's 3:18 and Robin should be finishing now. I've been praying for her a lot. I've also prayed for other people which is something Robin inspired me to do when I saw her arm band of names to pray for each mile. My prayer for her has been that she feels strength from God and His closeness, to know He was with her every step of the way.
20miles. Wow, at the top of the hill it appears you can see all the way to the end of the race (it's really not that high). I stretch again and start down.. I feel really positive now about running all the way to the end and beating 4:30. At 21, I start to set a goal of 4:18, thinking it would be 1 hr after Robin. Then I come upon Todd Brown, a past fellow Team Roadkill runner at Kaiser Electronics / Rockwell Collins. He's just as surprised to see me. He says, "you're the last person I expected to see back here". Turns out we both had injuries which kept us from training properly for the race. I felt like it was God's plan for us to have some time to run and talk together. There's not many runners around us now and conversations are few this far into a marathon. He says he's going to walk for a bit but I'm feeling good and continue on. Finally we turn off the main road. I'm getting the aches and pains of the marathon but my injury areas are doing ok. At an aid station I see some treats. "Sorbet for you?" "No thanks". It looked good but shouldn't try something new.
24miles. I calculate that I have to run sub 10min miles to finish in 3:18. This is going to be tough. My knee is hurting a little. I'm trying hard to run smoothly. I see Mary Serna! But she's going the other way. I stop and give her a hug and try to figure out what's going on. The good thing is she was smiling. I had hoped we might have gotten to run together during the race. I rip off the trash bag finally and focus on my last miles. I'm not going to make the 3:18.. but I'll keep trying hard.. but without hurting myself.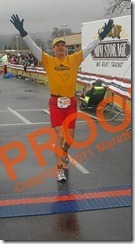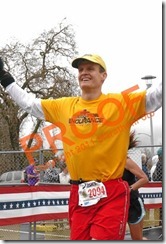 Ah, there's the finish. I can't believe I finished a marathon with only a 10mi training run. I knew it was VERY risky but I monitored myself very closely throughout and followed my body's lead.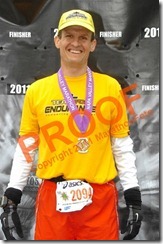 I finish and am excited because I'm pretty sure I didn't hurt myself! I immediately stretch and get my phone to make 1 last call to Robin. She's so excited to hear I finished.. and in 4:20. We're both happy for each other. I thank the Lord for making it possible that we could run a marathon together again after 7 years and that I'm not injured. Glory be to God in the highest.
| | | |
| --- | --- | --- |
| Name | Age Place | Run Time |
| Troy | 108 | 4:20:00 |
| Robin | 6 | 3:22:20 |
| Mary Serna | 9 | 4:47:58 |
| Todd Brown | 84 | 4:37:12 |